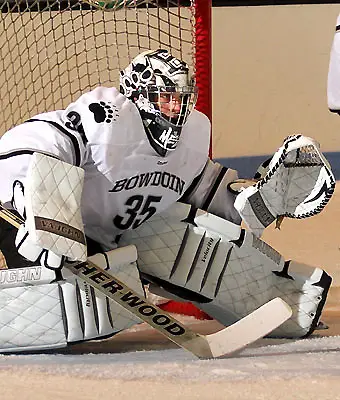 What? Really? With all due respect to The Beatles, what is a hockey submarine?
Having written for USCHO for awhile now, you really almost become immune to certain clichés and "coach-speak" that you hear routinely around the rink and in the locker room. So when a term comes out that I can honestly say I haven't heard before, well poetic license aside, I really need to run with this one.
The Bowdoin Polar Bears and coach Terry Meagher set out on their season expedition on November 1 and entered their virtual submarine. So far, the journey has been a successful one, as they are currently 7-0-1 on the season after having torpedoed Southern Maine on Tuesday night by a 5-2 score.
"I think you are going to have some fun with this, aren't you," questioned Meagher. "The whole thing with the submarine is that we are fully immersed into this 24-game season and have all come together to focus on this season. We only have a couple of weeks to prepare to play real games starting late as we do, and it really is a crash dive in terms of playing 10 games in about three weeks based on the timing of Thanksgiving and the upcoming semester break. It has been a real fast trip, and right now everyone is onboard and we are enjoying some early success that will hopefully mean good things for the second half of the season."
This year's edition of the Polar Bears showcases some key returners that want to make a run in the NESCAC and beyond and bring that positive and excited attitude to the rink every day. Seniors Daniel Weiniger and Robert "Toz" Toczylowski are already among the leading scorers so far this season, and Weiniger is poised to pass the century mark in points with just over 80 games played in his Bowdoin career. Juniors Harry Matheson and Ollie Koo are also off to a fast start for the Polar Bears, who average over four goals per game offensively. Those are just numbers and statistics however, something the coach really isn't focused on right now with his team.
"I really do not look at the numbers and statistics at all, " noted Meagher. "Right now we are in the 'How does it look?' phase of the season. I really focus on how do we look in the games. Are we doing the right things on the ice? Are we getting the system and are players meshing the way we want to be successful? Right now, it really is about how we look when we play and do we like what we see. So far, it has gone pretty well, and this is a great group of players, so there haven't been any surprises yet."
One player that may be a bit of a surprise has been sophomore Connor Quinn, who has already doubled his freshman output with his four goals so far this season. The forward's six points overall find him among the leaders on the scoring table, and have his coach excited about Quinn's level of play to date.
"Connor is such a great kid and terrific athlete," stated Meagher. "He is a rugby player and probably would be a terrific football player. He just goes out and plays, and wow can he skate — it is fun to watch! He really is a good example of the character and nature of this team in terms of their coming to have fun and work hard, be it a practice or a game."
Another area where success has been an important foundation for Bowdoin has been the goaltending and leadership of junior Steve Messina, who enters the final weekend of conference play sporting a 5-0-0 record and stellar .925 save percentage. Messina has also provided great leadership with sophomore Max Fenkell, who has also excelled in his first three games this season in going 2-0-1 with a .920 save percentage.
"Everything is great back there," noted Meagher. "Steve has been terrific when he is playing and been a great teammate supporting Max when he has been playing for us. It really is a great situation when you have guys that can compete hard in practice to push each other to be better and then support the other guy when they are in the crease in the game. It is a very positive situation for us, and that translates to positive things with the rest of the team overall."
The Polar Bears finish the first half of the season this weekend with games at Tufts and Connecticut College as part of an extended six game road trip that closes with the opening of the second half at Amherst and Hamilton. After the first weekend of January, Bowdoin finishes the season with eight home games and just two road trips in mid-January and early February to close the season. The early road games play into the submarine analogy, and have helped drive the focus and urgency for the Polar Bears early this season.
"Being on the road really forces some activities and opportunities to see how the team responds," noted Meagher. "Getting off the sub or bus (hmmm – bus backwards is sub) and being able to come out strong in the first period and then play a full 60 minutes is a good test that we are getting exposure to in a number of situations so far this season. Whether it is the crazy and exciting atmosphere around the 199th edition of the Bowdoin/Colby rivalry, or a Tuesday night game at Southern Maine and the growing rivalry with the Huskies, we are seeing how we respond to the challenges of being the road team, and hopefully that all helps us when we play so many games at our home rink and have the home ice advantage in the second half."
If you have the Polar Bears on your upcoming schedule, you may want to find ways to depth charge their submarine, and by that I mean stay out of the penalty box. Early in the season, the Polar Bears power play is already running at a 30 percent success rate, with over one-third of their goals coming with the man advantage. Bowdoin has lots of weapons  and that depth has shown benefits on the power play so far this season.
"We are still throwing a lot of different combinations out on the power play," stated Meagher. "Guys like Harry [Matheson] and Ollie [Koo] have had some success in the past and have continued that early this season. Again, these guys are used to playing with each other, and it shows on the ice with their performance."
The submarine has launched and the periscope is up targeting the next opponents for Bowdoin, which is looking to come to port at the semester break with a couple more wins. The coach knows the challenges of the teams the Polar Bears face this upcoming weekend, and is not taking the final two games of the semester lightly.
"Both teams are very talented, and Connecticut College certainly deserved more than what they got with how well they played against Middlebury and Williams last weekend," stated Meagher. "We will have two challenging games for sure, but we want to finish strong and complete these first 10 games with our best focus and effort."
The first leg of the Bowdoin hockey submarine's journey is almost complete. Targets have been acquired and the mission is off to a successful start. The "crew" is focused and will look to complete a successful tour of duty in the 2012-13 season.