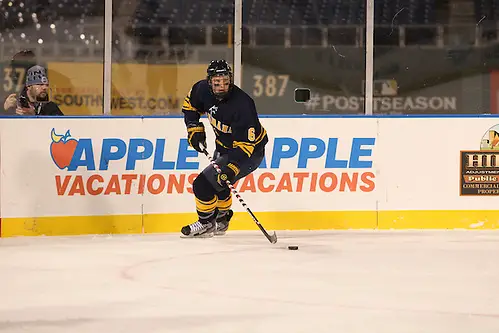 It's common for a senior to be leading a college team in scoring. Senior defensemen pacing their club in points, though, are rare, and those leading their schools in goals scored rarer still.
Not so, at least so far this season, at Neumann University.
Fourth-year blueliner Scott Farrell leads the Knights with four goals and four assists for eight points through Neumann's first nine games this year, and is tied with senior forward David Gervais with his two goals and six assists. Farrell's four goals also top the team, thanks to a pair of two-goal efforts this fall at Elmira and Salve Regina. Both were victories, and all of Farrell's goals to date have come on the power play.
"It's something I like to do," said Farrell, of bringing offense from the defensive side of the puck. "I've had it in my game since junior hockey, and it's been nice getting the opportunities this year."
Farrell has already set a new personal high for goals in a season, and could conceivably set new individual benchmarks in assists and points before he wraps up his collegiate career next spring.
"He's been one of our top guys the last four years," said Neumann coach Dominick Dawes, who guided the Knights to an NCAA title in 2009, the school's first in any sport.
An assistant captain this season, Farrell enrolled at Neumann after skating for the Pembroke (Ont.) Lumber Kings of the
Central Canada Hockey League.
"They were just coming off of a national championship," he said, of ultimately choosing the Pennsylvania-based university. "I decided my best opportunity to win a national championship was to come to Neumann."
He's come a long way from his freshman campaign of 2009-10, when he potted two assists in a dozen outings. The following season, the 6-foot-2, 233-pound Farrell registered a goal and 14 assists for a career-high 15 points in 24 games. He notched his first career goal against Utica, and also had a three-assist game in an overtime win against Morrisville as the Knights made it to the NCAA Tournament before suffering a one-goal, first-round loss to Bowdoin.
"I think he has everything," said Dawes of Farrell's skill set. "His size is a big part of what he brings to the table, but he sees the ice and moves the puck extremely well."
Farrell collected three goals and 10 assists for 13 points in 26 games as a junior, and was named to the ECAC West All-Academic Team. He also posted his first two-goal game in an 11-4 win over Morrisville, where he also picked up an assist. The Knights ultimately advanced to the ECAC West title game, but fell to Hobart.
This year, the Knights are off to a 4-4-1 overall start (2-4-0 ECAC West), although their last two games were a pair of one-goal defeats at No. 6 Hobart, including an overtime loss.
"This year's team is a good mix of guys," said Farrell. "We have a good freshman class, and this is probably one of the closest teams I've played on at Neumann."
A business major, Farrell follows the fortunes of his hometown NHL team, the Ottawa Senators (or at least when they're actually playing). Farrell himself has the size for pro hockey, and last season got to see how he matched up against NCAA Division I competition in an exhibition contest at Princeton University in Oct. 2011.
"They're obviously a pretty good Division I team, and it was nice to gauge yourself against those guys," said Farrell of the Tigers, who won by four goals. "We didn't feel outmatched, although they were probably a little crisper than we were."
Farrell later scored the first goal of the game in a 6-3 outdoor win over Penn State in Philadelphia in January. He is currently preparing to enroll at business school at Penn State next year, and will be writing his Graduate Management Admissions Test over the holiday break. He'd be willing to put school on hold if the pro ranks come calling, however,
"If the opportunity arose, I'd definitely consider it," admitted Farrell.
Until then, he still has some more damage to inflict from the blue line on the collegiate level.
"His shots have been getting through this year, and he's been finding the back of the net," said Dawes.
 
ECAC West Notes
-Following a weekend sweep of Neumann, No. 4 Hobart (10-0-2 overall, 5-0-1 ECAC West) remains one of just four undefeated teams in NCAA Division III. The others are No. 5 Adrian and No. 1 Norwich, who are both 9-0-0, and No. 8 Bowdoin (6-0-1). Hobart senior netminder Nick Broadwater is now 7-0-2 on the year with a 1.22 goals-against average and a .947 save percentage, and is also tied for second in the nation with three shutouts. Senior forward Frank Salituro is tied for seventh in D-III scoring with 9-8—17 points for the Statesmen.
-With two assists against Buffalo State on Dec. 1, Utica sophomore forward Louis Educate is now sixth in the nation with 18 points on eight goals and 10 assists for the No. 9 Pioneers (7-2-0, 3-2-0). Educate still leads all ECAC West scorers in conference games with nine points, while right behind him are teammates Trever Hertz, Rob Morton, and Jon Gaffney with six points apiece in league outings. Utica is also fifth nationally on the penalty kill, having been successful 36-of-40 times (90 percent).
-After a two-step sweep of Elmira, Manhattanville sophomore goaltender Brian Fleming is 6-2-1 on the season (2.32 GAA, .922 save percentage). The No. 13 Valiants (7-2-1, 4-1-1), who scored on five of just 12 shots in the opener at Elmira, are also second in the nation while skating a man (or two) down, having negated 48-of-52 opposing power plays (92.3 percent).
-Neumann (4-4-1, 2-4-0) dropped a pair of one-goal decisions (2-1, 3-2) to Hobart last Friday and Saturday. Junior goaltender Brealy Torris had 81 stops in all for the Knights, including 47 saves in the second contest, as Hobart escaped in overtime after Neumann's Dave Gervais had tied the game in the third period.
-Elmira (4-5-0, 2-4-0) dropped back-to-back games for the first time this season in losing 5-2 and 7-5 to visiting Manhattanville last weekend. Freshman forward Michael Collins had a goal and two assists for the Soaring Eagles, and leads Elmira with four goals and 11 points through nine games.
-Nazareth (3-7-1, 0-5-0) was off last weekend, and returns to action on Dec. 7-8 against Western New England and Buffalo State. The Golden Flyers last played on Nov. 24-25, when they won the Skidmore Invitational.