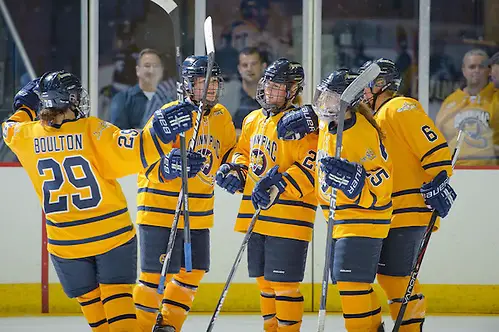 A year ago, Quinnipiac finished sixth out of 12 teams in ECAC Hockey, and that is where the league's coaches predicted that the Bobcats will appear once February winds down. They are slightly ahead of that pace, standing fourth in conference points, but fifth in winning percentage.
Signs indicate the field will be bunched to a greater extent than it was over the previous two campaigns, when Cornell claimed first with 37 more points than the last-place finisher.
"We don't think anyone in our conference is untouchable anymore," Quinnipiac coach Rick Seeley said. "Those dominant Cornell teams are gone."
Early results seem to support that thought. Through 10 games, Cornell already has a pair of conference losses; the Big Red didn't lose more than twice in taking the ECAC's regular season title in any of the prior three seasons.
The apparent absence of a juggernaut at the top of the league creates greater opportunity for the rest of the teams. As of yet, Quinnipiac hasn't quite been able to break through with a win that would make everyone take notice.
"It's a different thing beating a Union or an RPI then the upper-tier teams," Seeley said. "We've been close, with 2-0 to Harvard, 4-3 to Cornell, and the Cornell game could have been an easy win if we didn't give up the power-play goal late and the bad defensive breakdown late."
Those breakdowns have been a pattern thus far that the coach would like to end.
"For a team like ours that's been developing over the last few years, no matter what, you kind of got to start from ground zero each year, because it's not like you really build on what you've done before," Seeley said. "We lost five key seniors that were all great leaders and had been a part of this program growing up. As much as we like our freshman class, to expect them to pick up where five seniors left off is unrealistic. We have been giving up a lot of bad goals this year, and the goaltending has been up and down, although [Victoria Vigilanti] this past weekend was pretty steady. But I like how we've played the last few weeks."
Some of the improvement of a team occurs as newcomers get the hang of NCAA hockey.
"Both [Nicole] Connery and [Nicole] Brown have started to play better the last couple weeks," Seeley said. "There's such a difference between junior and the college level that every mistake at this level is amplified. They've had to get used to that and make that adjustment, but I think they're starting to become good, solid college players."
That's vital as Seeley tries to get his forward lines sorted out. As they were last season, junior Kelly Babstock and sophomore Nicole Kosta are the team's top scorers with 37 and 30 points respectively. The challenge has been in finding a third forward to click with the two talented players.
Erica Uden Johansson was the usual third member of the top line at the close of last season, and she was on Babstock's wing initially at the start of this year as well.
"We're finding using Uden Johansson on another line is helping her get a little more out of her game, so we'll keep trying," he said.
Connery was also used in that first-line role, and of late it has been Brown skating with Babstock and Kosta.
"It's tough because those two work so well together," Seeley said. "A lot of times, that third player becomes a spectator and is just basically being entertained by them. So we had Brown there this weekend. They've been working with her all week to try and get her more involved, but it's tough. When two players are so naturally together, it's incumbent on the third player to figure out how to try to fit in and contribute."
It's vital that the Bobcats can find contributions beyond those from their leading scorers.
"Babstock's freshman year, if she was producing we were winning; if she wasn't, we were losing," Seeley said. "Brittany Lyons, who's a senior, has steadily scored for us, but this year I think she's one of the top kids in the country with power-play goals. She's replaced Breann Frykas, who has been injured most of the year."
Lyons' six power-play goals are only one off the pace set by the Lamoureux sisters at North Dakota.
Quinnipiac is hoping to reintroduce Frykas to its attack next month.
"The surgery was successful, so she could be back as early as our Dartmouth [and] Harvard games January 11th and 12th, but that's the best-case scenario," Seeley said. "The plan was to have her healthy and flying by the playoffs, so the earlier the better."
As the number of scoring options increases, so does the likelihood that the Bobcats will be able to add points in the standings.
"On the weekend, we had seven different scorers of our eight goals, so that was a pretty good sign for us," Seeley said. "We're working on it every day. Besides Babstock and Kosta, we don't have any real naturals on the team, so it's something we have to work at. It's something that doesn't come easily for most kids that aren't natural scorers."
That work is paying off. The Quinnipiac offense ranks ninth in the country, accounting for an average of 3.26 goals per game.  Any gains can help take pressure off a defense that is currently in the middle of the pack.
"We got to get back to the point where we were Vigilante's freshman year," Seeley said. "Second half, we felt like when we scored a goal five minutes into a game, we thought we were going to win it, because we were so confident in our defense. We knew one goal could do it, or two goals could do it. We haven't got to that point this year."
One flaw has been the Bobcats' penalty kill. They have only been able to keep the opponents off the scoreboard on 77.4 percent of the power-play chances, placing them in the bottom third in that statistic.
To its credit, Quinnipiac limits that weakness by seldom skating to the penalty box in the first place.
"This might be the fourth year in a row we've led the nation in the least amount of penalty minutes," Seeley said. "We take pride in that, and we take pride in it because we work pretty hard, too. We play a style that might be conducive to taking penalties, but it's a pretty disciplined group and they work hard at their angles and keeping control of their sticks."
Seeley leads his team against Princeton for its final action before the holiday break, playing at Hobey Baker Rink on Friday before returning home for a rematch on Saturday.
"We always have tough games with Princeton," he said. "I think we've had their number the last two or three years, but they're all close games and they could all go either way. I watch their team and you see kind of a dominance against Union one night and it seems the next night by shots they're dominated by RPI. I have to think that's got something to do with their numbers, because it never looks like they have more than three lines or four or five 'D' going. We're in pretty good shape, but it's the same game plan every year. We're going to try to wear them down and scratch out a couple of low-scoring wins. Jeff [Kampersal] always has his teams playing well."
"The thing we try to emphasize to our kids is we're in no position to take anyone lightly. We've proven that in the past. We think we can play with anyone, except maybe a Minnesota, but we know we can lose to anyone in Division-I hockey, too, if we're not prepared."
His team has managed to avoid those losses of late as it rides a three-game winning streak.
"We just beat Union and RPI, 4-1, but both games could have gone either way," Seeley said. "There's so many good coaches in the ECAC now."
Although the current complexion of the ECAC presents a challenge as once weaker teams improve, it also presents opportunity. Another huge opportunity arrives next season when Quinnipiac hosts the 2014 NCAA Frozen Four. While his team may not be on the short list of teams favored to play in that event, neither are they that far away from making such a dream a reality.
"Every year every team starts out with a goal of winning conference championships and getting to the national tournament," Seeley said. "I'm not sure if it's totally unrealistic of us to think that way for next year. The farthest this program has ever gotten was the conference semifinals, and that's been the last two seasons. We're bringing in seven or eight freshmen, too, and no matter what, you still have to go through those growing pains, but if everything fell into place and we get it together this year and continue to build on our consistency and we're able to parlay that into a good start next year, anything is possible."
Minnesota-Duluth surprised everyone by claiming the title in 2010 with a team that did not appear to be cut from championship cloth. That was an Olympic year, as is next season, when some of the traditional powers will have to make do without a star player or two while she chases gold in Sochi, Russia.
"That might open the door for a couple of other programs," Seeley said.
Even if the Bobcats don't play their way into that field, having the championship in their rink is sure to pay dividends.
"What I think is great is for our players to be able to experience what hockey at that level is really about," Seeley said. "Because no matter how much you talk about it, to see the four best teams in the country going at it is pretty impressive. Being so close, not being able to touch it, but being able to witness it, will be instrumental in our program moving forward."