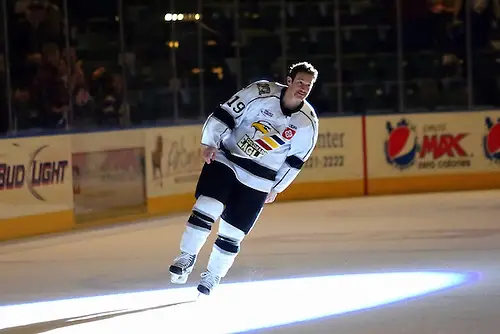 Joey Sides took the ice as a Colorado Eagle this season hoping to carve out an identity for himself, but not just one that would carry him in the ECHL. He had already done that. The forward wanted to show some other leagues what he might be able to do at the next level.
He's well on his way.
In fact, the former Wentworth captain made such an imprint as an Eagle, he was shipped out to the AHL last week. Sides, a 5-foot-11, 185-pound left wing who had nine goals and 18 points in 19 ECHL games this season, was called up by the St. John's IceCaps on Friday and played two games this past weekend for the AHL affiliate of the Winnipeg Jets.
"It's been a busy year, going through Colorado, which is a great organization, and I truly enjoyed everything about being an Eagle," Sides said. "But to be here, after being in training camp with the IceCaps, it's both a sigh of relief and a breath of excitement all at the same time. But it's up to me now to make sure it continues."
Sides, 26, got right to it on Friday night, as St. John's outlasted Albany, 1-0, before closing the road swing on Saturday with a 5-3 loss to Wilkes-Barre/Scranton.
"The speed of the game, it was a pretty big jump," he said. "In the ECHL, I considered myself to be one of the faster guys out there. But here, everyone has that speed. The gap control is faster. You have a half-second to get rid of that puck here, whereas you may have had a second-and-a-half to pass it there. And you always have to be on your horse. There is speed everywhere. It's all over the ice."
He is adjusting on the fly, but the skill set is definitely there. It's why the IceCaps had him in camp to begin with, and they also had him with the club during the playoffs last season.
To be back now — with the NHL lockout in full force — means so much more to an aspiring player. After all, there are several younger NHL players, who are still eligible to be sent down, spending time in the AHL these days. That makes it that much harder to snag a roster spot anywhere in the league.
Look no further than the scoring leaders in the AHL this week. Oklahoma City's Jordan Eberle, a standout forward for the Edmonton Oilers when the NHL is in business, ranks second with 27 points. Forward Brayden Schenn, who had a breakout rookie season last year for the Philadelphia Flyers, has 22 points for Adirondack. And center Adam Henrique, who landed the New Jersey Devils in the Stanley Cup Finals last season with a series-clinching, overtime goal in Game 6 of the Eastern Conference Finals, had eight points for Albany before suffering an injury.
"There is a lot of NHL talent out there, no question; definitely adds more skill and speed to the game here," Sides said. "But I know my role, and I know why I'm here. I'm still gonna try to be first on the puck. And I still want to be a plus player. Whatever I have to do to help my team and keep moving forward."
Having the right mindset and maintaining his priorities are two of the many facets to his game that made him such a success at Wentworth during some of the Leopards' finest years. Sides, a native of Sun Valley, Idaho, was a three-year captain there in Boston and helped lead the program through a coaching change when R.J. Tolan took over in Sides' sophomore season.
"It was an awesome group, and to have the captaincy for three years, taking on a leadership role like that … it's something I'll always be grateful for," said Sides, who graduated in 2009. "I was still young, and when you walk into a college program, after playing in high school, you're not used to guys being in their 20s. But we made a home for ourselves, we wanted to win, and playing in Boston for such a great school was a wonderful experience."
He's got another one of those on his plate now. The left-handed shot — who had 29 points and 45 penalty minutes with Colorado last season — will be back on the AHL ice this weekend when St. John's plays host to Springfield in a Friday-Saturday set.
"Playing in Colorado truly helped me develop as a playmaker, a point-a-game guy; here, I'd like to be a playmaker like everyone else, but my role has switched a bit," he said. "Being on the third or fourth line is a different feel, but you do what you have to do, and I couldn't be happier."
The IceCaps are in the seventh playoff position in the Eastern Conference with 23 points as the week's action begins, but they are just five points away from the top seed in a jumbled race. A good weekend or two, and they'll be right up there.
"You have to rely on what you have, and I think that's what got me here, is my vision, my speed, and making some plays here and there," Sides said. "I've just got to remain focused and do whatever it takes to keep it going."
All along, Wentworth and the rest of the ECAC Northeast will be following from afar.