Army senior defenseman Cheyne Rocha had to skip the Black Knights' games on Nov. 16 and 17. While it's unusual to excuse your captain from games, coach Brian Riley knew Rocha had a good reason.
The Rye, N.H., native was a finalist for a Rhodes Scholarship, and had his final interviews in New York City that weekend.
"He's an amazing young man," Riley said. "To handle the school work here and to be a Division I athlete, and all the time and energy that goes into that, and to be so good at both takes a special guy."
Rocha was not one of the 32 eventual winners, but he said he was honored to be among the short list of finalists and learned a lot going through the process.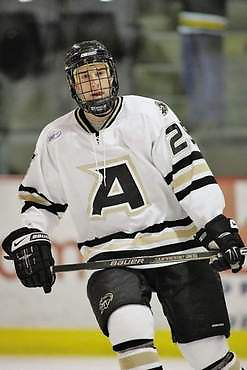 "Life at West Point doesn't often allow you time to think about what you want to do with your life," he said. "This kind of forced me to really think about my future and my goals beyond the ones I have right now. It taught me some things about myself."
Rocha, who carries a 4.0 GPA in engineering, said he was encouraged by faculty at West Point to apply for the scholarship.
"I've been successful [in the classroom] but never thought of myself that way," he said. "Faculty members asked me to look at the scholarship. I went through it with [goalie] Ryan Leets. It was a lot of work and there were times when I called my parents for advice and they said, 'This is something you can't pass up.'"
"To have two guys under consideration was great," Riley said. "Ryan Leets went pretty deep [into the selection process], too. They're unbelievable students, award-winning students. Our team GPA is going to take a huge hit when those guys walk out the door."
Rocha is leading a team with 13 freshman on the roster. So far his senior season has gone well, with the Black Knights off to one of their best starts since winning the Atlantic Hockey regular season in 2008.
That's a welcome change from last season, when Rocha was sidelined for much of the year with a leg injury and Army managed only four wins. The Black Knights already have five wins and sit in third place in the standings.
"The biggest difference last year to this year is [that the] system we're playing is really aggressive," Rocha said. "We're a fast and aggressive team, and we kind of get to showcase that. The rookies are growing every day and more mature already."
Riley has said in the past that he blamed himself for the Black Knights' struggles last year, and knew he needed to change some things.
"We started trying to do things differently at the end of last year, but ultimately it began with the [summer] workout and we kind of started all over and had a new mind-set," Riley said. "I think our mental toughness is better. Having so many rookies means a good part of the team didn't go through those struggles last season and this is all they know."
Last week, the Black Knights had a big win at Bentley and then came home for an emotional game with American International. Army paid tribute to Maj. Tom "T.K." Kennedy, who was killed in action in Afghanistan last summer. Kennedy was a former player (class of 2000) and Officer Representative with the hockey program.
"T.K. is with all of us every day," Rocha said. "He was a great role model, a really great guy to all of us who knew him. It was a really emotional night, some time set aside to play for him. But guys also deal with it in their own ways. His picture is on the wall next to Derek Hines (class of 2003, killed in action in 2005). That's propelling us this year. We think about how he would want us to play."
"It was an amazing night for an amazing man," Riley said. "At the final buzzer [of the 3-2 win] there was a sense of relief.
"There's a picture of me looking like we won the seventh game of the Stanley Cup. But it was more relief that we made T.K. proud by playing the way he would have wanted us to play. It was a special night, but my hope is we don't have to have any more of those."
The Black Knights wrap up the pre-Christmas portion of the season with games at Connecticut on Friday and Merrimack on Tuesday.
"Right now we have chance to finish 6-2-1 [in league play]," Rocha said. "The biggest thing for us is not being satisfied with the quick start.
"We'll continue to be successful if we play aggressively but maintain the ability to control our emotions, stay focused and put our foot on the gas pedal. We've got talent here and a good work ethic."
When it comes to talent, focus and work ethic, Rocha is the perfect role model.
Players of the week
From the home office in Haverhill, Mass.:
Atlantic Hockey player of the week:
Giancarlo Iuorio, Niagara
Iuorio picked up five points to help the Purple Eagles to a sweep of Sacred Heart. The senior had three goals and two assists as Niagara extended its unbeaten streak to a Division I-best 11 games. Iuorio has 12 goals and 20 points so far on the season.
Atlantic Hockey goalie of the week:
Tony Capobianco, Canisius
The junior from Mississauga, Ontario, stopped 81 of 82 shots to lead Canisius to a sweep at Connecticut. He had a 3-0 shutout on Friday, his first of the season, and followed that up with a career-high 45 saves in a 3-1 win on Saturday. Capobianco ranks fifth nationally with a .942 save percentage.
Atlantic Hockey rookie of the week:
David Friedmann, Robert Morris
Friedmann had a goal and an assist to help the Colonials to a three-point weekend at Holy Cross.
Men of the month
Atlantic Hockey player of the month:
Giancarlo Iuorio, Niagara
Player of the week and also player of the month, Iuorio had nine goals and six assists in November. He has 89 career points.
Other players nominated: Brett Gensler, Bentley; Doug Beck, Canisius; Adam Schmidt, Holy Cross; Chris Bodo, Mercyhurst; Chris Saracino, Rochester Institute of Technology; Scott Jacklin, Robert Morris.
Atlantic Hockey goalie of the month:
Carsen Chubak, Niagara
No surprise here as Chubak was player of the week three times in November. He had three consecutive shutouts and set a school record for consecutive minutes without allowing a goal (258:32).
Other goalies nominated: Tony Capobianco, Canisius; Garrett Bartus, Connecticut; Matt Ginn, Holy Cross; Jordan Tibbett, Mercyhurst; Josh Watson, RIT; Eric Levine, Robert Morris.
Atlantic Hockey rookie of the month:
Matt Blomquist, Bentley
The rookie defenseman had 12 points in November, including a pair of goals. Blomquist is averaging a point a game, tied for second in the nation among blueliners.
Other rookies nominated: Thane Heller, Army; Andrew Gladiuk, Bentley; Castan Sommer, Holy Cross.
Bears on ice
Army and Air Force have already held their annual Teddy Bear toss to benefit children's charities. Mercyhurst is holding the promotion on Friday and Niagara next Wednesday. Fans are encouraged to bring a new or gently used stuffed toy and toss it on the ice after the home team's first goal.
Tweet of the week
The trend of Tweets this week involved serious and not-so serious discussions of a certain holiday fashion show that was held on Tuesday. To summarize: Women in lingerie are popular with hockey players and Justin Bieber is not.
Want to be eligible for TOTW? Follow me at @chrislerch.