When Minnesota State's men's hockey team first arrived at CenturyLink Center ahead of last weekend's WCHA showdown with Nebraska-Omaha, it would have been hard to blame Mike Hastings for accidentally walking into the wrong dressing room.
No guided tour of the bowels of the arena was needed, though. After all, this was a homecoming of sorts for Hastings, having spent the previous three seasons as UNO's associate head coach under Dean Blais, so the first-year MSU leader knew his way around the building.
"The only reason that might've happened was if I was looking for Dean," Hastings said with a laugh when asked if he'd known where he was going. "With Dean and [UNO assistant coaches] Steve Johnson and Troy Jutting, I've known all those guys for a long time, and they're a great group of hockey guys. But, yeah, I knew where the visitors' locker room was."
There's a clear difference between the two rooms, as no visiting team's dressing room in any big sports venue is as palatial as the home team's. That was the last thing on Hastings' mind, however, as he was much more focused on helping his new band of Mavericks get one over on his old ones.
At the end of the two-game set, though, UNO and MSU were made to be content with two points each from the four on offer. MSU cruised to a 6-3 win Friday on enemy ice, and UNO stormed back 5-1 in the rematch the following night.
Jutting, a first-year assistant at UNO, found himself in a similar situation during last weekend's series. This is the first season in Omaha for the man who spent the last 12 as MSU's head coach and served as an assistant coach for the Mankato, Minn., university's team before that.
On April 1, Jutting was relieved of his duties at MSU with 15 months remaining on his contract and was reassigned to other administrative responsibilities at the school. Two weeks later, following a national search, Hastings was named as Jutting's successor and signed a four-year contract that is set to pay him $225,000 annually.
Hastings to Mankato and Jutting to Omaha wasn't exactly a straight swap, though. Johnson was brought in by UNO in June after being hired away from St. Cloud State, where Johnson enjoyed working in a similar capacity under Huskies coach Bob Motzko.
Another domino had to fall in order for Jutting to reenter the WCHA fray, and that took place when UNO assistant Brian Renfrew left in July to take a scouting position with the NHL's Winnipeg Jets.
Jutting was named to Renfrew's old post Aug. 7, and the tradeoff of sorts was complete.
In speaking with both Hastings and Jutting before Saturday's game, it became clear that both men are very happy in their new roles. That said, it was also evident that Hastings is more settled in Mankato now than Jutting is just yet in Omaha.
The biggest factor there — or at least the one both coaches brought up in their separate interviews — seems to be family.
Hastings' clan went with him to Mankato and is settled in the community there. It couldn't have been easy for them, considering that Hastings had spent 14 seasons as head coach of the USHL's Omaha Lancers and later became a member of the Omaha Hockey Hall of Fame, which honors the sport's local legends in a city where Hastings had made his home for all but one year since 1994.
Having said that, you would have to be comfortable to get a new dog so soon after moving to a new area. That's exactly what the Hastings family did recently in acquiring a new golden retriever puppy.
"I think every day I can continue to learn more about the city, but so far we're in a house and we've got the kids entrenched in school and athletics," Hastings said. "School's going well for both children and they've adjusted pretty well, but hopefully we can add some stability for a while in their lives.
"We've made the plunge and got a puppy, so that's been an experience: Get a new home and have a dog come in and ruin it. I don't know if that's the brightest thing to do, but it's been a great addition to our family, and my wife's enjoying it in Mankato. There are lots of good people up there, so this has been a good step."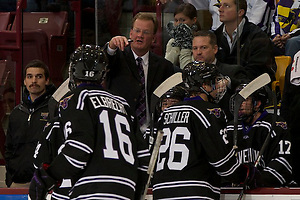 Jutting is enjoying his time on the bench that Hastings used to inhabit, but Jutting's doing much of it alone for now. His family remains in Mankato, largely because his two sons — one a senior at Mankato West High School and the other a freshman there — are enjoying their one and only season playing together for their high school hockey team.
"I have a senior in high school who is one of the captains of his high school hockey team, and I have a ninth grader who's in his first year playing on a team together with his brother," Jutting said. "My senior wasn't going to leave regardless, so it's a situation where I'm close enough to home and I talk to them almost daily.
"They're used to their dad being gone for as much as I was gone coaching at Mankato. It's not a huge difference in terms of that, but I guarantee that that's a lot harder on me than it is on them."
He said both senior Ryan and freshman Tyler have aspirations to continue playing hockey after high school. He's open to the idea of them playing in Omaha, but he said that they will have to see what happens.
Otherwise, their father said, although the transition to life in Omaha isn't complete, it's going well.
"Any time you live somewhere for basically 25 years, you don't get completely settled in in three or four months," Jutting said. "But the transition has been great, and the people here are fantastic.
"Working with Dean and Steve — two guys I've known for a long time — has made that transition easier, and I can't say enough about the administration here at the school in terms of helping with the transition and making me feel comfortable."
The last WCHA regular season meetings between UNO and MSU are out of the way, although the two teams may meet again in UNO's final postseason run in the league before it heads to the new National Collegiate Hockey Conference next season.
Once this week's holiday break is over, though, the time will come for Hastings and Jutting to set their sights back upon helping to expedite their new teams' development.
So far, so good. UNO is No. 12 in the USCHO.com Division I Men's Poll, and MSU, which had won each of its last seven games before dropping that 5-1 decision last Saturday, is 18th.
UNO and MSU are looking at scheduling each other for non-conference games in the future, so last weekend likely wasn't the final time Hastings and Jutting were to cross paths. Even if scheduling plans somehow fall through, though, the hockey world is a small one, and the working relationship those two men have forged looks as though it will remain intact.
"Troy's been doing this for a long time, and he's been good at it," Hastings said of Jutting. "He's been very successful at it, and I'm sure he's doing the same things [in Omaha] that I'm doing in Mankato where he's just trying to learn about what to him is a new community and about the players in the locker room.
"When you're doing that, it's just a matter of knocking it off one day at a time."