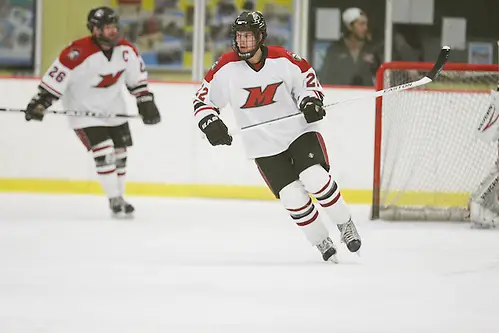 Manhattanville won its first game of the calendar year on Saturday night when it edged host Cortland, 3-2, in overtime.
"It's a tough place to play," said Manhattanville coach and former forward Arlen Marshall on Monday afternoon. "We knew going in it was going to be a tough game."
The No. 12 Valiants (10-4-1 overall, 4-1-1 ECAC West) can thank at least two-thirds of their current "Swedish Connection" for that win.
Manhattanville sophomore defenseman Anton Racklin, a native of Gothenburg, Sweden, notched the game-winning goal at 1:54 of sudden death on a shot from the left circle, after an earlier goal of his that evening had been disallowed. Assisting on Racklin's tally was freshman forward Paul Allan Bamberg of Lulea, Sweden.
The Valiants had rebounded from a 2-1 deficit on a short-handed third-period goal by Ronnie Smith. Cortland had played the previous night, and upset eighth-ranked Utica, 5-0.
"It was a pretty spirited first period, and the short-handed goal carried us into the overtime," recalled Marshall, before Racklin's second shot ended it. "Hopefully, we'll keep the momentum moving forward."
Racklin is Manhattanville's top-scoring defenseman so far this season, with four goals and 10 assists for 14 points through 15 games. Bamberg's assist was the first point of his collegiate career, and came in just his fifth outing.
The third member of Manhattanville's current trio from the land of IKEA is sophomore blueliner Joel Rosenberg of Sigtuna, Sweden. Rosenberg is scoreless so far through 13 contests this winter, although he registered two assists last season as a rookie while earning a regular spot in the lineup down the stretch.
Racklin, 21, has seemingly been making his way east, having come to Manhattanville this season from Fairbanks of the North American Hockey League. He put up five goals and 27 points in 56 games last season with the Ice Dogs, and also recorded 47 penalty minutes after a non-playing stint with NCAA D-I Bemidji State in 2010-11.
Having a Swedish flavor to their roster isn't a new development for the Valiants. Last year, two of their senior defensemen, Marcus von Sydow (Stockholm) and Niclas Wennerlof (Gothenburg), hailed from "Konungariket Sverige" (the Kingdom of Sweden), while two years ago, Victor Nordenson (Stockholm) was one of Manhattanville's assistant captains.
"We've kind of developed a little pipeline," chuckled Marshall."(Former head coach) Keith Levinthal started it. We've kind of gotten guys in every one or two years, and they've done well for us and fit into the culture of Manhattanville."
The 2009-10 Valiants team starred senior forward and captain Niklas Berntsson (Gotenborg), who collected 27 goals and 97 points in 105 career games, and was also a classmate of Marshall. Four years ago, the Manhattanville roster featured Berntsson, Nordenson, von Sydow, Wennerlof, and defenseman Carl Johnson.
Recent Manhattanville hockey players from Sweden have assisted in translating English to Swedish and back when speaking to potential Swedish recruits. Their accessibility and efforts have likely been key factors in keeping the Tre Kronor pipeline to Purchase, N.Y., going, including recent players like Racklin.
"They can explain a bit better, and that's helped," said Marshall.
The Valiants, winners of five of their last seven outings overall, will attempt to keep their winning ways on track Tuesday night at Suffolk, before getting back to conference action on Friday at Neumann.
ECAC West Notes
No. 3 Hobart (13-1-2 overall, 5-0-1 ECAC West) has won three of its last four outings following a weekend sweep of Curry (5-0) and Nichols (2-1) in the Statesmen's first games of the new calendar year. Hobart goaltender Nick Broadwater stopped 62 of 63 shots over the weekend.
No. 8 Utica (12-3-0, 3-2-0) saw its six-game-winning streak snapped with a surprising 5-0 loss to Cortland on Friday, but rebounded on Sunday with a 5-1 victory at Western New England as Rob Morton recorded a goal and two assists. The Pioneers will return to the conference race this weekend with appearances at Elmira and Hobart — Utica's first ECAC West games since mid-November.
Elmira (7-9-0, 2-4-0) snapped a three-game losing skid with a two-step sweep of Morrisville (8-5, 9-4) in a home-and-home series with the Mustangs. Josh Burnelle had a five-point weekend for the Soaring Eagles, including a three-assist effort in the opener, and a goal and an assist in the rematch. Michael Collins did him one better, with six points in two games, including two goals and two assists in the second contest.
Neumann (9-4-2, 2-4-0) swept visiting Fredonia by 5-0 and 5-2 counts in a nonconference series, and has won five straight games overall. Scott Farrell, Dan McDougall, and Chris Bournazos had two points apiece in the first game against the Blue Devils, while D'Lane Sather had three assists in the second victory. The Knights will face D-I independent Penn State on Tuesday before hosting Manhattanville on Friday.
Nazareth (5-9-1, 0-5-0) fell to No. 5 Oswego, 4-1, on Saturday after topping Cortland, 4-3, on Jan. 8. Zach Lewis notched a goal and an assist in the Cortland contest, and also scored the game-winner for the Golden Flyers, who will entertain Elmira on Friday and visit Hobart on Saturday, in their first conference games since November.