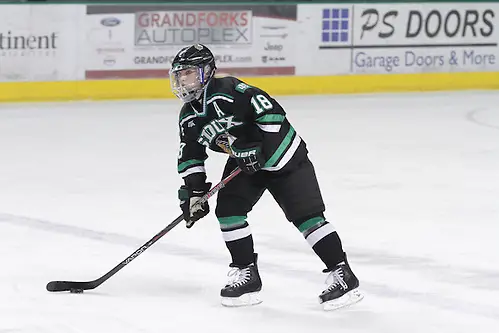 Candace: Let's start in the east this week. Cornell is showing signs of consistency. I think they looked very good in sweeping Clarkson and St. Lawrence this weekend. Brianne Jenner was a force on offense. What's your take on Cornell? Can they overtake a somewhat vulnerable looking Harvard squad and defend their ECAC regular season crown? The Crimson were only able to get one goal against Union over the weekend.
Arlan: With everything we've seen in terms of upsets this year, any win seems to be a good win. Maybe if a team has several close wins with a couple of losses included in a string that would be a sign of something more dire. Harvard played three games in five days and won them all, allowing a total of two goals. I've seen more vulnerable teams than that. Outshooting Union 35-7 doesn't hint that an upset was narrowly avoided. Once Harvard had a lead, it concentrated on defense and limited the Dutchwomen to a single shot in the third period. Maybe we give a nod to Shenae Lundberg for stopping all but one of 35 shots faced. Even though Harvard had defeated Union, 9-0, on the road earlier in the season, Union's entire coaching staff played at Harvard, so they'd have extra incentive to play a competitive game in their old home.
I'd imagine that most coaches would welcome the 16-1-1 record that Harvard currently sports. If the Crimson are shaky all of a sudden, that should be revealed over the next stretch of games that takes them on the road to Clarkson, St. Lawrence, and Dartmouth before facing Boston College in the Beanpot.
That said, Cornell does seem to be playing better after the OT loss to BC. Brianne Jenner in particular has kicked it up a notch; she had 11 points last week in three games to bring her season total to 34. It would serve the Big Red's cause well if Laura Fortino did the same. Ten points through the first 18 games is well below her career average. To catch Harvard, however, the Big Red will need help, because they are two games down in the loss column with only one head-to-head match remaining. They could get it, because in addition to having to travel to the North Country, Harvard entertains SLU and Clarkson on the final week, although neither of those teams looks like world beaters at the moment. If Harvard drops a game along the way to some other team and Cornell runs the table, including the game versus the Crimson, we could be looking at co-champions in the ECAC. Clarkson also has only two losses, but the Golden Knights just appear to be a bit off from the strong play they displayed earlier in the year.
Do you see the top of the ECAC differently?
Candace: No, I think we see the top three the same. It's Harvard's conference to lose, but I expect Cornell to finish second, and Clarkson right behind them. All three are strong, and at this point, I could see each in the NCAA tournament, as long as one of the three wins the ECAC playoffs. I think an intriguing race however, is for fourth in the conference. It should be a battle between St. Lawrence and Dartmouth, and Quinnipiac is also in the mix. The 4-5-6 order could be any mish-mash of those three. Right now, I'd give St. Lawrence the inside track to finish fourth. The loss to Cornell aside, the Saints have been playing well in the second half. This weekend could change things though, as St. Lawrence hosts Dartmouth and Harvard in a series that has huge playoff implications.
How do you see the 4-5-6 shaking out? And do you think there's any chance one of those squads could pull an upset in the ECAC playoff tournament, the way St. Lawrence did last year? I think in terms of PairWise implications, the ECAC is most volatile, or do you see another conference holding that honor?
Arlan: The 4-5-6 in the ECAC is hard to call, because those teams are within a point of each other and each has been rather lukewarm. I guess that's why we are discussing them for fourth rather than some loftier perch. I do think it will be harder for a team to go on the road for the ECAC quarterfinal and wind up conference champ because the second-place team in the league should be stronger than it was a year ago. It's one thing to upset someone in the title game, but it is harder if you have to go through a couple of very strong opponents. That's why I think that the WCHA hasn't had the Cinderella winner that we've seen in other leagues in recent years.
The math still favors the Saints to get home ice in the ECAC, because they are tied for fourth with Quinnipiac and have two games in hand. SLU's remaining schedule is brutal, including Harvard twice, Dartmouth twice, Clarkson twice, and Quinnipiac, and they've yet to do much against better teams. Dartmouth's schedule is almost as tough, so the team that does better in the SLU versus DC head to head may wind up hosting.
In terms of PairWise volatility by conference, I'd say that Hockey East is the most static. Boston College and Boston University both look safe to make the NCAA field, and both could host or they could wind up competing for a spot depending on how they fare relative to Harvard in the Beanpot. Northeastern has fallen off the grid. The CHA is fairly straightforward at this point in that Mercyhurst likely gets in unless the Lakers suddenly forget how to beat conference opponents or upset auto-bid winners in other leagues abound. I'd say that the real PWR volatility is in the WCHA, where Wisconsin, Ohio State, North Dakota, and Minnesota-Duluth sit seventh, ninth, 10th and 11th. With the two-game series that the league uses bigger jumps can happen, so any one of those teams could wind up in an eight-team field or no longer a Team Under Consideration. Unless a Clarkson or Cornell continues to drift down, it is doubtful that two of those WCHA quartet gets into the top eight. The ECAC teams are kind of spread out in the PWR:  No. 2 Harvard, No. 6 Cornell, No. 8 Clarkson, and No. 12 Dartmouth. Harvard looks good to host, and Cornell can likely flip its comparison with Mercyhurst if it can defeat the Lakers in Ithaca. Overall, I'd say Clarkson and Mercyhurst will be the two key players that will determine the makeup of the NCAA field by conference with the usual disclaimer of "assuming no surprise auto-bid teams."
Are you sorry you asked?
Candace: Um, yes, yes I am. I think that is a fair statement though. Hockey East is pretty static for sure. BC looks like a lock, and I think BU is too. The Terriers have been solid so far in the second half, although the game with Northeastern last Wednesday may have revealed a slight chink in their defensive armor, as they gave up two late goals within 10 seconds of each other had to hold on for dear life. They host New Hampshire this weekend, the only team besides BC to beat them in conference, and I imagine they want some measure of revenge. The Eagles just split with Mercyhurst over the weekend.  After a dominating performance in the first game, where BC won, 5-1, the Eagles gave up a third period goal just after they had rallied to tie it, and it cost them. If you are a BC fan, that weekend series probably has you biting your fingernails, because top scorer Haley Skarupa was injured in the first game and didn't play in the game BC lost. According to one report, Skarupa suffered a separated shoulder, and it is unclear when she will be back. Skarupa is clearly a key cog in the Eagles offense, so it will interesting to see how BC copes if she is, indeed, out for a while. What are your thoughts on Skarupa, the Eagles, and the Mercyhurst series?
Arlan: I inquired into Skarupa's status and was told that at this point she is "day to day." If the days stretch into weeks, that definitely impacts the outlook for the Eagles. There isn't a team in the country that can afford to lose someone of her caliber and not take a hit, although BC has more quality options up front than most. At least it isn't like she's been listed as "out for two months" at this point.
If she were to miss a couple games, it could even be a blessing in the disguise for the Eagles in the long term. I think that they've gotten away with less than their best on the defensive end in a number of games, but won anyway on the strength of a superior offense. If the goals don't come quite as easily, maybe they'll tighten up a tad and that will serve them well in the postseason.
The loss to Mercyhurst doesn't really hurt BC to anywhere near the extent that it helps the Lakers. The Eagles still win the comparison with Mercyhurst. That victory over Cornell was the key one that BC really needed; a split in Erie was just fine. If it can get back to its winning ways, it has a great shot at Hockey East and Beanpot hardware before the postseason gets under way. The Eagles are still hunting for that first Hockey East season title, so with or without Skarupa, I'm sure that securing it will be a huge priority.
As for Northeastern scoring late on BU, that just seems to be how games involving the Huskies go. Did you catch any of their game on Sunday with Providence? That thing looked like an NHL All-Star game — in a normal year, where one is actually played.
Candace: I didn't see any of it, just the score, but Northeastern has seemed to have a problem with defense this season, as has Providence. I guess that makes sense though when you lose goalies as good as Florence Schelling and Geneviève Lacasse. Both teams have struggled with giving up lots of goals to the teams in the top 10, Providence more so than Northeastern. Previously, the Friars had given up six to Boston College (twice) and St. Lawrence, and gave up five to Boston University. Providence gave up eight to Harvard, seven to Boston University, and six to Boston College and Boston University. I'd say the Huskies have been able to be a little more consistent on defense, but neither team has shown consistency in that department when it counts, which is yet another reason that Hockey East is so stable. Both Northeastern and Providence have talent, as does New Hampshire, and I think there is a lot of potential there, but for now, I have trouble seeing any of those teams beating Boston College and Boston University back-to-back to win the Hockey East tournament and thrown the PairWise and tournament selection out-of-whack.
Speaking of defense, one team that impressed me this weekend was North Dakota. I watched the Friday night game against Wisconsin, and thought that Shelby Amsley-Benzie played very well. The game may have turned our differently if Madison Packer hadn't hit the crossbar in the second period when Wisconsin trailed by one, but still, North Dakota was solid defensively in both games. That should make the rest of the WCHA take notice, because defense is one area that North Dakota has struggled in at times. North Dakota coach Brian Idalski indicated in the pregame interview that for now, he is going with Amsley-Benzie as North Dakota's goalie for the rest of the season. Do you think that North Dakota can threaten Minnesota in the WCHA tournament?
Arlan: North Dakota has been solid defensively in the past; the challenge has been being able to consistently shut good teams down. It had two wins over the Gophers last year and allowed zero and one goals in those games. However, it has allowed five or more goals in seven of eight losses to Minnesota over the last two seasons. Twice this season the two teams have played games that were tied midway through the third, and in each case UM pulled away late. In the most recent loss to Wisconsin with the game tied late, Packer jumps on a block at her defensive blue line, beats everyone down the ice after Monique Lamoureux gets caught flat footed at center ice, and converts on the breakaway. To me, that shows a couple of problems with UND defensively. Lamoureux is its top player on the blue line, but her instincts aren't really that of a defenseman; she's thinking offense. Plus, even though Packer is more power forward than speed burner, the UND defense doesn't have the speed to catch her and break the play up. So it will always be a touch more vulnerable in certain situations than teams with a more mobile 'D' corps. The defense can be improved over the course of the season, but I don't know that all of the problems can be solved. Amsley-Benzie did play well, though, including stopping Brianna Decker on a penalty shot. North Dakota does have the weapons to hurt an opponent, so it is possible to spring an upset on anyone.
I also think that Wisconsin and Minnesota-Duluth have a shot against Minnesota in a one-game situation. Both are so accustomed to playing the Gophers as rivals that I'm sure they enter the games believing they will win and aren't too concerned about UM's record or winning streak. Ohio State might be in that category, except the Buckeyes have such a long head-to-head losing streak versus the Gophers that it may be a tougher match-up for them. The problem for both the Badgers and Bulldogs is that they are strong defensive teams, but can they score enough to beat Minnesota? Although Wisconsin hasn't been as anemic as it was early, it did score only two goals in Grand Forks. For the Bulldogs, 60 percent of their goals have come versus the two bottom teams in the WCHA. For either to have a good chance against the Gophers, they likely have to keep the score of the game around the 3-2 mark or below.
You're always asking me if I see the Gophers putting together a perfect record and I keep replying in the negative. What do you think; is that possible?
Candace: Yes, I think it's very possible. I'm not sure I've ever seen any team, regardless of league or gender, as balanced as Minnesota. The addition of Hannah Brandt gives Minnesota another potent offensive weapon. Amanda Kessel is carving up opponents like she doesn't have any lack of belief or confidence. Megan Bozek is a force on the blue line, and there are several other strong defensemen, including Mira Jalosuo and Rachel Ramsey. Then, even if an opponent gets by the defense, they have to score on Noora Räty, who is one of the best, if not the best, goalies in the college game. Minnesota has so many ways to hurt you, it's just hard for me to see them losing. You mention the need to keep the games around the 3-2 mark, but with Kessel and Brandt leading the way, and then Bozek and Maryanne Menefee producing as well, that's easier said than done. Minnesota has five players averaging over a point a game, and two more just under that mark. They just seem to come in waves, and teams can only hold them off for so long.
I think it's very interesting that Minnesota brings its 32-game unbeaten streak to Madison this weekend for a series. The Badgers have matched that mark twice. On Friday night, they can either preserve it as the mark, or Minnesota will set a new record by beating the old record-holder. Both games should be good. Why is it that you are so convinced Minnesota can't run the table on the year?
Arlan: The law of averages just catches up with a team. Hockey is somewhat like baseball, in that the better team won't win every game. The Minnesota 2004-05 team was almost as imposing. Not as deep defensively, the offense dropped off a little quicker after the first line, but that line piled up goals. As good as they were, they only won 36 games out of 40 with a couple of losses and two ties. Things happen. Somebody is hurt for the wrong game. A harmless-looking shot by an opponent hits a couple of skates and goes into the net. All of your glorious scoring chances just miss. An opposing goaltender has a career game. An opponent gets so jacked up for a regular-season game that there is just no way you can match it every time out. Or another good team just flat out beats you. Even if the other team has only a five percent chance of winning, to pull a hypothetical number out of thin air, those five percent chances add up and eventually you lose.
It's funny about the 32-game streak. The hockey gods always seem to have a sense of irony. Räty is two wins shy of tying the career wins record of Hillary Pattenden, so that could potentially be in play by Sunday, with UMD looming on the Gophers' horizon the following week. Mark Johnson mentioned in his press conference the value of having the last line change for this series, an advantage Brad Frost had in December. It probably matters more to Wisconsin than it does to Minnesota, because Frost has seemed pretty comfortable matching any of this lines up defensively against another team's top line. It's unfortunate that the series opener will be played on a Friday afternoon when a lot of fans have to work. According to the UW site, the Sunday game is already a sellout. Wisconsin will be able to keep the score down. The question is whether or not they'll be able to find that extra goal to win.
It's a big week coming up in terms of high-profile games in addition to the series in Madison. UMD at Ohio State, Harvard at both Clarkson and St. Lawrence, and even New Hampshire at BU has the potential, topped off by Mercyhurst at Cornell on Tuesday. I'm not going to ask you to give away an trade secrets and pick a winner, but what series do you think will have proved to be the most entertaining when we look back next week? In terms of implications, I see Harvard at Clarkson being the single biggest game followed closely by Mercyhurst at Cornell.
Candace: Well, as discussed earlier, Dartmouth at St. Lawrence also has some very big implications, and I think the Minnesota-Duluth-Ohio State series could be very interesting, and also important for the WCHA standings. North Dakota should sweep St. Cloud, but if Minnesota-Duluth were to sweep and the Gophers are still undefeated after the weekend, there will be a huge logjam between Wisconsin, Minnesota-Duluth, Ohio State, and North Dakota all within a point or two of each other for the second through fifth spots.