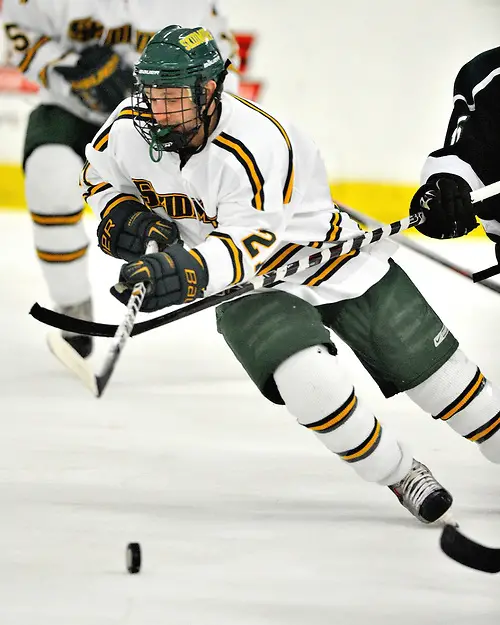 Lurking behind the No. 1 Norwich Cadets in the ultra-competitive race that is the ECAC East, the battle for a top four spot and frankly anything above eighth is wide open among a number of teams. Some squads have kicked their performance into high gear, as seen with Castleton, which has moved all the way up to second place following four straight conference wins, while other teams like Skidmore are still looking for that end-of-year magic that seems to follow all successful teams making a push for the playoffs and with dreams of winning a conference championship.
With just five games remaining in the regular season, Skidmore hopes to improve on its 9-9-2 overall record and 6-6-1 conference record by stringing together multiple wins for the first time this season. The Thoroughbreds have yet to put together a win streak longer than two games at any point this season, and now would be the perfect time to take advantage of a challenging home schedule and garner some important points and potential positions in the standings prior to the conference playoffs.
Starting with this weekend's match-ups with Massachusetts-Boston and Babson, Skidmore faces four teams all ahead of them in the standings, with three of those coming on home ice. Norwich and Castleton wrap up the conference schedule, so to make up any ground, coach Neil Sinclair's team is going to need to play their best and most consistent hockey of the season.
Leading the way for Skidmore are three junior forwards who have been very productive for Skidmore offensively. Vlad Gavrik (eight goals and 15 assists), Tony Giacin (five goals and 15 assists), and Brad Schuler (eight goals and 10 assists), along with senior defenseman Zach Menard (eight goals and seven assists) have been the leaders for a team that can put up a lot of goals when creating opportunities. The average is approaching four goals per game, which would be an envious statistic for many other coaches in the league, whose teams are offensively challenged. The power play has been effective as well, so why are the Thoroughbreds struggling to string together good weekends and wins? The answer is on the back end, and an area of focus that is important for any team with designs on playing strong playoff hockey, where the goals are typically harder to come by.
It is strictly coincidence that my NESCAC article this week references concerns that Middlebury coach and Sinclair's mentor, Bill Beaney, has voiced regarding his team and opportunities for improvement entering the final three weeks of the regular season. Ironically, the statistics don't look a lot different for the group of young netminders at Skidmore, who are looking to gain consistency and improve on their current team save percentage of .868 and goals-against average of 3.75 goals-against.
Entering the second semester, freshman Ben Freiberg had become the Thoroughbreds go-to-guy in goal, going 4-4-0 since coming back from the holiday break. Last weekend saw the best and worst of scoring and giving up goals, as a shootout at St. Anselm was offset by a hard fought low-scoring defensive battle against New England College. On Friday night, the Hawks solved the freshman starter for six goals on 38 shots in a game where Skidmore was significantly outplayed. Spencer Sodokoff got the start in a hard-fought 2-1 loss at New England College in a game that clearly played more like a playoff game. Entering this weekend, a key for Skidmore's success is going to be more consistency in goal from whoever Sinclair puts in the crease.
Another "Catch-22" for the Thoroughbreds is the matching 22 percent success rate enjoyed by opponents on the power play against Skidmore. At 71st in the nation of 78 teams in penalty minutes per game, the Thoroughbreds play a very clean game. While they don't give opponents many power-play chances, they have surrendered a high percentage of goals, and that statistic will need to be tightened up if Sinclair's team is looking to have success among the ECAC elite over the next three weeks and into the playoffs.
This weekend's games at home against Mass.-Boston and Babson will provide Skidmore an opportunity to take the season series against both teams, based on November's tie and win respectively. Those points may be valuable in tiebreakers, as well as send a key message to two of the best teams in the conference about the level of competition from top to bottom in the ECAC East.
Like their mascots, the time to turn on the speed and drive for results is in the home stretch, and these Thoroughbreds are certainly capable of visiting the winner's circle if they can get all of their collective parts functioning at peak performance in February.