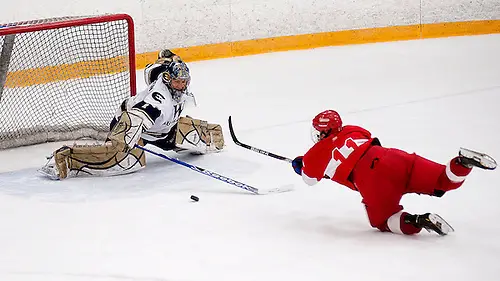 Not only did the Wisconsin-Eau Claire men's hockey team move into first place in the NCHA, the Blugolds made history in the process.
Battling second-ranked St. Norbert on Friday, Wis.-Eau Claire shutout the Green Knights, 3-0, on their home ice, marking only the second time the Blugolds have blanked mighty St. Norbert in program history. The last time Wis.-Eau Claire held St. Norbert scoreless was Jan. 27, 1994.
Overall this season, the Blugolds went 2-0-1 against the Green Knights, the defending NCAA Division III champions. For only the second time in program history, Wis.-Eau Claire did not lose to St. Norbert.
"I didn't even know that until you just told me that now," Blugolds coach Matt Loen said. "It was more of a celebratory thing when we beat them (at St. Norbert) earlier in the year. This time, it was more like we got lucky."
Yes, luck did play a part, but so did the outstanding defensive play of Wis.-Eau Claire's blue line and senior goalie Brandon Stephenson. Between the pipes, Stephenson denied St. Norbert 40 times. On power-play opportunities, the Green Knights went 0-for-6.
"From top to bottom, we played a complete team game," Stephenson said. "Overall, in all three periods of the game, we literally did exactly what we wanted to do. Offensive zone, defensive zone … we executed our game plan exactly how we wanted to."
What was the key to the Blugolds' success against St. Norbert this season?
"As a growing program, playing the top team in the conference, we knew that we needed to show up and play well if we're going to have a chance to win this game," Loen said. "That weekend, in November, when we beat St. Norbert, I think that gave a lot of confidence to this team. We've had a fun team. We have a lot of skill, and we don't give up a lot of goals, so that's a good combination."
By knocking off St. Norbert, Wis.-Eau Claire (16-3-2) moved into sole possession of first place in the NCHA (11-2-1). The Blugolds also moved into a tie with Hobart for the fifth spot in the latest USCHO.com D-III poll.
In goal, Stephenson has served as the Blugolds' backbone all season. On Saturday, in a 3-2 win against Wisconsin-Stevens Point, the senior made history of his own, becoming the Blugolds' all-time leader in wins (14) for a season. He's also tied with Tom Johnson for the most career victories (40), which he's likely to pass this season.
For posting 61 saves in two games, the NCHA named Stephenson its player of the week on Jan. 27.
"As a senior, he knows exactly what he needs to do," Loen said. "He knows exactly what his teammates expect, and he expects a lot out of himself as well."
Despite turning back 40 shots against St. Norbert, Stephenson remains humble discussing his performance.
"The saves I was making were mostly routine; I didn't feel as if I had to be super spectacular," he said. "My defensemen played great, and it really didn't even feel like it was 40 shots."
Stephenson also praised the play of fellow senior Jordan Singer, who leads the Blugolds with 13 goals. In the victory over St. Norbert, Singer provided a crucial goal early in the second period.
"In our sophomore year, he became a force to be reckoned with, and teams will stack lines against him and make sure players are on him when he's on the ice, and he's still producing points," Stephenson said of Singer. "You can tell when he's out there, a team's first line is out there, and he's still putting points on the board, which is awesome."
Stephenson believes the key to the Blugolds' rise among the national ranks is due to the whole team buying into Loen's system. Now in his sixth season, Loen has built a squad that could contend for a national title in March.
"It's very gratifying," Loen said. "I've told people in other interviews, this is a three- to five-year plan for me to build a team, because our academic standards are really high so you can't go out and get 10-to-12 high-end players every year. Fortunately, we've recruited the right kids and we got a few Division I kids to transfer here. Here I am, in my sixth year, we're a national contender, and hopefully we can close out the NCHA."
During Loen's tenure, the Blugolds have shown determination in the playoffs with less-talented teams, so the opportunity for Wis.-Eau Claire to make more history this season looks promising.