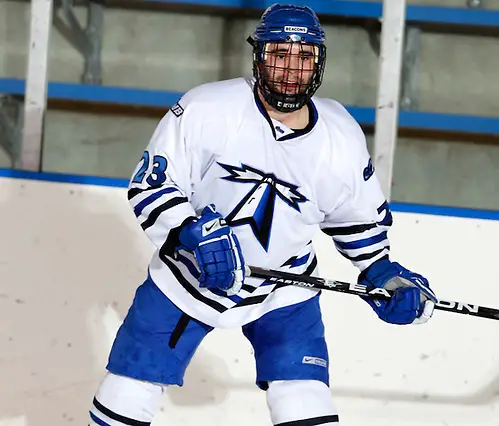 As my plane taxied out from the gate at Houston's George Bush International airport this afternoon, I almost found it ironic that we were destined to take off from Runway 9 on my flight to Milwaukee; ironic, because just that morning in a conversation with Massachusetts-Boston coach Peter Belisle, the discussion revolved around a certain number 9, junior Travis Daniels, and his motor being a big part of why the Beacons have taken off in the ECAC East this year.
"Wow, what can I say about Travis," said Belisle. "He really is our best offensive player, but more than that he has a motor that just revs every time he steps out on the ice. It doesn't matter the situation, he just is high energy and high impact all the time. He plays in every situation, be it the power play, penalty kill, a crucial defensive zone face-off. He may be only 5 foot 7 inches, but his game and impact are definitely much bigger than that for our team."
Daniels leads the team in scoring with 10 goals and 22 assists for 32 points so far on the season. He has three power-play goals to his credit, and four game-winning tallies for the nationally-ranked Beacons. His coach and teammates see him as a catalyst for making things happen on the ice, and his coach sees the player making some decisions easier for him from behind the bench.
"We are so much more offensive-minded this year," noted Belisle. "That certainly has forced me to take a look at some decisions about how we play the game and some of the things we do within the system. Most teams have a number one line, and I would argue that we may have two number one lines. Travis is a big part of the first unit with Mike [DeGrazia], and the freshman line has really asserted itself into a very dangerous group that can produce goals for us offensively. Sometimes, I have to just let them go out there and do their thing, but I always know with Travis that he will make good decisions and make every shift on the ice a productive one for our team. The way he plays, and his ability to do a lot of different things on the ice, makes the decision to put him out there in a lot of different game situations a no-brainer from a coaching perspective. He brings great intensity to the rink every day, whether it's practice or a game, and it's contagious with the rest of the team."
Last week, the Beacons took four points from two road games against two quality opponents battling for a home-ice playoff berth in the ECAC conference tournament. The differences in facilities and style of play between Skidmore and Castleton are challenging enough, but Belisle was very impressed with how his team has responded at the most important time of the year to the pressures of the end of the regular season and pending playoffs.
"Those may be the two most different rinks we play on all season," noted Belisle. "The Skidmore rink certainly seems bigger than an Olympic size rink, and the Castleton rink is definitely smaller than a regulation NHL rink. Those make you really focus and play a bit differently, based on the room on the ice available. I thought the kids did a great job in preparing and responding to the challenges of those two games and coming away with two wins that have us moving to where we want to be. We are trying not to look at standings until after Valentine's Day, but we are playing pretty good hockey and want to continue to focus on playing our best when now it really matters the most."
This is rarified air (not a reference to my flight to Milwaukee) for the Beacons, who find themselves sitting in second place behind the top-ranked Norwich Cadets, and ranked nationally at number 11 in this week's USCHO poll. Just how does the coach keep his player's heads inside their helmets and focused on the task at hand?
"We are focused on our goals," said Belisle. "We said we wanted to win three tournaments this season, and we have won two, but the biggest won is lurking out there and that certainly is a lot of motivation. Mike [De Grazia] and Rob [Florentino] are always reminding the rest of the team that nobody on this roster has ever won a playoff game in a Beacon uniform. That is another motivator for us. Playing great like we are right now is important and a good thing, but it really matters about how we finish the season and the playoffs. That is where the book on our success for this season is going to be written."
This weekend, the Beacons return home for games against the University of New England and Southern Maine, games that when one looks at the standings may create some concerns about the Beacons ability to get up for teams struggling at the bottom of the standings.
"You can't take anybody in this conference lightly," stated Belisle. "I don't think I need to remind the kids that in the first match-up we went to overtime with one of these teams, so we don't get points or wins just for showing up to play the game. We have to go out and work hard and continue to do the things we have been doing to be successful in the second half of the season. We haven't really won anything yet, so every game is a step toward that goal, and Friday is the next challenge on the schedule."
Staying in the number two slot would be a preferred position for the Beacons, assuming they can win a quarterfinal game and avoid a semifinal match-up with Norwich, but that is too far ahead for the coach to consider and certainly more than the Beacons sparkplug is thinking about this week.
"Travis has been so important to us all season, and he really has elevated his game in the second half like a lot of players on the roster, including freshman goalie Zack Andrews," said Belisle. "We are starting to play our best hockey and our most exciting and fun-to-watch hockey at the right time of the season. It would be great to keep it going for a few more weeks."
Take-off was cleared on Runway 9 and for the Beacons; Travis Daniels has kept flying high, ensuring wins and points in the ECAC East standings.