Inside the Quinnipiac locker room, the mood is calm and confident. The only signs of national success have come from cameras, increased attendance and a few mustaches stemming from an unbeaten streak that dates to November.
The Bobcats are unbeaten in their last 19 games, No. 1 in the PairWise Rankings and the ECAC Hockey standings (12-0-2), and No. 2 in the USCHO.com Division I Men's Poll.
After Minnesota and Minnesota State split a weekend series in late January, some thought the Bobcats would jump the Gophers for the top spot in the poll. Quinnipiac came about as close as a team can, gaining 20 first-place votes over a weekend when it did not play.
Last weekend Minnesota was dormant and the Bobcats picked up three points — a 1-1 draw with Brown and a 6-2 win over then-No. 8 Yale. But the three-point weekend was not enough for the top ranking.
"For us it is about where we are in the PairWise and where we are in the conference standings because that is all we can control," Quinnipiac coach Rand Pecknold said. "The polls are great for the fans and the media and maybe a little bit on recruiting, but ultimately we are first in our conference and in the PairWise and that is what we want. We want to put the hammer down and win a regular season championship."
Any perceived slight on the Bobcats is something for which only the voters can answer, but what is apparent is that Quinnipiac is on the rise.
But who are these guys playing for a school that most people can't even pronounce?
"I didn't even really know what Quinnipiac was until I came to visit here," senior goaltender Eric Hartzell said, smiling.
After over 20 years as a Division II team, Quinnipiac (pronounced KWIN-uh-pe-ack,) entered Division I as a member of the MAAC in 1998 and won the regular season title its first two years. In its second season Quinnipiac exploded, going 27-6-3 and scoring 5.42 goals per game.
In its third year playing Division I the Bobcats won the MAAC tournament to earn a spot in the NCAA tournament. Cornell welcomed the Bobcats to the tournament with a 6-1 loss.
In 2005, Quinnipiac left the group that reformed as Atlantic Hockey, joining ECAC Hockey.
"I think for most of those years we were a high-offensive team. We were always a high-end offensive team with a high-end power play," said Pecknold, the Quinnipiac coach since 1994. "But what's happened in the last couple of years is that we've transitioned into a much better defensive hockey team. I think that was a problem our first couple of years in the ECAC where we weren't good enough defensively."
Quinnipiac has found success in the ECAC but nothing to the tune of a regular season title or another NCAA berth. The Bobcats have put together five 20-win seasons and have never won fewer than 16 games since their latest conference move.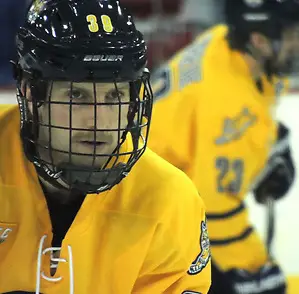 Pecknold admitted to changing things up the last few seasons, including the implementation of new systems and a new practice style. With this season's success, Pecknold joked he was not ready to let the hockey world know any of the changes.
"We don't want to give away our secrets," Pecknold said, chuckling. "I won't go into our systems, either, but we have changed. I've made a lot of changes as a head coach and I think I rely on my assistants more than I used to. I think I always did and I have always had a great staff but I think I rely on them even more.
"That might just be maturity on my part because when you are a young head coach you want to do everything and then you realize you don't have to do everything."
One major change from past teams is the confidence level.
"I don't believe in the nots and the can'ts," Hartzell said about continuing the unbeaten streak. "I will say that 100 percent we can win every single game here on out for the rest of the season. The only thing that is going to stop us is ourselves."
But Pecknold noted that it is more than just thinking they are a great team; it is performing like it.
"As soon as we think we are going to step on the ice and win a hockey game because we are better than someone we are going to lose," Pecknold said. "We are going to win hockey games because we are prepared, we pay attention to detail and we do the little things well."
While the talent may not be the best in the country, Hartzell said there is no substitute for some good, old fashioned teamwork.
"We're not all the greatest hockey players in the world, but we bond great as a team and we all know our roles so well," he said.
So for now the Bobcats will continue to do what they have done all season — focus on the next game, at Cornell on Friday.
"It's just unbelievable," Hartzell said. "What will kill you is if you look too far ahead or look too far back. You have to stay neutral and do the same thing every day."