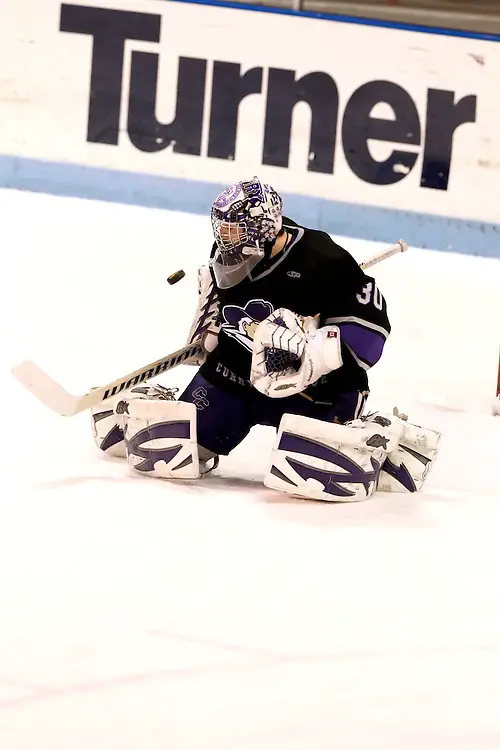 T.J. Manastersky has talked often throughout his first season as coach about not only carrying on the winning tradition at Curry College, but also putting his stamp on the proud program as well.
Mission accomplished.
The Colonels shook an up-and-down start, digested a tough nonconference schedule, and are playing some of their best hockey as the postseason nears. Curry, which snagged a No. 3 seed and will play No. 6 Johnson and Wales at home Saturday afternoon, is riding a four-game point streak, which includes wins over Nichols and Johnson and Wales and ties vs. Salve Regina and Wentworth. It wasn't an easy finish — all four opponents qualified for the postseason — but the Colonels persevered and positioned themselves well for a strong tourney run.
Let's take a look at the ECAC Northeast's two first-round match-ups on Saturday, starting with Curry's home game.
Who: No. 6 Johnson and Wales at No. 3 Curry
When: Saturday, 4:35 p.m.
How they got here: The Colonels posted points in five of their final six games, and just missed one of the league's two byes, which went to Nichols and Wentworth. The Wildcats have lost three of five, but did what they needed to do in the regular-season finale, posting a 5-3 win over Becker on Tuesday.
Ones to watch: Curry senior forward Ian DeLong had a season to remember, posting 10 goals and 23 points in the league, to lead the ECAC Northeast scoring race. Johnson and Wales senior forward Danny Kaufman wasn't far behind, registering nine goals and 18 points in 14 league games.
Season series: Curry, 2-0.
The skinny: Curry's insistence to pen a tough nonconference slate is the primary reason for the ho-hum overall record of 11-10-4. But at 7-3-4 in the league, and with home ice to boot, the Colonels should be able to sense the urgency here. Did they want the bye? Sure, but there are advantages to playing in the first weekend, setting a tone, getting a flow, and implementing your strategy. Something tells us Manastersky will be ready for all of that. For the Wildcats (9-15-1, 5-8-1), this is also a good spot. They snared the last playoff spot by one point over Suffolk, and shook a four-game losing streak to start the season. Most teams wouldn't rally from that to make the postseason.
Who: No. 5 Salve Regina at No. 4 Western New England
When: Saturday, 1:45 p.m.
How they got here: Salve Regina (8-13-3, 5-7-2) orchestrated a final stretch befit of this league. In a conference and a season where anyone could beat anyone, and teams ultimately ended up beating on each other, the Seahawks finished 2-3-2 in the final seven league games. Western New England (11-14, 8-6) took a bit of a different path. The Golden Bears, too, scheduled up in the nonconference portion, and you see that in the overall record, but in league play, Western New England bore down and won four of six to close out the schedule.
Ones to watch: Salve Regina sophomore forward John Scorcia threw up seven goals and 20 points in league play this season. He played in all 14 games, and scored three power-play goals. The Golden Bears have depth and can come at you in waves, but keep an eye on sophomore forward Brandon Stroud. He played in only 13 conference games, but still had nine goals, four on the power play, and 22 points, good for second in the ECAC Northeast scoring race.
Season series: Western New England, 2-0.
The skinny: In a 6-4 win over the Seahawks on Feb. 10, the Golden Bears illustrated the kind of depth we're talking about. Someone new can rise to the fore each new night. In that victory, six different players posted points, junior forward John Kelly scored a hat trick, and junior goaltender Eric Sorenson made 42 saves. But the Seahawks, like they did in a 2-1 loss to Western New England back on Nov. 17, battled to the end. This one should be no different.
The semifinals, hosted by WIT and Nichols, will be held Feb. 27, and the league final is set for March 2, with the highest remaining seed having home ice for that one.