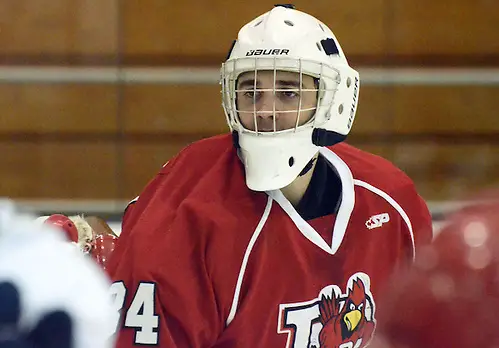 We're coming down to the home stretch, now that the two SUNYAC quarterfinal tilts are in the books, and semifinal match-ups — No. 4 Buffalo State at No. 1 Oswego and No. 3 Geneseo at No. 2 Plattsburgh — are set for Saturday.
It's unusual to some degree to see the top four seeds holding at this stage of the game, but not this time around. Not only were there no upsets in either of Wednesday's quarterfinal tilts, the lower seeds went down with scarcely a fight.
Fredonia, seeded fifth, was overwhelmed by Buffalo State, 6-0, while No. 6 Potsdam were blasted 9-0 by Geneseo. That sets up what could be some fascinating and spirited contests Saturday.
Oswego, which captured its fourth consecutive SUNYAC regular season crown, swept both of this season's meetings with the Bengals, 5-4 and 4-0. The Lakers are the top offensive team in the conference, and boast the top four scorers (Luke Moodie, Paul Rodrigues, Chris Brown, and Chris Muise). They also have the second stingiest defense (after Plattsburgh). Taken together, this means that the Bengals have their work cut out for them.
However, Buffalo State has four double digit goal-getters (Nick Melligan 13, Mike Zanella 15, Trevor McKinney 12, and Matt Bessing 12), and can be a very difficult team to defend against. The Bengals also have a hot goalie in SUYAC second teamer Kevin Carr.
Intrigue could surround the Geneseo and Plattsburgh tilt, as the teams split the season series with wins on home ice.
The Ice Knights can point to a balanced attack, with a dozen of them — including four defensemen — registering 10 or more points. They also have the league's top power play, which connects at a 33.3 percent clip.
Plattsburgh, which won last year's SUNYAC tournament, boasts the conference's top goaltender, junior Mathieu Cadieux, and a stifling penalty kill unit with its 89.5 success rate.
As they, say, stay tuned. The real fun is just getting underway.
******************
Reflective of their season long success, the Lakers placed a trio of players — all of them seniors – on the SUNYAC All-Conference First Team.
Forwards Luke Moodie and Paul Rodrigues, along with defenseman Zach Josepher, were Oswego's representatives on the elite unit.
Joining them were a pair from Plattsburgh, junior goalie Mathieu Cadieux and senior forward Jared Docking. Sophomore defenseman Jack Caradonna of Geneseo rounded out the First Team.
The Second Team featured two from Buffalo State (goalie Kevin Carr and forward Mike Zanella), Geneseo forward Zachary Vit, Oswego forward Chris Brown, and Morrisville defenseman James Jarvis. Nick Jensen of Plattsburgh, who made a mid-season switch from forward to defense, was also honored.
The Third Team was comprised of forwards Chris Kaleta (Cortland), Mike Arnold (Potsdam), and Kevin Emmerling (Plattsburgh), defensemen Mike Grace (Plattsburgh) and Jesse McConney (Oswego), along with Lakers goalie Andrew Hare.
The league will announce its individual awards at a later date.
******************
Fredonia enjoyed limited success on the ice — chiefly via a late-season surge that put the Blue Devils into the playoffs — but can point to even greater feats in the classroom while the push was going on.
A total of 19 players achieved a GPA of 3.0 or better last semester, and two Blue Devils racked up a glittering 4.0. All told, the entire Fredonia squad averaged 3.08, which was the highest of all the school's athletic teams, a distinction the pucksters have held for 12 of the past 13 semesters.
******************
With six postseason spots available, three SUNYAC teams were left out in the cold, including Brockport, which wound up one point out of fifth place. The Golden Eagles had the bad luck of finishing the season with nonconference Franklin Pierce, which allowed both Fredonia and Potsdam to cobble together enough points on the final weekend to nose past them.
Even so, Brockport coach Brian Dickinson was able to point to several satisfying moments within the squad's now-completed season.
"My overall take on the season is one of bittersweet," Dickinson said. "Going into the year, we knew that we would have our moments, both good and bad. Playing as many as 12 freshmen on any given night was going to be challenging, but we believed that they would develop quickly and put us in a position to compete for a playoff spot. You can look at the season as coming down to four seconds. If we hold on to win the Potsdam game, we make the playoffs. Unfortunately, we didn't get it done in that game, and we put our fate in someone else's hands, which obviously didn't go our way. I believe that we're set up for success with this group in the future with the valuable experience that we gained this season.
"Although we're all disappointed that we didn't succeed in our goal of making the SUNYAC playoffs, we're excited to think about what next season will bring."