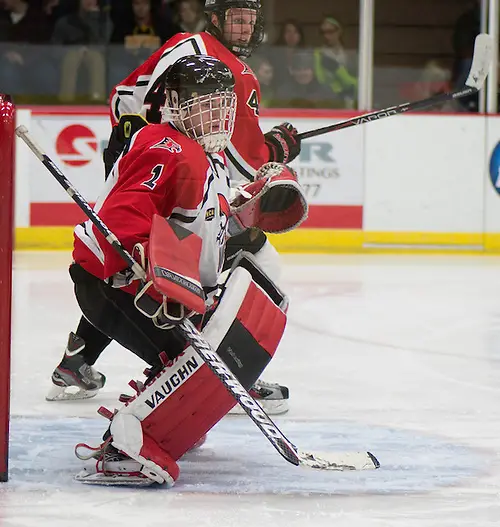 Don't call it an upset, but sixth-seeded Wisconsin-River Falls certainly captured headlines when it upset third-seeded Wisconsin-Stevens Point in the opening round of the NCHA playoffs last weekend.
Playing on the road, the Falcons dropped the first game on Friday, but rebounded to win the second game, 4-1, and a mini-game tiebreaker on Saturday night (3-1). For the third time in four years, Wis.-River Falls advanced to the tournament's semifinal round. The Falcons will travel to top-seeded Wisconsin-Eau Claire on Saturday.
For a team that endured an up-and-down season, (13-10-4, 5-9-4 in the NCHA) upsetting the Pointers was an ideal way to kick off the postseason.
"When we played Stevens Point during the season, I didn't think we played up to our ability," Falcons coach Steve Freeman said. "The last weekend (of the regular season) we were coming off a pretty good road trip where we had a tie in Superior and beaten St. Scholastica, who was red hot, so we felt pretty good about ourselves. We just wanted to stick to the basics and play a good, strong road game, and our goaltender was starting to heat up and play a little bit better, and in the playoffs, goaltending's a big part of it."
Goaltending has been a key part of the Falcon's success all season. Junior Scott Lewan continues to be a workhorse between the pipes. This season, Lewan led the NCHA in saves (748) and minutes played (1,619), while ranking third in save percentage (.910).
On Feb. 15, Lewan was named an all-conference selection by the Wisconsin Intercollegiate Athletic Association, along with teammates Adam Cardwell (forward) and George Malliaras (defenseman). In the NCHA however, Lewan was not named all-conference, taking a backseat to Wis.-Eau Claire's Brandon Stephenson and St. Norbert's David Jacobson.
"Scott was a little inconsistent early on, in the beginning of the year, but he's kind of finding his rhythm — he's played every single game for us this year," Freeman said. "It was the same as last year. Last year, he was tremendous, but this year, it took him a while to get going, but when he's on, he's as good as anybody. He's a key member of our team, and I know the guys are extremely confident in him."
Heading into Saturday's showdown with the Blugolds, the No. 2 team in the NCAA Division III, Lewan will be asked to meet another huge challenge. During the regular season, the Blugolds went 2-1-0 against the Falcons, but Wis.-River Falls could be peaking at the right time. Freeman said the key to knocking off Wis.-Stevens Point in the first round was building off an early lead.
"We want to stick with what's got us there; we like the idea of a one-game shot, of course," Freeman said. "They're an excellent team, extremely fast and have some really, really skilled hockey players over there this year, and they're a veteran team."
However, bye beware; the Blugolds have had two weeks to rest, and may be a bit rusty when they hit the ice on Saturday. Freeman said earning the No. 1 seed can be both a blessing and a curse.
"We played them three times this year, and two of them have been one-goal games; they beat us 3-2 (in Eau Claire) a couple weeks ago," Freeman said. "We kind of know what to expect and we're very excited about the opportunity to play such a good team."
Besides Lewan, the Falcons will need production from Cardwell, an all-NCHA first-team selection. In the series against Wis.-Stevens Point, Cardwell was held scoreless.
"If you play your systems strong and play good goaltending in the playoffs, you always have a chance," Freeman said. "And, with our league, we don't really think we upset Stevens Point. We thought we were in the ballpark with most of the teams in the league on most nights. We were just having a problem putting pucks in the net. Now, we're getting a little more timely scoring, and hopefully that will continue."