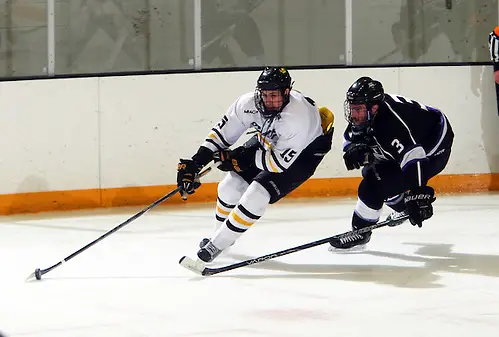 In early November, Gustavus Adolphus looked like a team that seemed destined for a doomed season.
Defending its Minnesota Intercollegiate Athletic Conference tournament championship looked like mission impossible. So did a return trip to the NCAA tournament.
In fact, just getting into the conference tournament was going to be a grueling task. The Gusties were in the grip of a five-game winless streak, losing four games during that stretch.
"We knew we were going to have to battle our way into the tournament," Gustavus coach Brett Petersen said. "We just wanted a chance to get back into it, because you can't talk about defending your title if you don't get in. We've made a pretty good push since around Thanksgiving."
That push has put the Gusties back in the tournament. They are one of five teams who will compete for the tourney title this weekend.
Gustavus (15-7-3) is the fourth seed, and will host St. Olaf (10-13-2) on Friday in the opening round. The winner meets up against regular season co-champion and top seed St. Thomas (13-10-2) on Saturday at the St. Thomas Ice Arena.
Third-seed Concordia (13-11-1) will play at second-seed St. John's (14-7-4) in the other semifinal. The Johnnies shared the regular season title with St. Thomas. The championship is slated for Sunday, with the winner receiving an automatic berth to the NCAA tournament.
Gustavus has won its last six games, and has suffered only one loss since the beginning of January, a 3-1 defeat at the hands of Concordia on Jan. 26. A lot of its success has had to do with the fact that it has gotten healthy again.
They also have a goalie they can count on in Tyler Venne, who was called upon to step up after the Gusties' other two goalies went down with season-ending injuries. Venne has allowed 42 goals and has racked up 439 saves.
"We were decimated with injuries early in the year, but we've gotten a lot of our players back, and once our team realized that Tyler was going to have to be our goalie, they settled down and started playing a lot better," Petersen said. "We have a battle-tested team with postseason experience, and we feel good about the way we are playing."
St. Thomas skates into the tournament on a three-game win streak. The Tommies earned a share of their second consecutive championship over the weekend with a two-game sweep of Augsburg, and are looking to make up for falling short of a tournament title a year ago.
"We are very thankful and humbled that we won a share of the title," St. Thomas coach Jeff Boeser said. "We have stayed level-headed and we have to prepare for both teams. This is a tough league, and any team is capable of winning this tournament. The key is eliminating mistakes, because one mistake can cost you a chance to win."
St. Thomas did make the NCAA tournament last season, despite not winning the MIAC tourney crown, and has put itself in a position to repeat that success behind an offense that has cranked out 66 goals and a defense that has allowed 44.
Alex Altenbernd has scored a team-best eight goals, and has also dished out eight assists. Drew Fielding has spent the majority of time in goal this year, and has made 422 saves while allowing only 33 goals.
Boeser said making a run in the tournament hinges on sticking with what got his team to this point.
"We're not going to make any big changes," Boeser said. "You have to believe in what got you here and make sure you have a great attitude and effort, because those are two things you can control."
St. John's clinched its eighth conference title over the weekend by winning both games against Bethel, and it is the Johnnies' first championship since the 2004-05 campaign.
"It's never easy to sweep a team in this league," St. John's coach Doug Schueller said. "We were able to play disciplined and smart hockey, and we stuck to our game plan. It's a huge accomplishment for us to win a share of the title. It's been awhile since we've had one. I'm proud of the team."
The Johnnies have a lot of momentum heading into the tournament, winning four consecutive games. They have lost only twice since January, and Schueller said success in the tournament will hinge on how well his team handles its preparation time.
"It's a juggling act, because you have to practice, but you want to keep your team as fresh as possible," Schueller said. "We've talked with our strength coach about it, and we feel like we will go into this tournament a lot fresher than we were last season."
The Johnnies have tallied 76 goals and have allowed 51. John Haeg has anchored the offensive attack with 11 goals and 15 assists, while Phil Johnson has come through with 12 goals and nine assists.
Saxton Soley has been one of the top young goalies in the league this year, and has made 434 saves while fashioning a goals-against average of 1.73.
"The main thing is to focus on what we have to do be successful," Schueller said. "We all know each other, and there aren't going to be a lot of surprises. Every game is going to be close, and comes down to which team is playing its best over the weekend."
Concordia comes in riding the high of a five-game win streak.
The Cobbers capped their season with a two-game sweep of St. Mary's, and have scored three or more goals in each of their wins during the streak.
Jordie Bancroft has fueled Concordia's offense, punching in 12 goals to go along with 10 assists. Seven other players have scored at least five goals, giving Concordia one of the more balanced offenses in the conference. Andrew Deters has struck for nine goals and seven assists, while Tucker Coborn has come through with eight goals and nine assists. Ben Payne (seven), Caleb Suderman (seven), Brian Kang (six), Chris Beede (five), and Dan Hrabowych (five) have been steady goal scorers as well.
Chris Neamontis has led the defense, tallying 631 saves.
St. Olaf is the other tournament team, and the Oles are hoping to get back on track. They have dropped five consecutive games, and managed to score just four goals during that stretch.
Jeff Harris has been the leader for the Oles, scoring 16 goals and tallying eight assists. Dan Cecka is second on the team in goals scored with eight, and he has also dished out 13 assists.
Henrik Wood has been the primary goalie for St. Olaf, allowing 33 goals and racking up 402 saves. The Oles closed the season with a pair of losses to Gustavus. A year ago, St. Olaf reached the conference tournament championship game and fell, 4-2, to the Gusties.
"All we can do right now is focus on the game in front of us," Petersen said. "We can't look ahead. We just want to keep things simple and take it one game at a time."