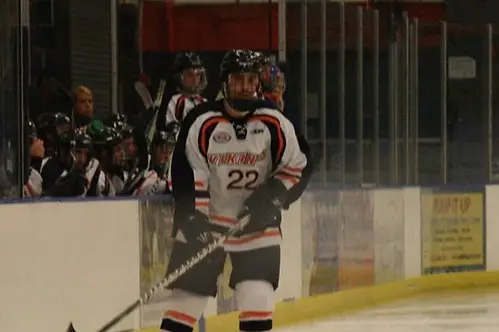 When any player transfers from one school to another, the ability to come in right away and make any sort of impact can take time. The new league, coaches, and even teammates, can affect the comfort zone and slow down one's early success rate. Salem State Vikings forward Chad Goodwin however, has shown no signs of slowing down at all.
"The transfer wasn't too hard for me; a little bit different going from a school with 2,000 students to one with 10,000, but I actually enjoy a bigger school," said Goodwin, who left Salve Regina of the ECAC Northeast for Salem State.
The Whitinsville, Mass., native enjoyed a solid first year at Salve Regina (2011-12), where he posted 14 goals and nine assists for 23 points, which was second most on the club. However, Goodwin felt that he could enhance his academics, and his level of play as well. When he had the opportunity to continue his playing career and education at Salem State, Goodwin jumped on the chance.
"I decided to come to Salem State because I know it is a strong university and has a good hockey program and coach," explained Goodwin. "What was even better is that I already knew a lot of the players from previous years playing either at Hebron Academy or in junior at Bridgewater."
Goodwin has been excelling on the ice in his first year as a Viking, scoring 13 goals, which leads Salem State, and collecting nine assists, good enough for 21 points. Thirteen of those 21 points have come in MASCAC play, as he tried to help lead the Vikings to another MASCAC championship.
"I wanted to come into Salem State and just play my roll," said Goodwin. "I make sure I play the best I can to help Salem State win a MASCAC championship, and then even make a statement in the NCAA tournament."
Being a part of a hockey program that has been to a handful of national tournaments, along with playing for a well-respected coach, only fuels Goodwin to succeed that much more.
"Its a good feeling to be on a respected team, because everyone knows its will be tough game when they play us," Goodwin said.  "Knowing the coach has been here for 30-plus years, he really knows the game well, which can only help the program continue to be successful."
It has been a bit tough for the Viking and Goodwin, who finally snapped their four-game losing skid this past week with a pair of wins. However, during that slide, Goodwin felt that he and the rest of his teammates could get back to their winning ways.
"Even though we lost four straight, I know we will be a top contender in the playoffs," stated Goodwin. "We had a cold streak, but I know we will pick it up and get hot at the right time and hopefully win it all."
With their final game this week against Worcester State, the Vikings are looking to ride into the MASCAC postseason with confidence. If all cylinders are clicking, this can be one dangerous team.
"Our mindset is to just play as a team, respect each other, and things will go right for us," stated Goodwin. "Confidence is what we need, and we will get it."
Goodwin is already showing that he can be one of their leaders offensively. With the right attitude on and off the ice, Goodwin could also be the leader that takes them to the top of the MASCAC.
All from a transfer that is showing no signs of slowing down — at all.
Players of the Week
Rookie of the Week: Andrew Wigg, Plymouth Sate, forward. Collected four points on two goals and two assists in the Panthers 2-0-1 week.
Offensive Player of the Week: Joe Caveney, Fitchburg State, senior. Caveney registered nine points (four goals, five assists) in the Falcons 1-2 week, which included a hat trick against Assumption.
Defenseman of the Week: Dave Walters, Plymouth State, junior. Scored a goal and notched an assist last Saturday in the Panthers 4-4 tie against Mass.-Dartmouth.
Goaltender of the Week: Jake Astedt, Plymouth State, senior. Picked up two wins and a tie last week for the Panthers, including a shutout over Salem State, and held a .939 save percentage with 1.90 goals-against.