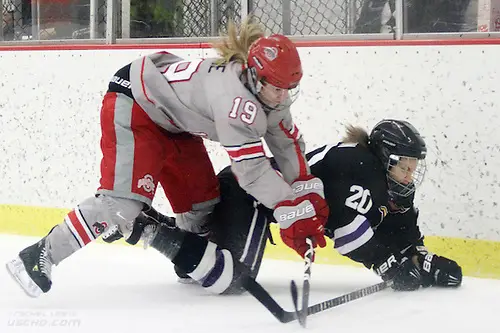 Candace: The regular season is done, and there was a bit of shuffling going on the final weekend. We'll review one by one. Looks like though I won our season picks race, you called both the final ECAC teams correctly, thanks to Yale beating Princeton on the final day. We both got Harvard wrong, as that final weekend may have really hurt them, and Cornell claimed the ECAC crown. Not only that, but Clarkson's win on the final day over Harvard vaulted the Golden Knights past the Crimson, forcing Harvard into a first round match with longtime rival Dartmouth, which as you pointed out has been playing very good hockey of late. Are we in store for more upsets this weekend? Quinnipiac against St. Lawrence could certainly be a fascinating series, and even Rensselaer could throw a scare into Clarkson. About the only series in the ECAC I feel completely confident in picking is Cornell against Colgate.
Arlan: I imagine that there are more upsets on the horizon. The Hockey East playoff format with a single-game quarterfinal is particularly conducive to shockers; the best-of-three series in the other leagues dampen the impact of the occasional bump in the road. In the ECAC, the Dartmouth at Harvard series jumped out at me as the one that could surprise, so the Big Green are the subject of my column this week. The ECAC has been funny all year, where the list of teams that are playing well seems to oscillate every week. Consider Clarkson; the only game that the Golden Knights dropped over the final three weekends was at home to Princeton, a team that ultimately didn't even advance to the postseason. For the cost of a six pack, I consider myself to be rid of the prognostication business rather cheaply. Clarkson outscored RPI, 9-3, head-to-head and is playing much better than the Engineers, but who knows? March could come in like a lion, although I should probably save that line for the CHA.
I also erred in picking Harvard to win the ECAC in my preseason analysis. I don't blame myself too much for that, however, because as recently as last week I'd have made the same choice. Ironically, the Crimson's goaltending, a strength throughout the season, faltered at the decisive point. Harvard had a lot of success while alternating goaltenders early, but of late, senior Laura Bellamy has been sitting out most of the action, despite having the nation's best goals-against average and the second-best save percentage. Right now, Dartmouth looks like the hotter club, but this isn't the first time this travel pairing has seemingly reversed roles this year. The bottom line is that we really don't know who is going to win. That's the ideal, except for times like now when we are supposed to write columns acting like we do. Harvard has the further complication of another midweek game this week. Not a big deal; they handled Brown fine a week ago. However, it is a distraction, and the Crimson sure can't afford a loss to Yale, even though that winds up being invisible in some of the PairWise criteria.
St. Lawrence just doesn't seem to have it this year. I think Dartmouth has the best chance to win the ECAC title outside of the top three teams, and even that is a slim chance at best. Quinnipiac will likely advance to the semifinals, but I don't think the Bobcats can pull back-to-back upsets once there, even though Victoria Vigilanti appears to be on top of her game in senior goaltender tradition.
Candace: If, and I still say if, Quinnipiac can get past St. Lawrence, I think the Bobcats have a decent shot. They played very, very well against Cornell in beating the Big Red the last time out, and I think Clarkson is likely to end up very tired after battling either Harvard or Dartmouth. At this point though, I'd still favor the Big Red, and put Clarkson as favorite 1.5, in part because of the brilliance of Erica Howe in net. The Golden Knights just have to score.
In some ways, Clarkson is like another team that claimed second place on the final day of the season, the Wisconsin Badgers. After losing Stefanie McKeough and Brittany Ammerman to injury early in the season, the Badgers have struggled to find some semblance of the offensive juggernaut that they once were. However, with Alex Rigsby in net, the Badgers always have a shot. Thanks to a sweep of Bemidji and Minnesota-Duluth tying North Dakota on the final day of the year, Wisconsin claimed second place, and gets to host St. Cloud, while North Dakota will play potentially tricky Minnesota State. Regardless, I expect both teams to faceoff in the WCHA semifinals, with the NCAA tournament berth likely on the line. Can Wisconsin get back, or will it go to North Dakota?
Arlan: Yes. Oh wait, that wasn't a yes-or-no question, was it? I hate to answer all of these dilemmas now, because then I'm not sure what we'll discuss next week. I suppose there's always the upsets that we didn't foresee at all. First, I'll digress for a moment and point out that North Dakota is fifth in the KRACH rankings while Wisconsin is sixth, so in that model they wouldn't be competing for the same spot. In Rutter's ranking, they are both two spots higher, so not only would they both be in the field, they'd be hosting. But the PairWise is what we have, so it does appear that the Badgers and North Dakota are scrapping for the same perch and hoping it won't be already occupied by an auto-bid winner once they arrive.
If there is one team North Dakota doesn't want to have to face in the tournament, it has to be Wisconsin. After finally getting a win over the Badgers on Jan. 18, North Dakota couldn't back it up with another the next day. Wisconsin just seems to own that match-up, so the Badgers probably win again if it comes to pass. I think that North Dakota is the better team this year, and the more dangerous team in a national tournament, but Wisconsin seems to always find a way.
There's an intriguing pairing on the other half of the WCHA bracket matching two of the coldest teams, Ohio State and Minnesota-Duluth. The Bulldogs are just 1-6-1 in their last eight games; Ohio State is only 3-9-2 since the New Year. By rule, one of these teams has to advance, but given it was a four-team battle for second a short time ago, it is surprising to see them more than four games behind UW and UND. It kind of sums up the Buckeyes' season of late that they won a shootout on Saturday to break the tie, only to have UMD come back hours later and win a shootout of its own. Fate being what it is, I suppose that had OSU won outright, then the Bulldogs would have done the same, but leaving that point on the table makes it look like the Buckeyes stole that one from the Boston College playbook.
Candace: Ah, had to get a dig in at the Eagles, didn't you? Regarding Ohio State, I don't think you can compare the Buckeyes swoon with Minnesota-Duluth's struggles down the stretch because OSU had difficulty against everybody. Ohio State had a shootout win over St. Cloud, then a win against St. Cloud, an OT win over Bemidji, and then the wins over Minnesota State. Minnesota-Duluth, aside from the one loss to Minnesota State two weeks ago, lost to the top three teams in the WCHA, teams that are all ranked in the top eight nationally. The Bulldogs also swept OSU on the road about a month ago. Granted, OSU did the same to Minnesota-Duluth at the beginning of the year, but I think that both teams were different at that point. OSU had more confidence, and Minneosta-Duluth was just learning that Audrey Cournoyer wasn't the same player she was last season. I suppose this is the one series in the WCHA where the home team might go down, but if I were a betting woman, I'd say that the top four are likely to advance.
Well, let's turn to Hockey East. Neither of us expected Boston College to falter, but on the final weekend, they had a tie with Vermont in a game where Catamounts goalie Roxanne Douville made 53 saves. That tie allowed Boston University to squeak by and claim the regular season Hockey East crown, rather than a coin flip deciding the seeds. Are you taking that misstep as a sign of Boston College's vulnerability going into the Hockey East tournament, especially where the games are one-and-done? I have a hard time seeing Maine taking down the Eagles this weekend, even if the Black Bears did play New Hampshire tough this past weekend. If there are upsets to be had in the HEA tournament, I'd look to either Vermont at Northeastern, or, more likely, Providence at New Hampshire.
Arlan: The Eagles' tie with Vermont is easily explained away by Douville, who obviously played an incredible game in net. It just baffles me how BC can consistently manage to avoid taking home trophies that are practically etched in their honor. The Hockey East regular season and tourney last year, the last two Beanpots, and now this. It's all forgiven should they get back to the Frozen Four, and as long as the Wisconsin bus doesn't pull up in front of the Conte Forum, I love the Eagles' chances.
I do think that Maine of late is a far more dangerous quarterfinal opponent that Connecticut, but the Black Bears don't match up well with BC. The Eagles just have too much team speed for Maine to stay close.
The cruel aspect to BC missing out on its first Hockey East regular season crown is that for a while on Saturday, it looked like the Eagles would get away with the tie and even win Hockey East outright. It wouldn't have been the first time in recent years where a team's shot at winning was compromised by starting a senior goaltender on Senior Day over the usual starter. Of course, once the Terriers were down 5-1 in the second period, they roared back and won, 7-5. The net effect of that is I think that BU has already weathered UConn's best punch and should be fine this weekend as well.
I agree that the other two quarters are far less certain. Providence is so streaky, even within a game. Down 4-0 late in the third at Northeastern, the Friars' comeback was stopped by the clock more than anything that Northeastern did in winning 4-3. New Hampshire has been equally up and down, so I'd say a coin flip to predict the winner there works as well as any other method. Northeastern has been hottest team in Hockey East since the Beanpot, and the Huskies clearly have a lot of motivation. Winning the conference tournament is the only likely scenario that I can see to secure their first NCAA bid.
We discuss all of these pairings and pretty much settle on the home team in the end, but after last year's postseason and the regular season just completed, you know that there are upsets brewing beneath the surface.
Candace: Oh, I am sure there will be some upsets, and perhaps where we least expect it. Then of course there could be upsets that aren't upsets. In the first round, the most likely spot for upsets is in the ECAC and the CHA. Could Penn State knock off RIT? Unlikely, but possible. How about Lindenwood over the continually struggling Robert Morris Colonials? There's one that could happen. I think it's more likely that we'd see an upset in the semis or finals than the first round though, as it seems that there is more parity on the top end between teams than at the bottom. You've made the argument several times that you don't see a lot of difference between teams 2-10 in the USCHO poll. Of course, that does still leave the team at the top.
Minnesota just made history by completing the first undefeated and untied regular season in women's college hockey history. The Gophers need to win seven more games to make it a perfect season. Think they have it in them?
Arlan: Can they win seven games? Yes. Will they? As you said, upsets where we least expect it. For the last few weeks, Minnesota has been playing just to reach this weekend. Outside of records and streaks, they haven't had a lot to play for, other than just the joy of playing. In all honesty, they haven't always looked their best. A slightly subpar effort from Minnesota has been enough thus far. Now the intensity ratchets up over each of the next four weekends. If the higher seeds advance, that would give the Gophers a bracket of Bemidji State, Minnesota-Duluth, and Wisconsin to get through those first two weekends. Each of those teams have been right there in the third period at some point versus Minnesota, so an upset of the top seed is by no means impossible. Noora Räty finally got a game off on Friday, and I thought she looked more focused when she returned on Saturday to tie Jessie Vetter's career shutout mark. When she is 100 percent locked in, then the Gophers are far less upset prone.
Would Lindenwood knocking off RMU even be an upset? I suppose so, just because this is all new for Lindenwood, and the Lions have to play a couple of midweek games and tour the country in a bus yet to boot. I don't see RIT losing to Penn State on home ice in a best-of-three round. Providence and Dartmouth are the two road teams that I think have the best chance, and Providence is helped by only needing a single road win. Last year, the ECAC was the only place where we saw quarterfinal upsets. It was the final weekend of the conference tournaments where nothing went as scripted.
Do you disagree with me regarding my stance on a team like No. 10 Northeastern not being that far away from the eight teams immediately above it? In my mind, Boston College and Cornell are second and third in some order, but if Northeastern bounced the Eagles in a conference semi, it wouldn't be unprecedented.
Candace: I think the Eagles and Big Red have shown slightly more vulnerability over the last month, and in a single game, a hot goaltender can make a world of difference. Ironically, that's why I fully expect Minnesota to finish this year perfect. I was talking with a friend of mine earlier today who used to skate for St. Lawrence, and telling her just terrifyingly balanced the Gophers are. They have lethal forwards in players like Amanda Kessel and Hannah Brandt, a strong defense captained by Megan Bozek, and probably the best goalie in the women's college hockey, Noora Räty, holding down the fort. It's close to being an impossible task for any other team, because the others all have major weaknesses. For Cornell and many others, it's scoring; for Boston College and Boston University, it's the occasional defensive lapse.
Regarding Northeastern knocking off the Eagles in the HEA semis, assuming the Huskies get by Vermont, it's possible, but it will come down to goaltending. Outside of Minnesota, Boston College has the best attack in the country, and I expect Haley Skarupa to be getting stronger as the playoffs start. I don't think there is that much separating the 2-10 teams right now, but I think there is enough that come the national tournament, where the 1-4 teams have home ice, I think you would have to expect the top four to advance. Just look at the PairWise as it is right now. You'd have Minnesota against North Dakota, Cornell against Mercyhurst, Boston College against Harvard, and Clarkson against Boston University. That last match-up is the one where I think an upset is most likely, because the Terriers have a good offense and Clarkson will always be vulnerable against a team that can score. Do you see it differently than I do?
Arlan: We've certainly seen the home teams do well in the quarterfinals in recent years. In the last three NCAA tournaments, only Cornell in 2010 won on the road, and even that gets an asterisk because the Big Red's record had taken a hit because of losses while players were away for international tournaments. Yet the memory of 2007 still lingers, where only Wisconsin won at home, and that took four overtimes. That was one of three overtime games in the opening round that year, and even if the favorites do advance, there will likely be a game going beyond 60 minutes, or at least going right down to the wire. The 2011 tournament is about the only one I can recall where there wasn't even a one-goal game in the quarters.
I don't know how likely we are to see the bracket that you describe, however. The odds are that there will still be some shuffling around, although I don't expect the favorites to fare as poorly in the conference tournaments as last year. Someone should trade places in the second through sixth spots.
I mentioned the possibility of overtime, or at least a close game introducing an upset. The other unknown factor is injuries. Harvard has slumped a bit in the past week with Kalley Armstrong out of the lineup. Dartmouth is looking at being without Sasha Nanji for the rest of the season. We saw Boston College lose when Haley Skarupa was out, and the absence of Marie-Philip Poulin sent Boston University into a funk last year. When teams are reasonably close, a player being out or just impaired can shift the balance, especially when it comes to goaltending. Several teams are very dependent on starters; I don't even know who backs up an Erica Howe or Alex Rigsby. Something unforeseen will occur, and it will have an impact on the manner in which the tournament will unfold.
Candace: Kalley Armstrong was evidently in the lineup Tuesday against Yale, but the Crimson still struggled, as they were tied entering the third period before pulling it out. And who would have predicted Lindenwood beating Syracuse in overtime? If I am Paul Colontino and Robert Morris, that result makes me take notice, especially coming on the heels of the Lions sweep of the Colonials 10 days ago. It should be a barn-burner of a postseason for sure.