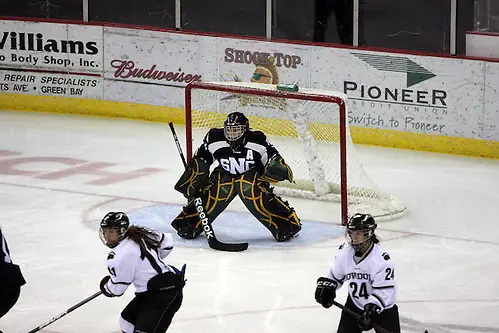 With the exception of maybe the NESCAC, no league has been as unpredictable as the NCHA this season. Look no further than last weekend's results to find that three of the four NCHA quarterfinal hosts were upset by the lower-ranked road team.
Two of those teams to pull upsets were St. Norbert and St. Scholastica, who both entered the NCHA at the same time three years ago as first-year programs. On Friday, they'll find themselves squaring off for a berth in the NCHA championship game.
Top-seed Wisconsin-River Falls was the lone favorite to survive, and the Falcons will host the NCHA final four weekend. No. 7 Wisconsin-Stevens Point upset Adrian, and the Pointers will take on River Falls in the other semifinal. St. Norbert punched its ticket after two one-goal victories over Wisconsin-Superior, while St. Scholastica upset No. 3-seed Lake Forest to move on to the semifinals.
St. Norbert has continued its upward trend in its third year, as the Green Knights have won at least 10 games each season, and they'll make their first NCHA semifinal appearance having won 11 of their last 12 games.
"It was certainly a goal of the team and something we were working toward," St. Norbert coach Rob Morgan said. "We were pretty familiar with Superior after facing them in the playoffs last season. They were two really good hockey games, and we're excited to be moving on."
Morgan pointed to the turning point of the season being the River Falls weekend, when SNC was swept 3-1 and 4-0 in mid-January.
"Our juniors were really embarrassed about that," he said. "They were challenged to raise their game, and the group has done that from that point forward. Their level of care, preparation, and unconditional support of one another is where you want it to be. The types of teams that end up winning down the stretch are the ones that can get out of the locker room on the same page, and that's where we are currently."
The St. Norbert junior class is the class that has been in from the ground up, and has formed the foundation of the program over the last three seasons. SNC has 18 juniors on its squad, which includes all six of its top scorers, and two goaltenders.
"The juniors are the founding members of our program, and they are a real special group that has been through a lot together," Morgan said. "One of the things that they will never experience is playing for a senior. There is no way we could have the kind of run we're on right now without our junior class."
Leading the junior class is captain Henriette Ostergaard, who leads the team with 14 goals and 14 assists for 28 points. Ostergaard also plays for the Denmark national team, which has forced her to miss four games this season.
"She's been the glue to the team in the locker room," Morgan. "She was one game away from qualifying for the Olympics with her national team. For her to come back from being so close to helping her country accomplish the ultimate goal and then to recover for a big series at Point, that's a lot to ask of a player. She's been an unbelievable captain and leader for us."
Having national team players on its roster is nothing new for St. Norbert. The Green Knights have had four over the past three seasons, including Emma Agen (Sweden), Lotta Haarala (Finland), and Madeleine Siggelin (Sweden). All three were key defensemen for the Green Knights, especially Agen, who was named NCHA All-Conference as a rookie.
Helping ease the transition of losing those three important contributors has been the rise of another junior in Laurel Hill.
"Laurel is probably the most underrated defenseman in D-III hockey," Morgan said. "She logs around 35 minutes a game and plays in all facets of the game, but because she doesn't have the points that some of these other defensemen have, she goes a little unnoticed."
Hill has four goals and 12 assists for 16 points in 27 games played this season.
In between the pipes, Morgan praised Katie Aluia for pushing Kaley Gibson day in and day out to help Gibson become one of the top goaltenders in the NCHA. Gibson is 15-8-2 with a 2.23 goals-against average and a .922 save percentage.
St. Norbert couldn't have asked for a better story line heading into its first conference semifinal appearance, as the Green Knights will renew their budding rivalry with St. Scholastica.
"Jackie is an outstanding coach, and it shows in the way her team plays," Morgan said. "She has done a great job in building her program. Right from day one, we knew that the Saints and the Knights were going to have a great rivalry between the two programs. Our kids are really excited."
If St. Norbert wants to move on to its first NCHA final, the Green Knights will have to try and contain the lethal offensive foursome of Nina and Monika Waidacher, along with Michelle Fischer and Gina Dodge. Nina is third in the country in points with 16 goals and 23 assists for 39 points. Fischer has a Division III-leading 29 assists, while Dodge has 15 goals and Monika has 13 tallies.
St. Scholastica has also been buoyed by the strong play of senior transfer goalie from New England College, Teraysa White. White has stabilized the back end with a 14-9-3 record to go along with a 2.34 goals-against average and a .920 save percentage.