Beyond the Colorado Front Range is a strange land of beaches and sun that was once a hotbed of big-time college hockey. Many even say it was home to college hockey's fiercest rivalry. It's a place where crowds filled to capacity and recruits from frozen outposts lived like movie stars.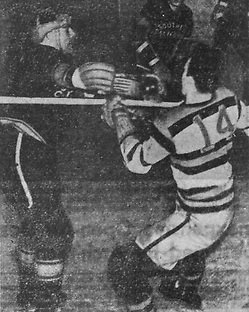 The place is California and the time was long ago. But as college hockey grinds through another tectonic landscape shift, one can't help but wonder if our game might someday extend west to the Pacific again. And if it did, the effect on college hockey would be truly seismic.
December 1928
Herbert Hoover, a graduate of Stanford and soon to become President of the United States, spurred excitement for the Yosemite winter sports festival by offering a victory cup to the school with the most combined points in skiing, barrel jumping, speed skating and ice hockey. The event captivated California college students and, as Seamus O'Coughlin writes in "Squaw Valley Gold", hundreds of them arrived in Yosemite National Park for the Christmas week competition, including a robust contingent from the University of Southern California who convinced their athletic director, Gwynn Wilson, to elevate their hockey team to varsity status mere days before the festivities.
Wilson appointed Arnold Eddy, an assistant graduate manager, to be the team's coach, even though Eddy had never skated and, according to the Los Angeles Times, never even seen ice in the bottom of a glass.
"Take you, your bride and the hockey team up to Yosemite," Wilson told him, according to a 1987 Sports Illustrated article.
The University of California also sent a team to Yosemite, giving USC an opponent. The Golden Bears won all three of their games and were declared inaugural ice hockey champions, but USC would soon avenge the defeats and be joined at the annual event by newly sprouted teams from UCLA and Loyola University. The winter festival, and West Coast college hockey, had arrived.
Despite increased competition, by 1931, USC became the region's dominant program, at one point winning 36 straight games. The Trojans' streak was snapped by Loyola, sparking a bitter rivalry that spilled blood for years to come.
Tom Lieb, a Minnesotan, was the man responsible for building a team mighty enough to beat USC. A former assistant to Notre Dame football coach Knute Rockne, Lieb was hired by Loyola to build its own catholic school football program, and in his spare time, oversee the hockey team as well.
O'Coughlin writes that Lieb immediately began recruiting burly two-sport stars from Minnesota and selling them on the pleasures of winters in Los Angeles. By 1934-35, Lieb was icing an all-Minnesota line that swept the Yosemite tournament and won the Lions their first West Coast intercollegiate conference title.
Games between USC, now filling its roster with Canadians, and Lieb's Loyola Minnesotans were quickly becoming blood feuds. In 1936, when rugged John Polich arrived on the Loyola campus from Hibbing, Minn., the battles turned epic. His size and speed were eclipsed only by his mean streak. Paired with fellow Minnesotans like Bob Myre and Stan Peterlin, Polich delighted in tormenting the Trojans. For the next four seasons, he'd play to capacity crowds and bold headlines.
March 1938
Through Minneapolis' dirty gray snow they trudged, loading overstuffed canvas bags aboard a train bound for the unknown. Two thousand miles later, they stepped off to swaying palms and sunshine beneath the Hollywood Hills.
Never before had the Golden Gophers traveled so far for a hockey game.
They shuttled through the morning streets of Los Angeles, arriving at the swanky Hollywood Plaza Hotel. Rising 10 stories above its stone fountains and dense palm grove patios, the Plaza was an A-list hotspot. Clara Bow and Rex Bell ran their It Café there; Ernest Hemingway checked out shortly before the Gophers arrived.
It was hard to imagine hockey being played here, and no one at the Plaza confused the pallid Minnesota boys for local movie stars, either, though there was one square-jawed block of Italian granite that had leading-role potential.
His name was John Mariucci, a swarthy 190-pound sophomore defenseman already receiving professional offers. The Los Angeles Times predicted he would be the best to play in their city since Syl Apps, then of the Toronto Maple Leafs, while the Daily Trojan lauded Mariucci as the Big Ten's most outstanding player (though his hometown was misidentified as Hibbing, Minn., "the hometown of several Loyola stars including Polich, Peterlin and Myre.").
Regardless, Mariucci had never been farther from home in his striped Gophers sweater, and the occasion was an exotic two-game hockey series against USC in Hollywood, followed by a tilt with up-and-coming Gonzaga in Spokane, Wash. It's the type of cross-country matchup that stirred imaginations, then as now.
Sprouting from the Yosemite festival excitement of the late 1920s, the team at USC had become formidable on a national scale, though they finished second to their intra-city rivals from Loyola in 1937-38, drawing big crowds to the Pan Pacific Auditorium, aka the Polar Palace. The Men of Troy were comprised almost entirely of Canadian imports. It was the only way they could compete with Loyola's Minnesotans. Now the Minnesotans, in maroon and gold, were here for an unprecedented spectacle (though not to play Loyola, allegedly as a protest of the Lions' recruiting in the North Star State).
"The Gophers are probably the finest passing sextet ever appearing here under collegiate colors," wrote Charles Curtis in the Los Angeles Times, which portrayed USC as a substantial underdog.
After a pair of Thursday practices, Minnesota arrived at the Polar Palace early for Friday's 8:30 p.m. faceoff against USC. A sizable crowd, spurred by the Daily Trojan predicting a sellout, had already gathered. The final turnstile count would be approximately 3,500. It was the city's marquee sporting event, drawing top headlines in the Times.
USC scored first, with Nat Harty beating Earl Petrich, Minnesota's diminutive goaltender. Unbeknown to the West Coast sportswriters, Petrich himself was an interesting story. He was a tennis player with nary a single college hockey game to his credit prior to becoming Minnesota's starting netminder in 1938. He weighed scarcely more than his goaltending equipment and made the trip to California despite a still-mending facial fracture sustained a month earlier when a Michigan skater hit him between the eyes with a shot.
He volunteered for this unusual brand of icy abuse when Marty Falk, Minnesota's intended starter, was ruled ineligible shortly before the Gophers' first game of the season. Petrich telephoned Gophers head coach Larry Armstrong and offered to tend his goal. Out of alternatives and time, Armstrong accepted. And that's how a 112-pound tennis player became mighty Minnesota's goalie in 1938.
Petrich surrendered another USC goal later in the period, with Earl Robson converting a pass from Benny Novicki, an Alberta native and the "classiest front line skater in the local league" according to the Times.
The Gophers mounted a third-period comeback, with John Hoakenson scoring to make it 2-1, but Harty soon restored USC's two-goal lead. Then Mariucci fed a pass to fellow Iron Ranger Frank St. Vincent, who scored to bring the Gophers back within one. It was as close as they'd come. USC scored two more goals to stun the pundits with a 5-2 win.
In the following evening's rematch, Minnesota again found itself trailing late until Mariucci scored twice to even the score at 3-3. But a Mariucci turnover with less than two minutes remaining gave Robson a clear rush at Petrich, who by all accounts played brilliantly in the series. Unfortunately for the Gophers, he couldn't stop Robson's breakaway, and USC triumphed once again to gain a sweep.
It was a bold arrival on the scene for California college hockey.
Minnesota left Los Angeles in a wave of ridicule from a Times columnist and promptly suffered another resounding defeat in Washington against Gonzaga, played before a capacity crowd of 3,000 at the Elm Street Arena.
One year later, Gonzaga, with future Toronto Maple Leafs player Frank McCool in goal, would complete back-to-back West Coast amateur championship seasons by beating Loyola 1-0 in Los Angeles.
Fast forward
College hockey was something of a supernova on the West Coast, burning bright for a decade before World War II shuttered several programs. But unlike in the traditional hockey hotbeds, in California, the big-time collegiate game never came back to life.
Could Division I college hockey be reborn on the West Coast? Certainly there are more obstacles today, many of them budgetary and compliance-related, but there's more upside as well, especially for the NCHC.
A rebirth of West Coast teams, a western division with the likes of USC, Arizona State and others joining Denver and Colorado College, would truly make it a national conference — with all the power and wealth that would accompany such a masterstroke.
A leader with the vision, tenacity and business acumen to make it happen would seismically change not only college hockey, but the entire balance of power in North America's player development model. And given the growth and improvement of youth hockey from the Rockies west, the modern-era California teams wouldn't have to rely on recruits from Canada and Minnesota to succeed — though they'd likely have their pick.
Talk about recruiting battles. They'd be some of the fiercest talent fights since Lieb mowed Minnesota's lawn in the 1930s.
It would be a brave new world for college hockey, and at the same time, something of a renaissance, too.