Maybe they were all brothers in one big, happy family while wearing the USA sweater at World Junior Evaluation Camp.
But don't expect that feeling of fraternity when the college season rolls around come October.
After all, where would college pucks be without its conference rivalries?
And of the 31 WJC hopefuls who made it to the end of the week-long stay in the idyllic Adirondacks, there was no larger college conference contingent than the sizable group from the Big Ten.
Nine Big Ten players were on hand as the four-nation U20 camp wrapped up last week, four each from Minnesota and Michigan, and one (Nic Kerdiles) from Wisconsin.
That's one more than the eight from Hockey East, whose number was boosted by a pair from Team Canada.
Not too shabby for a conference that has yet to play its first game.
"I think it's huge," Michigan sophomore Boo Nieves said. "I think it makes a huge statement that guys in the conference can play with anyone. Anyone in the country, and anyone in the world."
Kerdiles, who will be a Badgers sophomore, agreed.
"I think it's pretty cool," he said, "that we have all these guys here, and probably some of these guys are going to be on the [WJC] team. It's nice to see them here, but when it comes to the regular season, I'm going to be playing to win. Hopefully we'll be on the same team in the World Juniors, but obviously it's going to be fun to play each other during the regular season. It's going to be a good conference, I think."
The creation this year of the six-team Big Ten loop was one of the major parts of the seismic shift in the college hockey landscape.
The schools — including Ohio State, Penn State and Michigan State — have been beating up on each other in other sports for decades.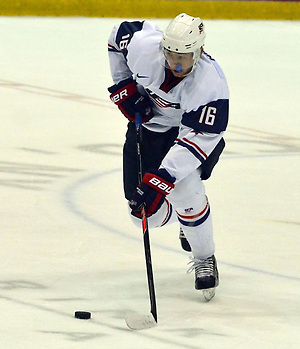 And while hockey hatefests pitting former CCHA foes Michigan and Michigan State or ex-WCHA rivals Minnesota and Wisconsin are the stuff of legend, bundling them all together in one big, unhappy family just kicks the emotions up another notch or three.
"The WCHA was great," Kerdiles said, "but you have [some new] rivalries now. It's going to be a fun season, and it's nice to get to know these guys a little bit.
"I'm not as familiar with the rivalries and all that. But I'm going to be part of it now. In Badger Nation they know what teams to hate and which one they love."
While everyone here was single-minded in striving to help the USA defend the WJC gold medal come January in Malmo, Sweden, the Big Ten ribbing had already begun.
Not everything said beneath the roof of the hallowed Olympic Center was altogether, well, placid.
After all, hockey does make for strange linefellows at times, and the WJC camp, headed by Minnesota and national team coach Don Lucia, was no exception.
"We always joke around," incoming Minnesota freshman Hudson Fasching said. "'Michigan's going to win the Big Ten' or 'Minnesota is going to win the Big Ten.' Me and [Michigan-bound freshmen] J.T. [Compher] and Tyler Motte were on a line here and for the past couple of years [with the NDTP]. So there's always been a Michigan-Minnesota rivalry. We're comfortable with it. We're excited to play each other during the year, too."
Camp Lucia also gave Fasching a chance to make an early impression on his Gophers coach, while giving him an inkling of what to expect at Minnesota.
"That's in the back of your mind when you're out on the ice, how things are going to go during the year," Fasching said. "But [at Lake Placid] you try to focus on the here and now and getting on this roster first."