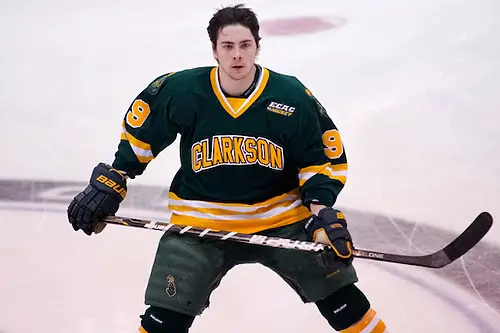 It's not uncommon for a coaching change to cause some uneasiness in a college program. Players might wonder where they fit, or what impact any incoming recruits may have on their place on the team.
Now entering his third season and second full recruiting class, Clarkson coach Casey Jones is hopeful that problem is in the past.
"I found that guys were looking over their shoulders a little a bit at that first recruiting class coming through the door," Jones said. "And know we have a little bit of confidence in our older guys that they understand the leadership that needs to be with your program. Hopefully that will carry us through the close games."
It could have been a different season a year ago for the Golden Knights had some of those close games Jones referenced swung the other way. Clarkson had seven ties and seven one-goal losses, and finished the year with five goals in its last five games, including a sweep by Brown in the opening round of the playoffs.
"We didn't end on a great note offensively," Jones said. "It came down to some injuries, but there's no excuse. I think we have more depth up front now and competition for positions hopefully gives us depth for some guys who are not consistent."
Despite that, Jones is more worried about his defense and goaltending.
"We have to keep the puck out of our net more," he said, pointing to Clarkson's 3.14 goals per game allowed, which was tied for 47th in the nation.
Sophomore goalie Greg Lewis saw the majority of time last year and finished with a 3.02 GAA and a .898 save percentage.
"He had a good offseason; his body broke down a little bit [toward the end of the year]," Jones said. "First and foremost, our discipline and defensive statistics have to improve."
He'll be pushed for time by a pair of freshmen in Ville Runola and Steve Perry. Clarkson's defensive group should be bolstered by the return of Kevin Tansey, who sat out all of last season after being a victim of an assault in the summer. Freshmen Jordan Boucher and James de Haas should add depth as well.
The Golden Knights' defense got off to a near-perfect start over the weekend at No. 20 Niagara. Lewis allowed one goal on Saturday, while Perry followed up with a shutout Sunday against the Purple Eagles, who were 15-0-2 at home last season. Perry's shutout was the first by a Clarkson rookie goalie in his debut in 27 years.
Senior Allan McPherson finished as the Golden Knights' leading scorer but was out Clarkson's two playoff games after getting hurt in the regular season finale. Senior captain and Bruins prospect Ben Sexton has shown potential in his first three years but has yet to put together a complete season.
"We're at an interesting time here," Jones said. "It's a tough time to be rebuilding [in the league]."
About the Golden Knights
2012-13 overall record: 9-20-7
2012-13 ECAC Hockey record: 8-11-3 (10th)
2013-14 predicted finish: Twelfth in both the coaches' and media polls
Key losses: F Adam Pawlick, D Andrew Himelson
Players to watch: F Allan MacPherson, F Ben Sexton, F Joe Zarbo, F Jarrett Burton
Impact rookies: G Ville Runola, G Steve Perry
Why the Golden Knights will finish higher than predicted: One of the freshmen or sophomore Greg Lewis emerges in net and the Golden Knights find a way to turn seven one-goal losses and seven ties from last year into wins.
Why the Golden Knights will finish lower than predicted: There's no lower to go after being picked last in both polls, but if Clarkson's offensive slump from last season carries over and the defense and goaltending doesn't improve, there's little reason to think it'll rise from the bottom.