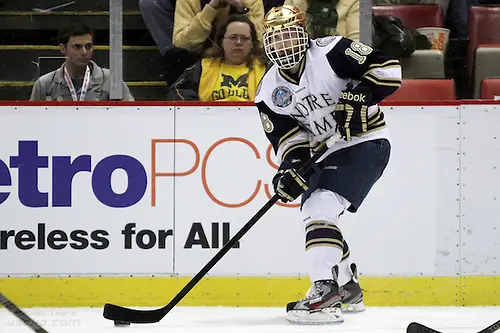 Notre Dame enters Hockey East this season with the high expectations of a perennial power tempered by the challenges of a new league, one that many contend is the toughest in the country.
"It was never easy in the CCHA," Notre Dame coach Jeff Jackson says, "but it's going to be even more challenging in that I think there are more high-end teams, teams that are basically going to compete to be in the Frozen Four. You're going to have to beat teams of that quality on a more regular basis."
In addition to the quality of those teams, there's the overall unfamiliarity.
"The biggest challenge we have is that there are 10 teams we have to prepare for that are going to be new," Jackson says. "New venues, new styles of play. The officiating will be a little different. [Our opponents] only have to prepare for us."
That said, this is a strong team that projects to be in the thick of the Hockey East race. The Fighting Irish won the CCHA tournament last year and over the past seven seasons have taken three CCHA postseason titles and two regular season crowns. They've appeared in five NCAA tournaments and two Frozen Fours, falling to eventual champions Boston College in 2008 and Minnesota-Duluth in 2011.
The strength begins up front. Of the nine forwards who recorded double-digit points last year, all but top-scoring Anders Lee return.
"I think that there's potential for us to become a good offensive team," Jackson says. "Anders will be tough to replace, but we do have good guys coming in behind him. Jeff Costello and Bryan Rust both had great years. T.J. Tynan has been a consistent performer for us over the last several years.
"Then we've got some young guys that are going to come into play. Mario Lucia is a sophomore [along with] Steven Fogarty and Tom DiPauli. We've got a freshman, Vince Hinostroza, that's going to impact us up front."
In goal, senior Steven Summerhays returns with a firm grip on the No. 1 position, with freshman Chad Katunar the heir apparent.
"Steven Summerhays really took a big step last year, his first full year as our No. 1 guy," Jackson says. "He'll be hard to knock off that pedestal. But I have real high expectations for Chad Katunar. He's a big 6-5 kid, very athletic, but it's going to take him a little time. Summerhays will be our guy to start the year and I assume that he's going to have a career year for us."
In front of Summerhays will be a veteran group of blueliners that returns all but Sam Calabrese. Junior Robbie Russo generates the most offense from the group, while seniors Stephen Johns, Shayne Taker and Kevin Lind provide solid defensive play.
"We're a senior-laden team with a sound defense," Jackson says. "We're not dynamic back there necessarily, but we're pretty good defensively and simple offensively.
"I think that bodes well for our forwards. Just get the puck up to the forwards and let them carry the load."
About the Fighting Irish
2012-13 overall record: 25-13-3
2012-13 CCHA record: 17-8-3 (second)
2013-14 predicted finish (coaches' poll): Third
Key losses: F Anders Lee, D Sam Calabrese
Players to watch: F Bryan Rust, F Jeff Costello, F T.J. Tynan, D Robbie Russo, G Steven Summerhays
Impact rookies: F Vince Hinostroza, G Chad Katunar
Why the Irish will finish higher than predicted: The Irish return most of the talent that won the CCHA last year. On paper, they're a top-10 team.
Why the Irish will finish lower than predicted: It's a new league with lots of adjustments in store. With so many other top teams separated by a paper-thin margin, third place can easily become seventh.