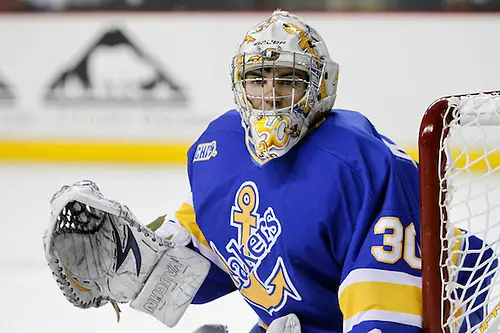 The Lake Superior State Lakers have been hit hard the past two seasons by players leaving school early to sign professional contracts.
Kyle Jean and Zach Trotman left for the AHL after the 2011-12 season, and at the end of last year, junior forward Kellan Lain and sophomore forward Buddy Robinson both bolted for the AHL.
One player the Lakers thought would be turning pro, goaltender Kevin Kapalka, has remained in Sault Ste. Marie, however.
Kapalka's commitment to the program has left coach Jim Roque in a position most coaches could only dream of.
With former Minnesota State goalie Kevin Murdock also back this year in royal blue and gold, the Lakers have two veteran senior goaltenders to turn to in the new WCHA.
"We brought [Murdock] in only because we thought Kapalka was going to sign," Roque said. "[Kapalka] had such a good freshman year and there was all kinds of talk that summer that if he had another good year, he was going to turn pro. We felt like we needed to have a capable goalie, so we didn't care that they were in the same class. That's how we ended up with two senior goalies."
Murdock (10-12) was the better goalie for the Lakers in 2012-13, posting a .930 save percentage that ranked third in the CCHA and a 2.51 GAA over 23 games, including 20 starts.
Battling a shoulder injury early in the year, Kapalka (7-9-1) played 21 games — started 19 — and finished with a .916 save percentage and 2.86 GAA. Like Murdock, Kapalka posted three shutouts.
"[Murdock] saved our season last year because we were kind of in a bit of trouble," Roque said.
"It's become a very healthy rivalry between [Murdock] and Kapalka. I couldn't tell you who the goalie is today. They're going to have to figure that out. Maybe it's both of them. I played them both last year.
"I'd love to see one goalie emerge, but I couldn't tell you if that's going to happen today."
While goaltending is the Lakers' strength, Roque said forward will be the program's biggest issue with five or six freshman up front this season. In addition to Lain turning pro, Lake Superior State also must replace its leading scorers from 2012-13 — seniors Domenic Monardo and Nick McParland.
Senior forward Dan Radke is the leading returning scorer, having posted five goals and 16 assists as a junior. Junior Chris Ciotti is the leading returning goal scorer, having tallied 11 goals a year ago.
Roque said he is most excited for the return of senior Colin Campbell, who has 13 goals and 22 assists in three seasons at LSSU after playing only nine games last year due to a shoulder injury.
"[Campbell] had a great first two years here," Roque said. "He's probably the best player of all the guys that could have signed pro, but got hurt last year."
About the Lakers
2012-13 overall record: 17-21-1
2012-13 CCHA record: 11-16-1 (eighth)
2013-14 predicted finish: Eighth
Key losses: F Domenic Monardo, F Nick McParland, F Kellan Lain, F Buddy Robinson
Players to watch: F Dan Radke, F Chris Ciotti, D Zach Sternberg, G Kevin Murdock, G Kevin Kapalka
Impact rookies: F Gus Correale, F Alex Globke
Why the Lakers will finish higher than predicted: LSSU truly has two No. 1 senior goaltenders in Kapalka and Murdock, meaning the team won't miss a beat if one is slumping or if one gets injured. Murdock, who began his career at Minnesota State, was the better goalie last year with a 2.51 GAA and a .930 save percentage that ranked third in the CCHA. Kapalka sported a .916 save percentage and 2.86 GAA.
Why the Lakers will finish lower than predicted: Early signings have hurt the Lakers over the past few seasons with junior forward Lain and sophomore forward Robinson being the latest to leave LSSU early. The year before, LSSU lost Kyle Jean and Zach Trotman. Those kind of losses can catch up with a program.