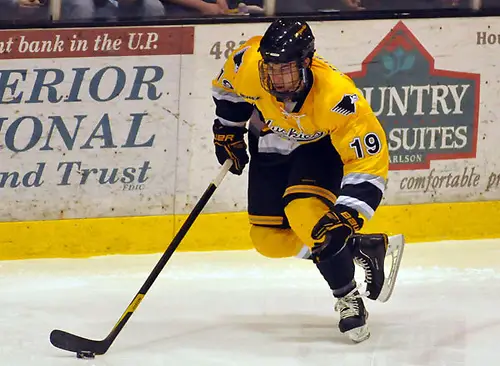 Michigan Tech coach Mel Pearson wasn't kidding around when he said junior forward Blake Pietila was flying under the radar this preseason in the WCHA.
The 2011 New Jersey Devils fifth-round draft pick and 2013 World Junior Championship gold medalist from Brighton, Mich., received no votes from the media or coaches in the WCHA preseason awards, with Bowling Green coach Chris Bergeron — formerly of the CCHA — admitting he "totally forgot" Pietila was at Tech.
Even inside John MacInnes Student Ice Arena in Houghton, Pietila was overlooked a year ago, Pearson said.
"Even on our team last year, a lot of people talk about [David] Johnstone or Alex Petan or [Jujhar] Khaira," Pearson said.
"I know Blake Pietila has not got much credit so far this year, but he won a gold medal with the U.S. World Junior team last year. He'll be one of our leaders up front, as well as Alex Petan."
Pietila and Petan are set to lead a group of forwards Pearson said he was "really excited" about in 2013-14 despite Khaira — who was third in scoring for Tech with six goals and 19 assists as a freshman — signing over the summer with the Edmonton Oilers.
That's because along four of the Huskies' five leading scorers are back from 2012-13.
Petan, an All-WCHA preseason selection by the coaches and media as a sophomore, led Tech in scoring with 15 goals and 19 assists last season. Johnstone, a junior, was second with 10 goals and 19 assists.
Pietila finished fourth in scoring for Tech and second behind Petan in goals with 14 goals and 10 assists. Tanner Kero, another junior, was the fifth Huskies player to post double-digit goals with 11 and 13 assists.
Pearson said Kero is coming into his own as a junior and Johnstone is a good player as well. Pietila, however, is ready for a breakout year.
"Alex is an excellent player," Pearson said. "I think he's gotten a little more of the credit, but Blake does a lot of the little things. I think coming off that World Junior Championship last year, I think he's anxious. Obviously, a New Jersey draft pick, he's anxious and excited to get going this year."
While Pearson is excited about his forwards, he admitted to being concerned about his defensemen.
Steven Seigo and Carl Nielsen are gone after playing all 37 games as seniors on the Tech blue line last year, as is Tommy Brown, who played in 11 games as a senior.
Junior Riley Sweeney is Tech's top returning defenseman after scoring two goals and 11 assists in 37 games as a sophomore. Joining him will be senior Brad Stebner, who appeared in 35 games, and sophomore Walker Hyland, who played 23 games as a freshman, finishing with a plus-3 rating.
Backing them up in net will be sophomore goalie Pheonix Copley, who finished with a .900 save percentage and 3.22 GAA in 24 games last season.
"We'll be young on defense," Pearson said. "If we have one real question mark, it will be our defensemen. We lost three good players back there so we'll have a nice blend of some seniors, some juniors and three freshmen."
About the Huskies
2012-13 overall record: 13-20-4
2012-13 WCHA record: 8-16-4 (10th)
2013-14 predicted finish: Third
Key losses: F Jujhar Khaira, D Steven Seigo, D Carl Nielsen, G Kevin Genoe
Players to watch: F Alex Petan, F Blake Pietila, F David Johnstone, G Phoenix Copley, D Riley Sweeney
Impact rookies: F Brent Baltus, D Shane Hanna, F Mike Neville, D Cliff Watson
Why the Huskies will finish higher than predicted: All-WCHA preseason forward Petan and New Jersey Devils draft pick Pietila give the Huskies two of the better forwards in the WCHA, and they have a strong supporting cast with Johnstone and Tanner Kero, giving Tech one of the stronger groups of forwards in the league.
Why the Huskies will finish lower than predicted: Tech is young on defense after losing three senior defensemen from 2012-13, including two who appeared in all 37 games. In the preseason WCHA conference call, coach Mel Pearson said the Huskies could feature three freshmen on the blue line, putting extra pressure on sophomore goalie Pheonix Copley.