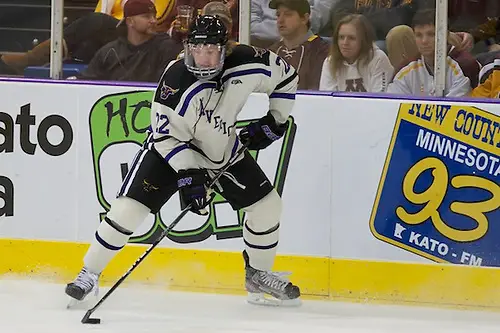 Mike Hastings is taking nothing for granted.
His Minnesota State team is the overwhelming favorite to win the new-look WCHA, based on a strong collection of players returning from the only team in the current league to make the NCAA tournament last year.
"History doesn't guarantee anything, except give you some information," said Hastings, who is beginning his second season with the Mavericks.
History is there, however. Junior center Matt Leitner ranks fourth among the country's top returning scorers, having racked up 47 points, including a national-best 22 on the power play.
Veterans Jean-Paul LaFontaine (35 points), captain Johnny McInnis (22) and Chase Grant (19), along with three second-year forwards — Dylan Margonari, Teddy Blueger and Bryce Gervais — had double-digit point totals last season.
Add to that the conference's preseason favorite for rookie of the year, Zach Stepan, and the Mavericks have considerable depth on offense.
"We hope up front, at the forward position, is going to be a place of strength for us," Hastings said. "We're going to need those guys to set the pace for us."
But Hastings clearly believes a statistical repeat of last year won't be good enough to win the WCHA or get back to the national tournament. For one thing, the Mavericks need to replace the leadership and goal-scoring touch of Eriah Hayes.
Also, just before the season started, Minnesota State lost its fourth-leading scorer, senior Zach Lehrke, to a medical condition.
"We need some of our guys who had good years last year to continue that and maybe one-up that this year," Hastings said. "Leitner had a good summer, and he's going to need to have a good start."
While opposing coaches may look at the Mavericks' roster and see a loaded lineup, Hastings clearly expects progress from his players. That includes the conference's best goaltender from a year ago, Stephon Williams, who was drafted by the New York Islanders over the summer.
"He has two people behind him in [freshman] Cole Huggins and [senior] Evan Karambelas, and for us to be successful, he needs to be pushed," Hastings said. "So we're hoping those two guys can put a little gas on Stephon and Stephon can take a step."
Leitner, Williams and junior defenseman Zach Palmquist were preseason all-conference picks by the league coaches. Palmquist is coming off a 25-point season.
"He really came into his own, especially over the second half of the year," Hastings said. "He's a guy who can play both ends of the rink and help our power-play numbers."
Senior Josh Nelson became a top-four defenseman last season. He was named an alternate captain this season, along with junior blueliner Brett Stern, who played in 37 games last season. Sophomore Jon Jutzi played in every game as a freshman.
About the Mavericks
2012-13 overall record: 24-14-3
2012-13 WCHA record: 16-11-1 (tie-fourth)
2013-14 predicted finish: First
Key losses: F Eriah Hayes, D Tyler Elbrecht, F Zach Lehrke
Players to watch: F Matt Leitner, F Jean-Paul LaFontaine, G Stephon Williams, D Zach Palmquist
Impact rookies: F Zach Stepan, F Mike Huntebrinker
Why the Mavericks will match their predicted finish: Their depth up front is as advertised and last year's young defensemen take big steps.
Why the Mavericks will finish lower than predicted: They won't be able to replace the leadership lost by the graduation of Hayes and Elbrecht.