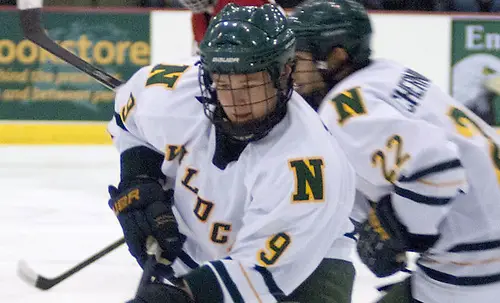 After finishing 16th in the PairWise Rankings and just missing out on the NCAA tournament in 2011-12, Northern Michigan took a step backward last season, finishing 10th in the final season of the CCHA.
The result is a shakeup of the Wildcats' lineup as they return to the WCHA — though a much different WCHA — after a 16-year absence.
From the goal line to the blue line to forward, the 'Cats are going to look as different as the league they're rejoining.
"We had some kids who did not compete and we made a decision a year ago we were going to have to change some faces and bring in a lot of new people," said coach Walt Kyle, who was an assistant with the Wildcats during their last season in the WCHA in 1997.
"At some point this year, we think we'll have eight or nine new faces in our lineup. Some of them won't necessarily be freshmen."
The Wildcats' makeover begins in goal following the early departure of Jared Coreau to the Detroit Red Wings and Grand Rapids Griffins.
Mathias Dahlstrom, a 22-year-old redshirt freshman out of Sweden, was on campus all of last year but sat out the season due to eligibility issues. He's the front-runner to replace Coreau but will be challenged by 2012-13 backup Michael Doan and true freshman Derek Dun.
"We knew there was a good chance we were going to lose Jared, so a year ago we brought in a Swede from the USHL named Mathias Dahlstrom," Kyle said. "We had a chance to watch Mathias and work with Mathias all last year. We think he is a very good young goaltender and we think he will do a great job for us."
Northern's biggest shake-up will come on the blue line, where Kyle said his core defensemen failed to live up to expectations.
The exception to that is senior captain CJ Ludwig, who finished plus-1 with four goals and 15 assists.
He'll get some help from a pair of Hockey East transfers in junior Luke Eibler out of Northeastern and Barrett Kaib of Providence. Eibler was on campus all of last year, while Kaib spent his year out of NCAA hockey playing for the Green Bay Gamblers of the USHL.
"We thought that was going to be a real strong group for us a year ago, but we would up with some guys that had subpar seasons," Kyle said. "We wound up with some injuries there, injuries up front. We had to move people around."
Up front, NMU loses its leading scorer from 2012-13 in Matt Thurber (six goals, 26 assists) but gets back its next four leading scorers in junior Reed Seckel (13-12–25), senior Erik Higby (9-12–21), senior Stephan Vigier (7-14–21) and junior Ryan Daugherty (10-8–18).
In addition, true freshman Sami Salminen will join the lineup after sitting five games, while freshmen Gerard Hanson and John Siemer will join the team after Christmas.
"I think we're going to be young, but I like our energy," Kyle said. "I like where we are going. I think the group of people that we brought in gives us a good chance to be solid not only this year, but moving forward."
About the Wildcats
2012-13 overall record: 15-19-4
2012-13 CCHA record: 9-15-4 (10th)
2013-14 predicted finish: Sixth
Key losses: G Jared Coreau, F Matt Thurber, D Scott Macaulay
Players to watch: D CJ Ludwig, F Reed Seckel, D Luke Eibler
Impact rookies: F Shane Sooth, F Dominik Shine, G Mathias Dahlstrom
Why the Wildcats will finish higher than predicted: The additions of transfer defensemen Eibler out of Northeastern and Barrett Kaib out of Providence should not only push, but vastly improve a position group that failed to live up to expectations last year, even with Coreau in goal. Freshmen forwards Sooth and Shine should bolster the offense and fill the void left by Thurber.
Why the Wildcats will finish lower than predicted: Northern is relying on a lot of youth this year to help improve the team and two of those players — Sami Salminen and Gerard Hanson — won't be eligible at the start of the season. NMU is also relying on a rookie goaltender in Mathias Dahlstrom to replace its top player from a year ago in Coreau.