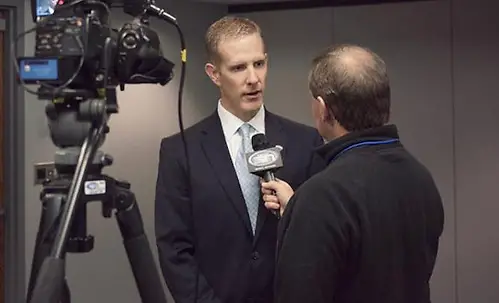 He may have only been in his current job since the middle of July, but Josh Fenton so far is relishing life in his first year as a league commissioner.
NCHC league play began with a pair of games televised nationally last Friday night on CBS Sports Network. Fenton saw one game live, having been in attendance at Friday's Miami-North Dakota game in Oxford, Ohio, but, having seen every game so far via television and the teams' video exchange service, the 34-year-old gave good marks to what he's seen so far.
"I think this past weekend in particular was a terrific spotlight for the conference," Fenton said. "Having two games Friday night on CBS Sports Network nationally televised allowed me to go back and watch both of them on a replay, and I thought the production with which CBS Sports Network showcased the conference was just terrific.
"I, myself, was at the Miami-North Dakota series on the weekend, but I thought the way the conference was spotlighted Friday night was great, so first and foremost, from an exposure standpoint, that was great and important to us. Secondly, from overall how things are going, I think things are going very well."
Fenton is planning to visit all eight NCHC schools during the first two months of the season, and will be in Duluth, Minn., this weekend for Minnesota-Duluth's two-game set against second-ranked Notre Dame.
He and his coworkers at the NCHC's league office in Colorado Springs have been able to work well remotely with the league's member institutions, too, and he's pleased with the level of communication thus far.
"I wouldn't necessarily pinpoint one big good thing we've accomplished so far," Fenton said. "But overall I would say the coordination and collaboration between the conference office and the member institutions' staff members and the teams and student-athletes and coaches has been terrific.
"Everybody's been working very cooperatively to help with how we want to go about doing our business and putting on a great show and a great presentation for these games."
It's not just about working with the universities' officials and players, though. Fenton said that, between what goes on in the league's venues and through league-run multimedia platforms as such as the NCHC's Website and smartphone app, the conference is working to make itself open and responsive to fans' feedback.
"We've been working on some details with our Website and our mobile app and will continue to make improvements there, but one thing that's important to me in particular is how our fans' feedback is and how they're consuming our product, whether that's on the Website, on the app or in the venue," Fenton said.
"It's important for me and for the conference in general to understand the feedback and listen to the feedback and make appropriate changes when necessary based on suggestions fans are making.
"Certainly, we can't make changes every time a fan suggests something, but if it makes sense to the way fans are consuming our product and the information that we're trying to deliver to them, we're going to do that."
Working to make the NCHC's product as strong and fan-friendly as possible is an ongoing process, of course. However, Fenton is happy with how exposure through multiple platforms is helping the league to develop in its infancy.
"Overall, just the way the conference has been exposed from a media standpoint and not necessarily just from a television standpoint, I think the conference has been showcased in a very positive light, and that's a great thing," Fenton said.
"I think it speaks to our ability to deliver on what we say we're going to do."
Miami's Coleman bounces back from ejection
It's rare that a college hockey player gets tossed from a game one night and nets a hat trick his next time out, but Miami junior forward Blake Coleman was able to pull off just that last weekend at home against North Dakota.
At 4:27 of Friday's third period, with Miami trailing UND 3-2 and in the process of climbing out of a 3-0 hole into which the visitors threw the RedHawks earlier in the game, Coleman saw his night end prematurely. Coleman made a hit on UND's Michael Parks in front of the end boards and was whistled for a five-minute major penalty for checking from behind as well as a game misconduct.
When Coleman discovered Friday night that he would be eligible to play in the rematch the following night, though, his preparation started in the Steve Cady Arena home team's training room while his compatriots were still playing in what ended up as a 4-2 win for the visitors.
"Friday night was obviously difficult for me, just because the game was still at hand and our team was still in it, and that's how that penalty basically killed our chances coming back, so I just glued myself to the TV in our training room once I got kicked out," Coleman said. "Obviously, it was a call I didn't necessarily agree with to the extent of the call, but there's nothing I could do apart from figure out if I was playing on Saturday.
"Coach [Enrico Blasi] seemed to think Friday night that I would be playing [Saturday], so I just went to the cold tub and prepared as if I was going to be playing the next night. I didn't see it as much of a redemption opportunity; I just prepared the same way I normally do and had that mentality that [the game misconduct call was] an everything-happens-for-a-reason type of thing."
Maybe that reason was to give Coleman a little extra rest going into Saturday's game.
He and linemates Jimmy Mullin and Devin Loe all shined in the RedHawks' 6-2 win Saturday night, with Mullin and Loe both picking up two assists while Coleman scored three, including one unassisted tally.
Blasi suggested he wasn't surprised by Coleman's performance Saturday after getting ejected from the series opener the night before.
"I thought it was important for him to come back and play well, and Blake is that type of player where he plays hard and goes to the tough areas of the ice," Blasi said. "He plays a very intense game and sometimes he gets called for some penalties, but we know he's going to play hard every night.
"He played well last year for us and was one of our [main] guys, and he's just a big body that can really skate and play a real intense game where every team would like a player like that. He's just a real good piece to our puzzle, and hopefully he can continue to get better and continue to take steps."
Coleman insisted he wasn't seeking redemption Saturday night, but one could argue he got it anyway.
"I looked at [the tape from Friday] a little bit, but it wasn't something I dwelled on," Coleman said. "I think that the call was made in [the referee's] opinion, and obviously it's easy to say looking back on video as opposed to watching it live, but it happened and it happens all the time in hockey where there's going to be calls you don't agree with, and you've got to put it behind you and keep playing."
Thompson battling for UNO's No. 1 goaltender job
If, going into this season, you told Nebraska-Omaha coach Dean Blais that three of his team's first four games of the new campaign would feature starts from one of the Mavericks' two true freshman goaltenders, he might not have believed you.
"I probably would have questioned that," Blais said with a laugh when I approached him with that hypothetical earlier this week.
That's what's happened, though, and while junior goaltender Ryan Massa was looked at going into the 2013-14 season as the Mavericks' solid No. 1 goaltender, newcomer Kirk Thompson has proven that the competition to win the starting spot for UNO is nowhere near being a one-horse race.
After Massa conceded five goals in UNO's surprise 6-4 season-opening loss at home to Bentley Oct. 11, Blais called upon Thompson to take over in net in the following night's rematch with the Falcons.
That turned out to be a pretty good choice.
Two of UNO's three goaltenders — including freshman Reed Peters — had zero college hockey experience coming into this season, but Thompson didn't look too green in his debut, making 25 saves and picking up a 4-2 win.
That performance against Bentley convinced Blais to give Thompson a second consecutive start, and that ended in a second consecutive win last Friday night when the Mavericks won 2-1 at Northern Michigan. Thompson again looked solid in the Mavericks' net, stopping 28 Wildcats shots and being beaten only once in the game's second period during a five-on-three power play for NMU.
Saturday's rematch didn't turn out so well for Nebraska-Omaha, with Northern picking up four power-play goals en route to a 6-3 win. However, Blais said Thompson's experience as a starting goaltender in junior hockey helped him contribute so much so soon as a freshman in Omaha.
"I think he had a lot of confidence for his first time out [against Bentley]," Blais said. "He played for Prince George in the British Columbia league and he saw 40 shots per night, and he said on Saturday [against Bentley] when I asked if he was OK to start the game, he said, 'I've played 50 games per year for the last three years,' and that's a lot of hockey, and he saw a lot of rubber.
"What he saw Friday night [against NMU] was nothing, so he said he was ready to go again Saturday, but you always like to check with your goaltenders and see how they did in the game before and how they're going to do tonight and if they're ready to go.
"Once in a while, they'll tell you if they aren't feeling well or aren't ready to go for a different reason, but like any other player, [your goalies] are ready to go."
Thompson has quickly endeared himself to UNO fans, and he said he appreciates Blais showing faith in the newcomer so early on.
"From my point of view, I know what I'm capable of, although the fans might have been a little surprised as nobody here is familiar with me," Thompson said. "That's especially with me coming from the BCHL and stuff, but I'm glad I got the opportunity to go in."
Whether Blais and his assistant coaches have in place solid Nos. 1, 2 and 3 in goal is still unclear.
"Our goaltending is certainly a unique situation," Blais said. "We've got three now and Reed Peters hasn't gotten a chance apart from playing one period [in UNO's exhibition game against the Northern Alberta Institute of Technology on Oct. 7] and gave up a goal but did OK.
"Right now, we're really going to have watch our goaltenders in practice just to see if one has a better bead on the puck than the others during the week."
Who might become UNO's starter night-in and night-out, however, is not an issue Thompson has been overly keen to sit down with them to discuss. To him, all that matters right now is making the most of the opportunities that present themselves.
"I haven't talked to our coaches about that at all," Thompson said. "The only impression I get is that, if you're going to play well and give the team a chance to win, you're going to get to play more."
NCHC players of the week
Offensive player of the week: Shane Berschbach, Western Michigan. Berschbach collected three goals and an assist en route to being named to last weekend's Brice Alaska Goal Rush all-tournament team. Two of those goals came in the Broncos' 6-2 win Friday over Alaska-Anchorage.
Defensive player of the week: Jaccob Slavin, Colorado College. The Tigers newcomer shined in CC's first-ever NCHC series, which ended in a split at home against Minnesota-Duluth. Slavin picked up a goal and an assist in the two games against the Bulldogs, and he helped the Tigers kill 12 of UMD's 13 power-play opportunities.
Rookie of the week: Alex Iafallo, Minnesota-Duluth. Iafallo kept Slavin from picking up a second weekly award by netting two goals and assisting on another in the Bulldogs' 5-1 win at CC Saturday night. He also fired a team-high nine shots on goal in UMD's two games last weekend in Colorado Springs.
Goaltender of the week: Frank Slubowski, Western Michigan. Like Berschbach, Slubowski was also named to the Brice Alaska Goal Rush all-tournament team after leading Western to a runner-up finish in the competition. He finished his weekend with a .914 save percentage and 53 saves, including 29 in 65 minutes during a 3-3 tie Saturday with host school Alaska.