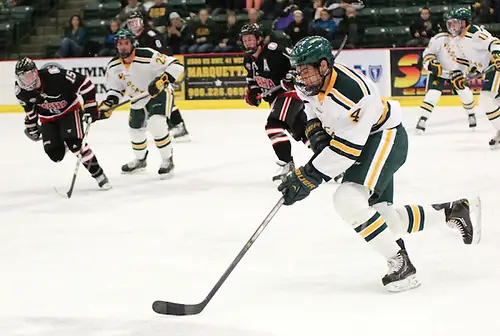 After opening the season at Minnesota-Duluth and Notre Dame, the Michigan Tech Huskies begin a four-week run against rivals this weekend with Northern Michigan, followed by Michigan, Michigan State and Lake Superior State.
While every win is important, third-year Huskies coach Mel Pearson knows some mean more than others.
"If you have to beat anybody at all during the year, it better be Northern Michigan for us," said Pearson, who played for the Huskies from 1977 to 1981. "Obviously, we have had a pretty good rivalry with Michigan and Michigan State in hockey, but I've learned."
The Wildcats and Huskies will meet as conference rivals for the first time in over 15 years Friday in Marquette and Saturday in Houghton.
Tech and Northern — separated by a 100-mile stretch of U.S. Highway 41 — were conference rivals from 1981 to 1984 in the CCHA, then in the WCHA from 1984 until 1997, when NMU returned to the CCHA.
"These are games our fans want to see," said NMU coach Walt Kyle, who played against Pearson with the Wildcats after transferring in from Boston College for the 1979-80 and 1980-81 seasons.
"I've been here 12 years and those are the games when the building has the most energy — our building has the most energy, their building has the most energy. It is a rivalry and it's a fierce rivalry, but it's not a bitter rivalry."
The Wildcats and Huskies will meet two more times this year — Feb. 21 in Houghton and Feb. 22 in Marquette.
It's the first time the two sides have met four times in a season since 2004-05. Last year, the two games between the rivals were played on Tuesday nights.
Pearson said playing NMU four times a year, including twice in Houghton, does ease the pain of not seeing the likes of Wisconsin or Minnesota on a regular basis.
"It lessens the blow, no question," Pearson said. "I think we have an opportunity for our fans to go to Marquette. It's an easy drive for their fans to come here. I just think it creates some electricity in the building. People will come to these games. We're going to have great crowds.
"We always should have played four games whether we were in the same conference or not."
Bemidji State, Alabama-Huntsville renew CHA rivalry
Alabama-Huntsville will play its first-ever WCHA series this weekend, hosting its old rival Bemidji State.
The two teams were members of the now-defunct College Hockey America conference and squared off several times in their small-college eras, including four times for the NCAA Division II championship. Each team won two of those meetings.
The Chargers were idle last weekend, while the Beavers were swept at home by now-No. 1 Minnesota. Both teams are winless so far.
The series between Huntsville and Bemidji dates to 1994, with the Beavers leading the all-time series 38-28-4, including wins in 14 of the last 16 meetings (14-1-1).
The Chargers won the last meeting in Huntsville's Von Braun Arena 4-3 on Jan. 8, 2011.
No. 15 Lakers lead WCHA at 4-0
Lake Superior State debuted at No. 15 in this week's USCHO.com Division I Men's Poll and USA Today/USA Hockey Magazine poll this week as one of four 4-0 teams and one of six unbeaten teams in the country.
The last time the Lakers opened with back-to-back sweeps was in October 2011 when they downed current WCHA rival Alabama-Huntsville on the road and former CCHA rival Michigan State in Sault Ste. Marie.
The Lakers' 15 goals — which leads the WCHA in goals per game at 3.75 — have come from 13 different players in the wins over Robert Morris in the Sault and at Union. Junior defenseman Kevin Czuczman and Andrew Dommett each have two goals while a total of 17 Lakers players have either a goal or an assist.
Besides an Oct. 29 home exhibition against Laurentian, Lake Superior State is off until a nonconference series Nov. 1-2 at Wisconsin.
Mavericks feeling better after sweep
Minnesota State was feeling better about itself following its sweep of Connecticut over the weekend after opening the season with a pair of losses at Providence.
"We had a good week of practice," junior forward Matt Leitner told the Mankato Free Press after Saturday's 6-1 victory. "We got back to the little things, being hard to play against. We weren't hard to play against last week. We were soft to play against."
The Mavericks are idle this week and will open WCHA play next week at Bemidji State.
Coach Mike Hastings called this week a "maintenance week," in which he plans to rest a few players and study what went right and what went wrong over the season's first two weeks.
Around the WCHA
• With last year's leading scorer Ryan Carpenter out with a broken finger, senior forward Bryce Williamson has stepped up to lead Bowling Green in scoring with four goals and three assists. This week's WCHA offensive player of the week is tied for the lead in scoring in the WCHA with Ferris State's Garrett Thompson and Justin Buzzeo, who each have three goals and four assists.
Sophomore forward Ben Murphy also has four goals for the Falcons, tying him and Williamson for the league lead in goals scored with Alaska's Cody Kunyk and Alaska-Anchorage's Matt Bailey.
• Alaska-Anchorage is idle this weekend. The Seawolves, who won just four games a season ago, improved to a 3-1 after their overtime win over former WCHA foe Denver. That game broke a six-game losing streak and 10-game winless streak against the Pioneers.
• Alaska won its second straight Brice Alaska Goal Rush and took the title for the fourth time in six years. Kunyk was named tournament MVP. The Nanooks will host Mercyhurst this weekend, already marking the end of their nonconference schedule.
• WCHA players of the week: Williamson (offensive); Lake Superior State senior defenseman Zach Sternberg (defensive); Alaska freshman goalie Davis Jones (rookie).