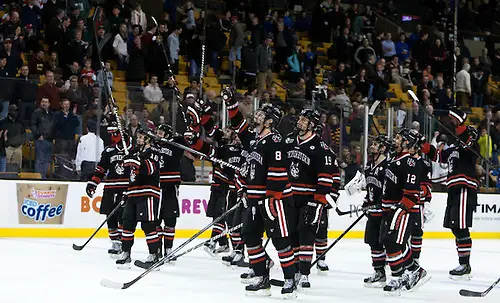 A year ago, Northeastern scored just 81 goals in what was one of the program's most frustrating seasons, which ended in a last-place finish in Hockey East.
As the Huskies entered this season, the expectations were equally as low — they were picked by most to finish last once again.
After two weekends of play and four games, though, this Northeastern team has shown signs of brilliance. With 20 goals, the Huskies have scored nearly a quarter of their goals from last season. At 4-0, this team has the best record to begin a season since the 1993-94 squad that qualified for the NCAA tournament.
There is, however, a need to possibly temper exuberance.
Northeastern's opponents to date were Alabama-Huntsville, an independent turned WCHA member that a year ago posted just three wins; and Holy Cross, a team that some expect to be a contender in Atlantic Hockey, although that is a league that too many still underestimate.
Yes, maybe it is far too early to rave about this Huskies team, but the fact of the matter is this is a team that is scoring goals. Twenty in four games equals that of Minnesota and Miami, the two teams tied with the Huskies for the most nationally.
But you simply can't take those goals off the board and, when you look around college hockey (a good example might be Massachusetts-Lowell against Sacred Heart where Lowell scored just a single goal), there are simply no guarantees that the puck will go in the net.
So say what you will about the Huskies, to score 20 goals at this point is as positive of a sign as you can find.
Northeastern coach Jim Madigan summed things up well after the weekend sweep of Holy Cross, talking about his team's ability to close out Saturday's 5-2 win in the third period.
"For us that is [a] textbook [game]," he said. "We're up on a two-goal lead, we have a lot of chances and we really pursued pucks. I thought we were smart, we stayed above the puck and we were extremely disciplined.
"We finished it off really strong. We are going to have to continue doing that."
There are a number of players early in the season making major contributions. It's not surprising that the biggest contributor is sophomore Kevin Roy. A standout freshman a year ago, Roy has five goals and nine points in just four games.
He is hardly alone. Two rookies are near the top of the team's scoring list. Mike Szmatula (1-7–8) and Zach Aston-Reese (0-5–5) both have been major parts of the offense. Add in senior Braden Pimm's four goals and six points, and this is a balanced attack that could be a major threat in league play.
A big contributor to the offense thus far has been the power play. Saturday against Holy Cross, the Huskies were 3-for-7, bringing them to 8-for-25 on the season, tied with Massachusetts for second-best nationally behind Michigan.
"Our power play was 3-for-7 [on Saturday] and I thought it could've been 5-for-7 if not for [Holy Cross'] goalie," Madigan said. "We're moving the puck pretty well. Our forwards were moving and not stationary and that was the key. There's a lot of skill out there. There's a lot of hockey sense in our guys.
"When you have intelligent players, which I think we have, they create openings for themselves."
If there has been an Achilles' heel for Northeastern thus far it has been discipline. Northeastern is third in penalty minutes through four games and, a season ago when things went wrong most often, it seemed the team lacked discipline and gave opponents far too many chances to score with the man advantage.
That isn't lost on Madigan.
"I'm trying to eliminate five-on-three situations," said Madigan, whose team has allowed four power-play goals this season, three of those coming in five-on-three or six-on-three situations. "We just have to avoid putting ourselves in those situations. Our team is aggressive in pursuing pucks and when that happens sometimes you get a little overaggressive and we've got to correct that. It's early in the season and I'm confident that we will correct that."
All the pomp and circumstance to celebrate Northeastern could be premature. The Huskies haven't played a nationally ranked opponent yet and haven't played a Hockey East game. That will all change in coming weeks.
The Huskies travel to St. Lawrence, a team that swept Maine last weekend, for two games this weekend. Then Northeastern will open Hockey East play with a home-and-home series against Boston College.
But it is exciting to be able to celebrate an underdog, and given the harsh predictions against Northeastern before the season, you have to give credit where it is due for a club that starts the season with four straight wins.
Celebrating a legend
It may have been a little late in coming, but Boston College finally celebrated coach Jerry York becoming the all-time college hockey wins leader.
The ceremony was canceled twice last season and was unable to be rescheduled late in the season when a detached retina kept York out for a number of games down the stretch, but BC finally feted York last Friday night.
In true York fashion, the bench boss had little desire to talk about the event or the accomplishments celebrated.
"I tried to get out of it three times last year," laughed York. "I'm always uncomfortable because it's a team sport."
Was there anything about the celebration that York enjoyed?
"We did a really good job of shortening it and keeping it brief," York quipped.
His team did an excellent job of detracting attention as well, lighting up opponent Wisconsin for nine goals.
"There's no way we're seven goals better than the Badgers, but everything we did turned to gold," York said. "Everything was going just how you diagram it. The way things were going defensively and offensively really had me excited behind the bench.
"There's a possibility we could be a really good team."
Ever the realist, one breath later York threw forward a dose of reality.
"Being in the business as long as I have, it's still October," York said.
Irish power
If anyone wondered whether Notre Dame would have an immediate impact on Hockey East, the Irish have answered those questions immediately.
After a sweep of nationally ranked Western Michigan in which Notre Dame didn't allow a goal, the Irish took two at home against Michigan Tech, 3-2 and 7-3.
While the defense has been impressive, allowing just five goals in four games, the offense has been equally dominant.
Balance in that attack has really stood out with rookie Vinnie Hinostroza leading the club with three goals and six points. Senior T.J. Tynan, an early season must-watch in the Hobey Baker Award race, potted three of his four points last weekend.
With Notre Dame new to Hockey East, the name to remember is goaltender Steven Summerhays. Already 4-0, Summerhays has a 1.25 GAA and, more importantly, a .946 save percentage.
We're still a weekend away from the Irish traveling to Vermont for their Hockey East opener, but it may be safe to say that every school in the league can be prepared for a battle against this new kid on the block.
Quick hits
• The USCHO.com curse has seemingly crushed Massachusetts-Lowell. Since reaching the No. 1 spot in the preseason USCHO.com Division I Men's Poll, Lowell is 1-3 after being swept by Quinnipiac last weekend. The River Hawks have scored just a single goal in each of their three losses, going 0-for-17 on the power play in the three games.
• If there is one school this week that may be looking for revenge, it is Boston College. Coming off a 9-2 win against Wisconsin, the Eagles will travel for a two-game set at Minnesota, where last season BC fell 8-1. Things never felt right after that loss for the Eagles, so there may be some extra motivation, particularly given that Minnesota is No. 1 in the rankings, to win on the road.
• Hats off to Maine coach Red Gendron for earning his first win behind the Black Bears bench, a 3-2 victory Saturday over Bentley.
• Of conferences where all of the teams have played games (let's not forget the Ivies start late in ECAC Hockey), Hockey East is the only league with three undefeated teams. In addition to Notre Dame and Northeastern at 4-0, Providence is 3-0 after a 10-4 victory against American International on Saturday.
• The Hockey East/Big Ten Challenge continues this weekend with Hockey East holding a 9-4 lead in points. Each victory in the 13-game challenge is worth two points and a road win is worth a bonus point. Hockey East, thus, has a big weekend upcoming as five of the six games in the Challenge this week for Hockey East are on the road. Both of Lowell and BU's games against Michigan and Michigan State count toward the standings, as does BC's Friday game at Minnesota. Saturday's neutral-site game between Vermont and Penn State, being played in Philadelphia, could be the most important of all. If there is a tie at the end of the series, that game will be the tiebreaker.