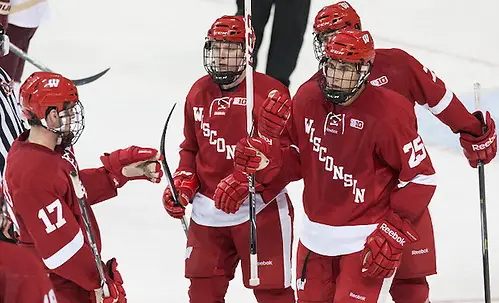 Well, that was a kick in the head. Mostly.
In the second full week of Division I play, five of the six Big Ten teams played, all played nonconference opponents and all traveled to do so. So, how did the league fare? Perhaps not as expected, with a 3-6-1 record for the weekend.
Minnesota swept Bemidji State and Michigan tied and defeated New Hampshire, but everyone else who played got swept by road opponents.
In spite of the record, it wasn't all bleak. In fact, the three coaches I talked to this week whose teams didn't win were upbeat, and it wasn't just spin.
"We took away lots," said Wisconsin coach Mike Eaves, whose Badgers lost 9-2 to Boston College last Friday and 7-3 to Boston University the following night, dropping from No. 2 to No. 11 in the USCHO.com Division I Men's Poll.
"Obviously, we had high hopes going out there," Eaves said. "Friday was our first game on a small sheet against a team that was very motivated. It was one of those nights."
One of those nights included being down 7-0 by the middle of the game. "Mama said there'd be days like that," Eaves said.
Eaves said that the kind of weekend the Badgers had was "a good reminder this early in the season" of the level of play needed to succeed. "We believe we have a good team," he said. "We saw signs of that."
Signs like effort. "We gave up the big plays against Boston University," Eaves said. "They got faceoff goals. But our effort was good. The players played hard and we had some very good offensive opportunities."
The Badgers outshot the Terriers 43-26.
Another coach happy with the up-front effort of his team in two losses was Michigan State's Tom Anastos. Like the Badgers, the Spartans went east; Michigan State lost 3-1 and 5-2 to Massachusetts.
"There were some positives that we liked," Anastos said. "Once we adapted after Friday night — well, in game one, you're all hyped up and you're thinking, 'God, what's sucking the energy from me?' We battled through that game and I was pleased to see how hard we battled."
In the Saturday loss, four of Massachusetts' five goals were with the man advantage, three in the second period alone, when the Minutemen netted four goals in a little over 10 minutes.
"With the exception of special teams, it was much better than the night before," Anastos said. "A lot of young guys showed some good skill and created some offensive chances — probably the most scoring chances we've had in a game in I don't know how long."
The Spartans, whose offense was 55th in the nation last season, had 65 shots on goal to the Minutemen's 68. Senior Greg Wolfe, who had nine goals in 42 games last season, had two of Michigan State's markers and sophomore Michael Ferrantino had the other; Ferrantino had three goals in 42 games last season.
Penn State dropped two to Air Force, 5-2 and 3-1, but coach Guy Gadowsky echoed his colleagues in summarizing the weekend.
In the second night, Gadowsky said, "We had better energy in our systems play, in our forecheck, in the little details in the offensive zone. We did some good things.
"I thought we received a lot of valuable information and were taught a great lesson about consistent team work ethic. Air Force played great. That's certainly what the coaching staff took away from the weekend, the consistency needed to compete at this level."
Everyone can benefit from a little time away
Eaves, Anastos and Gadowsky — plus Michigan's Red Berenson — said that playing on the road against nonconference opponents contributed to team development in almost intangible ways.
"Having an trip like that, early in the season," Eaves said, "is always good. When you travel, you have to deal with things. Boston was just packed with people. You learn. You roll with the punches."
For Michigan State, the series against Massachusetts opened Division I play; the Spartans played an exhibition the week before.
"We're incredibly youthful," Anastos said. "Things hold true for travel that hold true in general. Guys are acclimating to college hockey. For some, it's their first experience with that atmosphere. It was definitely a benefit from that perspective. We didn't get to bring our whole team … but we traveled by charter and it was just our team together and I think that was just a benefit particularly for a youthful group."
"I think it was a good road experience," Berenson said. "We'd only played two games, one home and one at RIT, and to go into a place like New Hampshire, a top-tier program, was good for our team."
In the 1-1 tie Friday night, the Wolverines carried a 1-0 lead into the second period on Tyler Motte's power-play goal, but the Wildcats tied it up early in the second when Nick Sorkin scored.
Then with the score tied 1-1 early in the third, Michigan's starting goaltender, Steve Racine, left the game with a groin injury, replaced by the untested freshman Zach Nagelvoort, who stopped a penalty shot five minutes into his first turn in net for the Wolverines.
"They called it and he stopped it," Berenson said. "That gave him a lot of confidence and the team some confidence in front of him."
Nagelvoort started Saturday for Racine, who will miss at least Friday's home game against Boston University and may sit out Saturday's contest against Massachusetts-Lowell.
"Saturday night, we played better," Berenson said. "We had no idea how Nagelvoort would play."
The freshman made 22 saves in his first win.
Berenson's summary of the weekend: "All we did, really, was survive the Friday game. Racine had to play lights out and Nagelvoort had to go."
Gadowsky said that it's becoming clear to him that this season is different from 2012-13, when Penn State played its first year as a D-I team as an independent.
"It does feel a little different," Gadowsky said. "We are part of a league. Everyone is new to the Big Ten, but we're very new to a situation. We feel like we're a part of it now. Last year, we were playing a lot of different teams on a lot of different levels. This year, our opponents feel a little bit differently about us. Everything is heightened."
At the start of the season, Gadowsky said he wasn't sure what to expect from his team this year. After the trip to Colorado, he's still not sure what he has.
"I think it's still a little early for that, too," Gadowsky said. "Who knows in this league? No one knows. If you just look at our team, we have certain expectations from last year that may be quite different from this season. I think we have a real high quality group of guys."
As for the bonding that comes from being on the road, Gadowsky said: "It can always be nice to spend a little more time together. That majority of that team-building, though, can happen after a victory on the road."
An interesting schedule
With only six teams in the conference, the Big Ten needs to schedule a fair amount of nonconference opponents to fill the season, and the league chose to do that to start the season. Big Ten conference play doesn't start for another month.
That, said the coaches, is a good thing.
"I think it's going to be a lot like basketball," Eaves said. "You play a lot of nonconference opponents before getting to league play, so the level of play when we start the Big Ten is going to be pretty high."
With the exception of Penn State, every team in the league is adjusting to a schedule with far more nonleague foes than it faced in previous regular season play.
"It's all new," Anastos said.
The "front-loaded" schedule — to borrow a term from Anastos — is a "benefit" for the Spartans.
"It helps you gather experience," he said. "We are so inexperienced and we have so much newness on the team. We're going to go through the growing process."
Anastos said that the play against teams outside of the Big Ten will ready his young team for when league action begins at the end of November.
Berenson also said that the schedule is beneficial.
"It's a catch-22, whether we should be playing more Big Ten games, but I think it's good, personally," he said. "I think it's really good. We're getting a good taste of some of these other teams. We have two more this weekend. That's one benefit of a smaller league."
The Big Ten/Hockey East Challenge
I have to say that I love this, even though I think the Big Ten will come out on the losing end of it when that proverbial final buzzer sounds this Sunday.
Between Oct. 18 and Oct. 27, there are 13 contests that pit Big Ten teams against Hockey East teams for the inaugural challenge. Teams get two points for a win, a point for a tie and a bonus point for a road win. So far, Hockey East leads the Big Ten 9-4 in the challenge.
The bragging rights will be determined by the results in seven games this weekend: Boston University at Michigan, Lowell at Michigan State and Boston College at Minnesota on Friday; BU at MSU, Lowell at Michigan and Penn State vs. Vermont on Saturday; and BC at Minnesota on Sunday.
It was tough enough to concede the superiority of Hockey East during my CCHA years. I can't wait to hear it from Dave Hendrickson after this is finished.
At least Dave and I are both Red Sox fans.
Favorite quote of the week
This comes from Anastos, and is in reference to working with such a young team: "Real life takes time."
Words by which to live.
Players of the week
The Big Ten honors its top players of the week with that traditional hockey three stars. I like it.
First star — Minnesota junior forward Sam Warning: Warning is honored for the second straight week after scoring three goals and two assists in Minnesota's road sweep of Bemidji State. In four games played this season, Warning has five goals and four assists for nine points, tying him with Northeastern's Kevin Roy for the national lead in points so far this season.
Second star — Michigan freshman forward Tyler Motte: Motte was essential for the Wolverines last weekend when Michigan tied and defeated New Hampshire on the road, with the only goal in the 1-1 Friday tie and the game-winning goal in Michigan's 3-2 overtime win. Motte has three goals in four games.
Third star — Minnesota freshman forward Justin Kloos: Kloos had a goal and four assists in Minnesota's sweep of Bemidji State. He and teammate Hudson Fasching are tied for the scoring lead among Big Ten freshmen (2-4–6).
My ballot
1. Minnesota
2. Yale
3. Notre Dame
4. Miami
5. Michigan
6. Boston College
7. North Dakota
8. Providence
9. New Hampshire
10. St. Cloud State
11. Wisconsin
12. Massachusetts-Lowell
13. Quinnipiac
14. Boston University
15. Minnesota State
16. Clarkson
17. Union
18. Denver
19. Lake Superior State
20. St. Lawrence
For the record, I was one of the two people who voted Minnesota No. 1 last week. I have a feeling about the Gophers. As long-time CCHA fans will warn fans of the Gophers, that may spell doom for Minnesota.
I think I'm telling you about that, too, because it gives Miami fans further "proof" of my anti-RedHawks bias. Seriously, I miss you former CCHA folks — a lot.
Shameless self-promotion
Remember that I'm splitting Big Ten duties this season with my partner-in-writing, Drew Claussen. In weeks that I have the weekly column, he writes the Monday blog; we reverse roles weekly, so I'll have the Monday blog next week and Drew will handle the column.
Follow both of us on Twitter: @drewclaussen and @paulacweston.