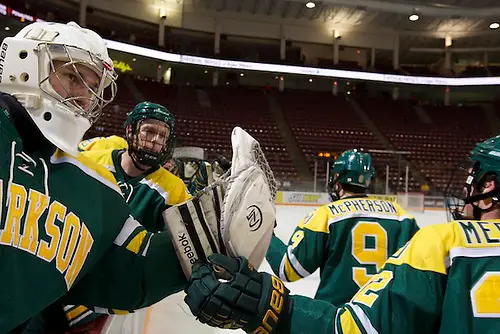 The season is only three weeks old, but Clarkson is almost halfway to its win total from all of last year.
The Golden Knights are 4-1-1 through six games; they didn't win their fourth game of 2012-13 until Dec. 8, en route to nine wins. Their first win last season came on Nov. 9, as Clarkson finished with seven ties and seven one-goal losses.
"We certainly prefer to go through the learning curve getting some wins," coach Casey Jones said. "We won a couple of close ones that didn't go our way last year and that in and of itself is a confidence booster."
Increased depth throughout the lineup has given Jones and his staff the option of rotating players in and out of the lineup. Twenty different players have a at least one point this season.
But the biggest advantages might be in goal and on defense. Freshman Steve Perry and sophomore Greg Lewis have been sharp, combining for a .930 save percentage so far.
"Neither one of them has played themselves out of playing time," Jones said. "Right now, they're forcing my hand to play them."
The Golden Knights have been solid in front of their goaltenders as well. Defenseman Kevin Tansey is back after missing all of last season with an injury, and that has been a big plus for the Golden Knights.
"He's a motivated athlete," Jones said of Tansey, adding that the redshirt sophomore began skating after Christmas last year. "He's got a ton of energy — I'm not surprised that he's been able to step in."
Tansey's return, coupled with the arrival of freshman James de Haas, who has played all six games thus far, has allowed Jones to manage his blueliners' minutes better this season.
"Not only did they play a lot of minutes," Jones said of his defensive group, "but now their minutes are down so they can recover and play harder minutes for us."
Still, it hasn't been perfect for the Golden Knights. Clarkson led Rochester Institute of Technology 3-1 after two periods last Saturday but settled for a 3-3 tie with the Tigers.
"We haven't spent a ton of time managing leads," Jones said. "I thought we gave up a few too many turnovers and they took advantage in transition. We have to learn how to play with a lead and use the other team's aggressiveness against them."
Goalie injuries hit the Capital Region
One was replacing a two-time league champion. The other was expected to help his team compete for a league title this season.
But both Union goalie Colin Stevens and his counterpart, Rensselaer's Jason Kasdorf, missed last weekend with injuries. Stevens, who replaced Troy Grosenick, was hurt in the Dutchmen's season opener Oct. 11, while Kasdorf was injured in practice last week.
Their replacements have each fared a bit differently.
RPI junior Scott Diebold stopped 48 of 50 shots in a pair of Engineers wins, while Union was swept at home for the first time in nearly two years. Freshman Alex Sakellaropoulos replaced Stevens after the junior was hurt on Oct. 11 but gave up nine goals on 34 shots last weekend, before giving way to Dillon Pieri midway through Saturday's game.
An RPI spokesperson said Kasdorf wasn't expected to play in RPI's home games Saturday against New Hampshire and Tuesday against Harvard, but his status was unknown after that.
A Union spokesperson said Stevens' status hadn't changed since getting hurt, but The Daily Gazette reported Wednesday that Stevens could return to practice Thursday and make the trip to Connecticut.
"We recruited Scotty Diebold to be a No. 1 goalie and at this time last year, I think he was," RPI coach Seth Appert said after last Friday's game. "He ended up getting beaten out by Jason last year and, really, Jason put such a stranglehold on it that this was one of Scotty's first chances to get back in there. He's a battler, he's a competitor and he's gotten better in the last 12 months even though he hasn't gotten to play a lot."
Despite the sweep at home, Union coach Rick Bennett wasn't frustrated with his team's effort Saturday, when the Dutchmen outshot Lake Superior 48-17 but lost 3-2.
"I've been here when we've finished in last place, and I've been here when we've finished in first. That was one of the more impressive performances that I've seen from a team from Union, so we are very happy," Bennett said after Saturday's game.
Both teams have had their share of offensive stars so far. Engineers junior Ryan Haggerty leads the country with seven goals, while Union's Kevin Sullivan is tops with eight assists. Union freshman Michael Pontarelli leads the country with four power-play goals.
Haggerty is well on his way to shattering his personal and team-high 12 goals from last year. His seven goals are only one shy of CJ Lee's team-leading total of eight during the 2011-12 season.
League blackout
There's been plenty written about the year ECAC Hockey had last season. But it's not reflected in this season's television schedule. NBC Sports Network, which has broadcast several league games as part of its college hockey coverage the last few years, has no ECAC teams on its schedule.
Assistant commissioner Ed Krajewski said the league was working on getting games to air on various networks but had nothing to announce yet, outside of the league championship weekend in March, which will be broadcast on Fox College Sports.
NBC Sports Network signed a two-year deal with Hockey East last month and has a dozen Notre Dame games listed on its schedule. NBC has partnered with Notre Dame football since 1991.
Most schools broadcast home games online, although some require a subscription plan. The complete list of online broadcasts by school is here.
"Hopefully we'll get some down the road," Krajewski said. "We've reached out and we'll see who comes back to us."
Around the league
• It arguably took the biggest hit of any ECAC team in the offseason, but Quinnipiac swept Massachusetts-Lowell last weekend and beat Bentley on Tuesday to move to 4-1. Saturday's game in Hamden, Conn., featured the unveiling of a new high-definition video board and the raising of banners commemorating the Bobcats' 2012-13 ECAC Hockey regular season championship, the Northeast Regional championship and the first Frozen Four appearance in program history. Since-graduated seniors Eric Hartzell, Clay Harvey and Kevin Bui were on hand for the ceremony. Quinnipiac also announced a contract extension through 2017-18 for coach Rand Pecknold last Thursday.
• Four of the six Ivy teams were in preseason action last weekend. Cornell, Dartmouth, Princeton and Yale all recorded wins against their Canadian opponents. Cornell rolled over York 7-2 Saturday night, a team that included former NHL third-round pick and AHL veteran John de Gray. The Big Red lit up goalie Andrew Perugini, who played two seasons of pro hockey in the ECHL and AHL.
• A couple of league alumni had some notable pro milestones over the last week. Former Rensselaer and current Chicago forward Brandon Pirri scored his first NHL goal Thursday against Toronto and followed it up with another on Saturday. Former Union goalie Troy Grosenick picked up his first pro win in his first pro start for AHL Worcester on Sunday.
• Haggerty isn't the only league player among the national leaders in the early going. Colgate goalie Eric Mihalik is second in GAA and save percentage. The senior goalie made 38 saves in a 1-1 tie Friday at Bowling Green, not far from his hometown of Avon Lake, Ohio. "It was probably Eric's best game for us in a bit and he seemed very comfortable tonight," Raiders coach Don Vaughan told Colgate Athletics following the game. Colgate has some young talent up front, but a strong season from the veteran Mihalik would be a big boost to the Raiders.
• He's got a long way to go to catch his brother, but St. Lawrence freshman Matt Carey scored his first collegiate goal in the Saints' 5-3 loss at Ferris State last Saturday. Older brother Greg has 68 career goals, including a nation-best 28 last season. The pair has skated on the same line in three of the Saints' four games this year.
Weekly awards
As selected by the league:
Player of the week — Ryan Haggerty, Rensselaer: The junior scored five goals in two games, including his first career hat trick Saturday against Sacred Heart.
Rookie of the week — Drew Smolcynski, St. Lawrence: Smolcynski scored two goals in his first collegiate game Friday, a 3-2 win at Ferris State.
Goalie of the week — Michael Garteig, Quinnipiac: The sophomore stopped 45 of 47 shots in a home-and-home sweep of Massachusetts-Lowell.