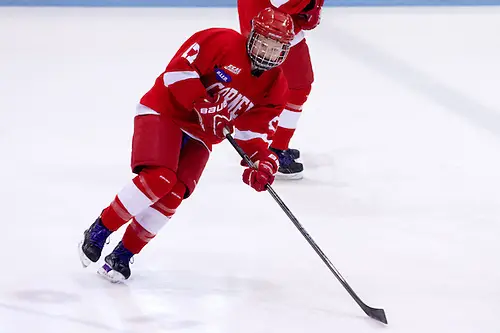 It has been said many times in sports: the name on the front of the jersey is more important than the name on the back.
That is certainly true at Cornell. The Big Red like to rock it old school, and don't wear any names on the backs of their jerseys. However, certain names have been synonymous with their recent rise to the upper echelons.
Last weekend, senior goaltender Lauren Slebodnick set a new program career wins record when she posted her 54th and 55th victories. Slebodnick bested a mark former teammate Amanda Mazzotta established in 2012. That speaks to the fact that for a program that's been competing since the 1972-73 season, these are the good old days. Cornell had three 17-win seasons in its first decade, and that stood as the program high until 2010.
Doug Derraugh became coach in 2005. The recruiting class he brought to Ithaca, N.Y., in fall 2007 included Rebecca Johnston, and Cornell was relevant again. In their first year, those players helped the Big Red win more than 10 games for the first time in the NCAA era of the sport.
Other stars like Catherine White, Laura Fortino, Laurianne Rougeau, and Brianne Jenner followed, and the 2009-10 campaign started a string of four seasons with more than 20 wins, regular-season ECAC championships, and NCAA tournament appearances. That stretch also included two seasons of at least 30 wins, three league playoff titles, three trips to the Frozen Four, and competing in the longest NCAA Championship game.
Coming into this season, all those star players are gone. Johnston and White graduated in 2012, and Rougeau and Fortino followed last spring. Jenner, coming off of a 70-point season, is centralized with the Canadian national team preparing for the Olympics.
Jessica Campbell, a senior forward for the current Big Red, said, "One of the strongest things about being at Cornell playing for this team is that since I've been here as a freshman, we've had a very talented roster. We've had members of both U.S. and Canada's national team at all levels here, so we're constantly competing with each other, getting better that way."
By far the most proven performer returning offensively for Cornell was junior Jillian Saulnier, having piled up 95 points in her first two years. Beyond Saulnier, nobody had a 30-point season on her resume, but perhaps Derraugh possessed a greater wealth of talent than was first apparent.
"The coaches did a great job at recruiting, and we keep bringing in young, talented individuals," junior forward Emily Fulton said. "To be able to practice day in and day out with individuals like Brianne Jenner and Rebecca Johnston, it only furthers everyone's skill development. I think that's a great strength we have at Cornell, is that we challenge each other each day. That continues our progression as players and as people."
Prior to the start of the season, Derraugh spoke about players that he expected to fill some of the holes on his roster.
"Jess Campbell is somebody that is always there and seems to play her best when we need it and scores big goals for us at big times in big games," he said.
Campbell emerged last year as a bit of a Harvard killer. She scored twice, including short-handed, in a February win over the Crimson that aided Cornell in besting them for the league title, and she had the game-winning goal in the final two minutes of the ECAC Championship game.
Now she'll be counted on to be an impact player on a regular basis.
"Honestly, losing [Fortino, Rougeau, and Jenner] was a big loss to our team, but I think it just presented an opportunity for everyone to step up and take on that challenge," Campbell said. "I think for me personally, being a senior co-captain, it was just another opportunity to lead by example and try to establish the way I want the whole team to play, exemplifying that in my own play. I'm just trying to continue that and every game get a little bit better and making an impact, whether it's offensively, defensively, or whatever way I can contribute to the team."
"Emily Fulton is another one who seems to relish those situations and steps up for us, especially when we lose [players]," Derraugh said.
Derraugh placed Campbell and Fulton as wings on the first line with Saulnier in the middle.
"The three of us were members of the [Canadian] Under-18 national team four years ago, so we have played together before," Campbell said.
Through the first four games for Cornell, the trio has played like they've always been together, producing at least two goals in each contest. In an important weekend versus Clarkson and St. Lawrence to start ECAC play, they combined for seven goals, 12 assists, and 19 points.
"We all bring something different to the line, and I think that's what really made us successful overall," Campbell said. "We're all very fast. Jill and Emily have great puck skills. We all kind of complement each other in a different way, and I think that's what made us very successful, because when we do establish our forecheck and use our speed, that's when we get the scoring opportunities."
The line has had so much success that with 12 points, Fulton leads the country in points per game.
"I'm definitely surprised with those stats, but I've worked hard throughout the summer and to be playing with such great players like Jess and Jill makes things so much easier," she said.
Fulton has become an assist machine. Her two assists per game have her leading that category as well, and she had five helpers versus Clarkson alone. The junior from Stratford, Ont., can score or be a playmaker, depending on the situation.
"I think that's definitely one of my strong points," Fulton said. "I'm able to do both, but just the players I'm playing with, we move the puck well. All my linemates can finish well."
On the other wing, Campbell currently is second in the country behind her teammate in both points and assists per game.
"To be that strong that early on is a good confidence builder for us as a line," she said. "The first couple practices, it wasn't as great as that, but it's gotten so much better. I think we're going to do great things together as a line."
Rapid development of that chemistry as a line and a team is made all the more important because Ivy League teams begin their seasons later than the other programs.
"We can only be allowed to practice a week before we start playing those teams," Campbell said. "It is kind of frustrating to know that other teams get that advantage, but it's just another challenge that is presented us."
According to Campbell, the later start may benefit Cornell.
"Because we don't have a lot of time, we really focus in and put all of our energy and attention into learning the systems early and getting after them as quickly as we can in our first games," she said. "We're so eager to come out. I think maybe being in the Ivy League, we have so much academic time that early on we're so excited to get on the ice and start the season as a team that it almost works in our favor sometimes."
The Big Red gained another source of motivation from the manner in which last season ended on home ice in the NCAA quarterfinal versus Mercyhurst. Cornell immediately answered a late goal by the Lakers with one of its own to force overtime, only to have the visitors score again five minutes into the extra session.
"We were definitely upset with how the season ended, but we couldn't harp on that," Fulton said. "We had to move on right from there. That's when we started our next season is right after that game finished. Everyone knew what had to be done and we set our goals. We worked together throughout the summer. So that has definitely helped us, especially the returning players for this upcoming season."
All five of Cornell's postseason games in March went down to the final minutes. In the four ECAC tournament games, the Big Red found a way to triumph, but their fortunes ran out in the national tournament.
Fulton said she had never before been on a team that played a similar string of nailbiters.
"We definitely learned from it," she said. "You've just got to play consistently throughout the 60 minutes. That's what we're really trying to work toward this year, is that consistency throughout and not leaving it until the end of the game, but starting right from the drop of the puck."
So far, so good. Cornell has held a lead of at least two goals through the final five minutes of each of its four games.
That's all been a product of having the nation's best offense, averaging over a goal per game more than every other team.
"I don't think people didn't see that we have this talent, but I think it kind of gets lost in the whole transition year where they think all the best players have been plucked, but I think we still have a very strong team and very strong players on our team," Campbell said. "We just have a very close-knit team. I think when you combine those two things, that's what really makes for a successful team."