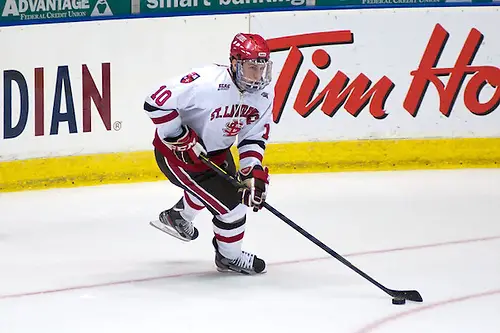 With All-American Kyle Flanagan graduating and turning pro at the conclusion of his collegiate career, St. Lawrence senior Greg Carey didn't have to look very far for a new center: his younger brother Matt.
The younger Carey has centered his older brother's line in all but one game this season, his first as a member of the Saints.
"They have one year to play together so I wanted to make it happen," St. Lawrence coach Greg Carvel said after last Saturday's game at Brown. "I started with them and then went away. Matt's a young player — I needed him to learn a few lessons. They're my two top offense guys, so they should be together but the fact they're brothers, I wanted them to play together."
Each brother's style of play complements one another. Greg, who led the NCAA with 28 goals last season, is more of a pure scorer; Matt uses his speed and setup skills to create chances.
"It's always something you think about but in the end it's up to the coaches," Greg said of playing with his brother. "I certainly wish I was as fast as he was but he moves the puck well and he's been shooting the puck pretty good."
Outside of summer leagues and shinny, it's the first time the brothers have played together for an extended period of time. They played briefly on the Burlington Cougars in the OJHL during the 2009-10 season, but Matt was injured in training camp. He appeared in only five games before getting traded and playing against Greg for the rest of the season.
"I love the atmosphere at St. Lawrence," said Matt, who was an NCAA non-qualifier last season, meaning he attended school but couldn't have any contact with the team. "It was kind of a family thing for us to get together on the same team. As soon as I committed to St. Lawrence, my family was all for it, and it was kind of a happy family moment."
Matt wears Flanagan's old No. 16, something he describes as an "honor," but he's stuck to his own game so far.
"Flanny could draw five guys to him," Greg said. "I was pretty fortunate to play with him for three years. But I think my brother is doing a good job of not being the same player, playing with speed and getting the puck out wide and trying to find seams."
The pair are the top two scorers for the Saints, with Greg leading the way with four goals and nine assists, and Matt adding five goals and five assists to date.
Still, Greg might win out in the modesty category. When asked what advice he had for his younger brother, he said for Matt to not worry about getting him the puck too much and to make the right play.
And Matt?
"Give him the puck," the younger Carey said about what his brother told him. "That, and use your speed. You'll get a lot of chances if you do that."
Union breaks through
It's not uncommon to hear impatient fans yell "shoot" during a power play or in the closing seconds of a period. But in its three games before last weekend, there's a good chance that Union didn't hear any such demands coming from the crowd.
The Dutchmen outshot their opponents by an aggregate of 131-63 but were 0-2-1 over that stretch. That changed last weekend, as Union hammered Dartmouth 7-2 Friday and rallied for a 4-2 win at Harvard Saturday.
"We looked at it as a staff: We were outshooting teams and that's great and all," Union coach Rick Bennett said. "There was a lot of activity but not a lot of achievement. [We were] not really getting to the net. I thought our forwards made the commitment to get to the net and that led to some goals the past weekend. We had some puck luck as well."
One of those forwards is senior left wing Daniel Carr, who's been playing center after injuries to David Roy, Eli Lichtenwald and Max Novak. He's remained in that spot, even after Novak's return Friday, and scored his 60th collegiate goal against the Crimson. That's the most by any Union player in the school's Division I era.
"Could he have gone there his first couple of seasons? I don't know that," said Bennett, who added that he and his staff didn't see Carr playing center during the recruiting process. "We talk about this a lot; guys pay the price. He went to Paul Vincent's skating and skills camp over the summer with the rest of our forwards and there's a noticeable difference in his step and stride that has allowed him to move to center."
Carr's solid transition to center could force the coaching staff to make some decisions once other players get healthy.
"We aren't quite sure yet what to do when we get those guys back," Bennett said.
One player who is back is junior goalie Colin Stevens, who was injured in Union's season opener on Oct. 11 and hadn't appeared in a game until last weekend. Freshman Alex Sakellaropoulos started in his place.
"He has some experience and he gives the coaching staff a calming influence back there," Bennett said of Stevens. "Alex gave us a chance to win every game and that's all we could ask from him. It's a little bit different when a junior comes in, but by no means are we not willing to throw Alex in at any time."
Around the league
• There will be a national title game rematch in Hamden this weekend as Quinnipiac hosts Yale, which beat the Bobcats 4-0 in Pittsburgh to claim the school's first-ever championship last April. It's also the 12th annual Heroes Hat game. The award was established in honor of those who risked or lost their lives during the terrorist attacks on Sept. 11, 2001. Quinnipiac will be without freshman forward Peter Quenneville, who left the school Tuesday to play with his brother John with the Brandon Wheat Kings of the Western Hockey League. Quenneville was a seventh-round pick by Columbus in the 2013 NHL Entry Draft, and had four assists in five games, but hadn't played since Oct. 22 due to an injury. "It kind of came out of nowhere; we were blindsided by it," Bobcats coach Rand Pecknold said on USCHO Live! Tuesday night. "A lot it had to do with his brother; he wanted to play with his brother. It was funny, Peter was committed to us for three years and then he played five games for us."
• It doesn't look good for Rensselaer goalie Jason Kasdorf, who has been out of action since dislocating his right shoulder in practice last month. "I would say it's a strong likelihood that he's going to have surgery and be out for the year," Engineers coach Seth Appert told Kent Schott of The Daily Gazette of Schenectady, N.Y. "That's what it's looking like. We've taken our time on it and let him rehab a little bit and see how it feels."
• A pair of ECAC Hockey alumni had big nights for Edmonton Tuesday. Former Yale forward Mark Arcobello (2006-10) scored his first two NHL goals, including the overtime winner, while former Princeton defender Taylor Fedun (2007-11) added his first goal as well in his first NHL game. Arcobello, a rookie, is among the league leaders in assists, while Fedun is back on the ice following a serious leg injury that sidelined him for the entire 2011-12 season.
• Quinnipiac announced its TV schedule for the season, and the Bobcats will have several games broadcast on Sportsnet New York as well as New England Sports Network. The complete schedule can be found here.
Weekly awards
As selected by the league. Quinnipiac swept the awards this week.
Player of the week — Connor Jones: Jones had three goals and an assist in a pair of wins last weekend. He also became the 34th player in Quinnipiac history, and 20th at the Division I level, to reach 100 career points, and is now one of 10 active players in the country with 100 career points.
Rookie of the week — Sam Anas: Anas' five points were the most among all Division I skaters for the weekend while his four assists also led the country in last weekend's games. He leads the Bobcats with 13 points this season.
Goalie of the week — Michael Garteig: The sophomore went 2-0 with a 1.00 GAA and .943 save percentage. Garteig was also the ECAC goalie of the month for October.