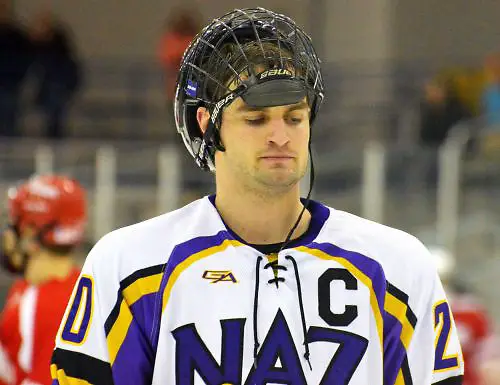 Small, but strong.
Such is how the six-team ECAC West is shaping up in the early moments of the 2013-14 campaign.
Division III's next-to-smallest conference (only the WIAC with its five teams is tinier) can be described as both cozy and feisty.
"I think as coaches, we all believe day in and day out that the ECAC West is the most competitive league in the country," said Neumann's Dominick Dawes. "You know that every night you will be in for a battle and have to consistently be at your best to compete."
The sextet is certainly significant among its peers, if not competitive among themselves.
To wit: two teams – No. 5 Utica (fresh off its first-ever Frozen Four appearance) and No. 9 Hobart (regular-season ECAC West co-champs with the Pioneers last year) – are ranked highly in the latest USCHO.com Division III Men's Poll.
Another, Manhattanville, is a strong bet to join them. Then there is Neumann, which is just four years removed from its Frozen Four championship campaign of 2009.
Elmira is barely a year removed from its run of five consecutive NCAA tourney showings.
Even second-year program Nazareth is apt to give any comer a good game. Just ask SUNYAC stalwart Geneseo, whose season opener last year was marred by a cross-conference overtime loss to Nazareth, which was playing its first-ever varsity game.
"Every coach feels their league is the toughest," said Nazareth head man George Roll, who has also coached in the SUNYAC (Oswego) and in Division I (Clarkson). "But looking at the ECAC West non-league winning percentage the past couple years, it is clear it is one of, if not the toughest conference from top to bottom in the country."
One reason for the conference's uber-competitiveness may lie in its small size.
With just four playoff spots up for grabs, conference wins (or losses) during the season take on a whole lot of importance.
One good weekend can make the big picture a whole lot brighter.
Then again, a two-game Friday-Saturday slip can lead to a long week around campus.
"I still believe that our conference is the best top to bottom in Division III hockey," said Manhattanville coach Arlen Marshall. "There is always so much riding on the line every night of conference play that it brings out the best with one another."
And the ECAC West's best will be on display week in and week out.
ELMIRA
About the Soaring Eagles
Coach: Aaron Saul, 7th season overall (81-67-14) and at 5th at Elmira (62-42-8)
2012-13 overall record: 10-16-0
2012-13 ECAC West record: 5-10-0 (5th)
2013-14 predicted finish: 5th
Key departures: G Darren MacDonald (4.70, .872)
Key returnees: F Jesper Strale (6-12-18), F Josh Burnell (8-16-24), F Michael Collins (8-14-22), F Tommy Sumi (5-6-11), F Carter Shinkaruk (9-4-13), F Jarryd ten Vaanholt (5-7-12), F Greg Whittle (8-11-19), F Brian Depp (6-8-14), D Eric David (3-6-9), D Liam Burtt (3-7-10), D Taylor Love (3-6-9), G Ryan deMelo (3.95, .881).
Key newcomers: G Sal Magliocco (3.86, .911, New York EJHL), F Alexander Taulien (14-26-40, Soo NAHL), D Ed Nolan (2-9-11, South Shore EJHL).
Outlook: Elmira enters the year with a collective chip on the shoulder after struggling through its first losing campaign since 2004-05, ending the year with four consecutive losses and seven losses in the last nine starts. "We were not happy with the way we finished our season last year," said Saul. "Our players have worked hard in the offseason and returned to school with something to prove. Our focus is much improved and we are looking to compete for the top of the West this year."
HOBART
About the Statesmen
Coach: Mark Taylor, 14th season (195-121-33)
2012-13 overall record: 19-5-2
2012-13 ECAC West record: 11-3-1 (t-1st)
2013-14 predicted finish: 4th
Key departures: G Nick Broadwater (1.65, .939), F Frank Salituro (14-17-31), F Bobby Hannah (7-10-17), D Harry Radovich (1-15-16).
Key returnees: F Tommy Fiorentino (7-9-16), F Robert Sovik (3-10-13), F Ben Gamache (8-6-14), G Lino Chimienti (3.26, .892), F Mac Olson (8-14-22).
Key newcomers: F Nick Bingaman (19-17-36, New Hampshire EJHL), D Jon Neal (7-15-22, Rochester EJHL), F Tyler Hanzlik (6-21-27, Rochester EJHL), D Carl Belizario (9-28-37, Cornwall CCHL).
Outlook: The ever-strong Statesmen lost stalwart goalie Broadwater and top scorer Salituro, but Taylor, with a string of 11 consecutive winning seasons behind him, always seems to find a way to reload.
MANHATTANVILLE
About the Valiants
Coach: Arlen Marshall, 2nd season (16-11-3)
2012-13 overall record: 15-10-3
2012-13 ECAC West record: 6-6-3 (4th)
2013-14 predicted finish: 2nd
Key departures: F Scott Hudson (12-17-29), F Ron Smith (3-6-9), F Brett Skalski (7-5-12), F Brendan Turner (9-8-17), F Jason Bowles (7-11-18), D Marc Zanoni (0-3-3).
Key returnees: F Luc Van Natter (10-14-24), F Mark Rivera (9-19-28), F Matt Coleman (9-17-26), D Anton Racklin (5-15-20), D Adam Young (5-6-11)
Key newcomer: Teagan Waugh (4-15-19, Powell River BCHL)
Outlook: The Valiants are expected to contend (with Hobart and Utica) for the league title. "I expect our compete level as a team to be the highest it's ever been," said Marshall. "I think that we have a lot of guys that have been battle-tested in their playing careers, which is going to have an optimistic impact on our group as a whole."
NAZARETH
About the Golden Flyers
Coach: George Roll, 16th season overall (242-224-48) and 2nd at Nazareth
2012-13 overall record: 6-19-1
2012-13 ECAC West record: 1-14-0
2013-14 predicted finish: 6th
Key departures: F Ben Waldman (7-11-18)
Key returnees: D Jordan Ciccarello (4-5-9), D Scott Dawson (9-8-17), F Mark Zavorin (12-14-26)
Key newcomers: F Ben Blasko (33-67-100, Brockville CCHL), F CJ Murray (9-10-19, Washington & Jefferson ACHA), D Travis Hill (4-16-20, Toronto JC OJHL)
Outlook: Progress will likely be measure in baby steps for the two-year old program. "We need to become a more consistent team game in and game out," said Roll. "We felt we were in a lot of games [last season], but often faded in the third period. With added depth and better conditioning, we are hopeful we will change that tendency. We feel we have established a strong culture and we will continue to build our identity as a strong, hard-working team. It is hard to measure success as a second-year program. Obviously, we need to win more games, but more importantly, we need continue to lay the groundwork for future success."
NEUMANN
About the Knights
Coach: Dominick Dawes, 6th season (84-42-17)
2012-13 overall record: 19-6-3
2012-13 ECAC West record: 8-6-1 (3rd)
2013-14 predicted finish: 3rd
Key departures: D Scott Farrell (7-18-25), F Aaron Keaney (11-8-19), F Jordan Zalba (7-11-18), F Dave Gervais (6-12-18), F Steve Gervais (10-5-15)
Key returnees: G Braely Torris (1.85, .942), F Chris Bournazos (13-8-21)
Key newcomers: F Jory Mullin (27-44-71, Winkler MJHL), F Shayne Morrissey (20-16-36, Prince George BCHL),
Outlook: The Knights' dressing room was akin to a revolving door during the offseason as 10 seniors departed while 12 freshmen came in to replace them. Getting all the newbies to mesh with the holdovers will be a tall task. "We are looking at everyday as a new challenge," said Dawes. "Success for us early in the year will be defined as how quickly we can come together as a team."
UTICA
About the Pioneers
Coach: Gary Heenan, 13th season (167-119-29)
2012-13 overall record: 21-6-1
2012-13 ECAC West record: 11-3-1 (t-1st)
2013-14 predicted finish: 1st
Key departures: F Evan Chlanda (4-15-19), D Cody Adams (0-4-4), D Roberts Etts (0-7-7)
Key returnees: F Jon Gaffney (13-14-27), F Ridge Garbutt (10-17-27), F Louie Educate (18-18-36), F Trever Hertz (13-13-26), F Rob Morton (12-10-22), D Mike Slowikowski (7-8-15), G Nick Therrien (2.21, .921)
Key newcomers: F Zac Lazzaro (18-17-35, Kenai River NAHL), F Easton Powers (12-24-36, Port Huron NAHL)
Outlook: The Pioneers are coming off the most successful campaign in school history. Even so, said Heenan, the goal for his squad remains the same. "We want to get better each and every game," he said. "We want to compete for a league championship."