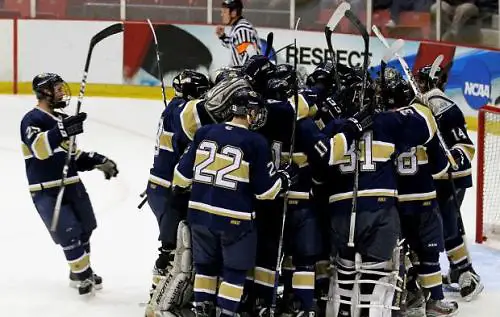 Wisconsin-Eau Claire enters the season with the biggest target on its back.
The Blugolds are the defending national champions and not surprisingly, the favorite to win the WIAC title in the first season where the teams will play only under the WIAC banner.
The teams had previously competed in the NCHA as well.
The top four teams in the five-team league will play a conference tournament at the end of the year. However, no automatic bid to the NCAA tournament will be on the line.
On that note, the regular season carries even more importance than it has in the past.
"The biggest adjustment for all of us is that we are suddenly in a position where we don't have that automatic qualifier," said Wisconsin-Superior coach Dan Stauber. "Teams have to come to play every night because you don't have that fallback of being able to win the conference tournament."
Eau Claire, which defeated Oswego 5-3 in the national title game in March, comes in with 17 letterwinners back and its first WIAC title in program history. It will be guided by Mark Pustin and Daniel Olszewski, two of the top four scorers from last season. Pustin racked up nine goals and 17 assists, while Olszewski tallied seven goals and 16 assists.
Wisconsin-Stevens Point could be the team that knocks Eau Claire off its perch as it brings back 19 players. The roster includes four seniors and all five of its top scorers are back, including Garett Ladd, who racked up seven goals and dished out 15 assists. The Pointers will have an opportunity to gain momentum early as they play seven of their first 11 games at home.
Wisconsin-River Falls has 14 players back and is led by goalie Scott Lewan, who has racked up 38 wins over the last three years. He has a 2.58 goals-against average in that stretch and has recorded seven shuouts.
Wisconsin-Superior could be a surprise title contender as it has 14 players back, including Pat Dalbec, who needs only 32 points to hit the 100-point mark in his career. He was second in the league in points last season with 27.
Wisconsin-Stout should be an improved team this year as it brings back three of its top scorers. Kevin O'Donnell leads the way as he racked up 12 goals and 12 assists last season.
Pointers' coach Chris Brooks expects the league to be as competitive as ever this season as the five teams battle it out for WIAC supremacy.
"The WIAC will be extremely competitive," Brooks said. "I fully expect our conference to carry the momentum that has been built from Eau Claire winning the national championship last season in making the WIAC a great conference nationally moving forward."
Wisconsin-Eau Claire
Nickname: Blugolds
2012-13 Record: 24-5-2 overall, 10-2 WIAC
2012-13 Postseason: Won the NCAA Division III national championship with a 5-3 victory over Oswego.
Head Coach: Matt Loen (84-72-12, 7th season)
Key Returning Players: F Mark Pustin (9-17–26); F Daniel Olszewski (7-16–23); D Jack Callahan (2-18–20); D David Donnellan (5-14–19)
Key Departures: F Jordan Singer (22-14–36); G Brandon Stevenson (2.12 GAA, .931 save percentage)
Key Newcomers: F Adam Knochenmus, D Preston Hodge, F Jason Eddy, F Chris Fischer, F Patrick Moore, F Chris Nuth, D Troy Paterson, G Jay Deo, G Cory Simons
Prediction and Thoughts: 1st – It will be hard to duplicate what the Blugolds accomplished last year as they won a national championship. But 17 letterwinners are back from a team that set a school record with 24 wins and expectations will be high once again. With Mark Pustin and Daniel Olszewski both back, the Blugolds will have two of their top scorers from last season in the lineup. Jack Callahan is coming off a year where he earned All-American honors as a defenseman and David Donnellan tallied 19 points as a defenseman and is a captain this season. Filling the void left by goalie Brandon Stephenson is going to be crucial to the success of Eau Claire. If the Blugolds can find somone capable of being consistent between the pipes night in and night out, they will have an opportunity to compete for a WIAC title and national title again. One of the keys to success for the Blugolds will be handling life on the road. Eau Claire plays four of its first six games away from home and ends the season playing five of its final eight on the road. If the Blugolds can survive those rugged stretches, they will be in in a position to live up to their expectations.
Wisconsin-River Falls
Nickname: Falcons
2012-13 Record: 13-11-4 overall, 4-5-3 WIAC
2012-13 Postseason: Lost 7-2 to Wisconsin-Eau Claire in semifinal round of NCHA tournament
Head Coach: Steve Freeman (305-156-37, 18th season)
Key Returning Players: G Scott Lewan (2.89 GAA, .906 save percentage); F Willie Hess (10-7–17); F Zach Schrotenboer (8-8–16); F Blake Huppert (5-11–16); D Jon Schreiner (1-8–9)
Key Departures: F Adam Cardwell (16-11–27); F Jack Calleja (3-12–15); F Geoff Shewmake (7-4-11)
Key Newcomers: D Andrew Paras, D Mike Parnell, D Jeff Bergh, F Mike Fazio, F Taylor Portner, F Taylor Burden, D Michael Lant, F Cory Lushanko, F Ryan Doner, D Matt Wurst, F Christian George, F Mitch Kontny, G David Heflin
Prediction and Thoughts: 3rd – River Falls will be tested early as it plays just one game home in the first two months of the season. The Falcons have been consistent over the years, winning at least 16 games in 18 of the last 21 seasons. Considering the experience they have back, the trend of success should continue for the Falcons this year.
Wisconsin-Superior
Nickname: Yellowjackets
2012-13 Record: 11-14-2 overall, 4-6-2 WIAC
2012-13 Postseason: Lost 2-1 to St. Scholastica in quarterfinal round of NCHA tournament
Head Coach: Dan Stauber (229-100-51, 14th season)
Key Returning Players: G Drew Strandberg (2.88 GAA, .869 save percentage); D Jeff Forsythe (6-12–18); F Pat Dalbec (15-12–27); F Joey Massingham (10-14–24); D Derek Stauber Did not play last year because of injury).
Key Departures: D Brett Wold (1-10–11); F Kyle Leahy (3-10–13); F Josh Kesler (4-4–8)
Key Newcomers: G Dayn Belfour (2.17 GAA, .911 save percentage with Nebraska-Omaha); F Jordan Shockey (20-39–59 with Minnesota Wilderness); F Jordan Neduzak (22-37–59 with Winkler Flyers/Swan Valley Stampede); D Matt Audette (4-14–18 with Minot Minotauros); D Connor Faupel (8-12–20 with Daupin Kings)
Prediction and Thoughts: 4th — The top three scorers are back for the Yellowjackets and they should be a contender for the league title despite being picked fourth. Pat Dalbec is a two-time All-WIAC selection and led Superior in scoring with 27 points, while Joey Massingham is coming off a solid year as well in which he tallied 24 points. Jeff Forsythe is one of the top defenseman in the league, earning All-WIAC honors three times. He was a second-team All-American last year as well. Derek Stauber should provide help on defense as well after missing last season with an injury and the Yellowjackets will have a veteran netminder to count on in three-year starter Drew Strandberg. Mix in those players with several talented newcomers, including Nebraska-Omaha transfer Dayn Belfour, a goalie who is the son of NHL great Ed Belfour, and there is no question the Yellowjackets are poised for a successful season.
Wisconsin-Stevens Point
Nickname: Pointers
2012-13 Record: 15-11-1, 7-4-1 WIAC
2012-13 Postseason: Lost 4-1 to Wisconsin-River Falls in quarterfinal round of NCHA tournament.
Head Coach: Chris Brooks (29-22-5, 3rd season)
Key Returning Players: D Alex Brooks (3-10–13); F Kyle Heck (12-9–21); F Joshua Daley (8-11–19); D Kevin Gibson (2-13–15); F Scott Henegar (10-6–16); F Andrew Kolb (9-12–21); F Garrett Ladd (7-15–22); G Brandon Jaeger (2.69 GAA, .881 save percentage);
Key Departures: F Johnny Meo (8-8–16); D Jerry Freismuth (4-12–16)
Key Newcomers: D Kyle Brodie (transfer from Bemidji State); F Joe Kalisz (transfer from Connecticut); F Kyle Sharkey (32-37–69 with Topeka Roadrunners); F Nick Shkreli (transfer from Lake Superior State); G Spencer Viele (Topeka Roadrunners)
Prediction and Thoughts: 2nd – Stevens Point has its eyes on a league title and the Pointers no doubt have the talent to make that championship a reality this season. Stevens Point will be aiming for its 10th title in program history and will make a run behind the strength of 19 letterwinners, including their top five scorers. Kyle Heck is back after earning all-conference honors for the second consecutive season and leading the team in goals (12). Scott Henegar also returns and was second on the team in goals scored (10). He was an honorable mention All-WIAC pick. Andrew Kolb and Garrett Ladd will also provide help offensively. Both players were honorable mention selections in the league. Stevens Point also welcomes back one of its top defenseman in Kevin Gibson, who tallied two goals and 13 assists last season. Defenseman Alex Brooks also returns after earning All-WIAC honors as a freshman. Goalie Brandon Jaeger is a two-time All-WIAC selection, earning honorable mention accolades last year as he went 11-6-1. Division I transfers Kyle Brodie, Joe Kalisz and Nick Shkreli should play key roles as well. Kalisz was the MVP of the NAHL two seasons ago.
Wisconsin-Stout
Nickname: Blue Devils
2012-13 Record: 10-15-2 overall, 5-13-1 WIAC
2012-13 Postseason: Lost 3-2 to St. Norbert in quarterfinal round of NCHA tournament
Head Coach: Terry Watkins (207-233-28, 18th season)
Key Returning Players: F Kevin O'Donnell (12-12–24); D Jordan Tredinnick (4-10–14); F Zach Vierling (8-8–16); D Logan Maly (0-6–6); F/D Casey Kirley (2-3-5); D Russell Whited (0-6–6); F Jake Useldinger (1-6–7); F Matt Millis (1-1–2); D Danny Ray (4-2–6); G Eric Wobschall (6.24 GAA, .667 save percentage)
Key Departures: F Garrett Grimstad (7-13-20); D Jason Cohen (5-13–18); F/D Joe Beaudette (4-13–17); F/D Sam Carr (6-10–16); G Nick Hopper (2.94 GAA, .906 save percentage)
Key Newcomers: F Riley Colvard, F Tyler Cayemberg, F Craig Lindegard, F Karl Anderson, F Nolan Kirley, F Joe Haydock, F Shane McLaughlin, F Justin Moody, D Derek Sand, D Isaac Hoagland, D Patrick Regan, G Corey Koop, G Chase Hollander
Prediction and Thoughts: 5th – Stout has plenty of players back to put itself in a position to be a much better team this season, including three of its top 10 scorers from a season ago. However, the Blue Devils will have to overcome the loss of four players who scored 16 or more points, in addition to replacing their top goalie. Senior Kevin O'Donnell will need to be on top of his game after earning honorable mention honors a year ago. He is a three-time All-WIAC selection. Jordan Tredinnick and Zach Vierling will also play key roles. Both players were honorable mention picks last sesaon. Eric Wobschall will be looked upon to fill the void in goal and does have experience from last season that he can lean on this year.