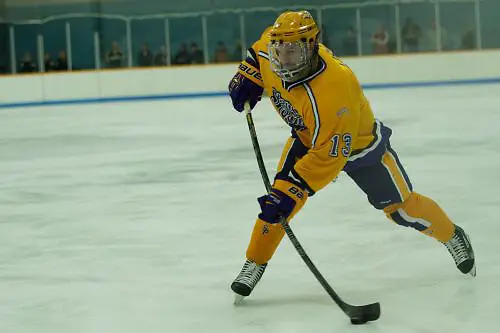 Wisconsin-Stevens Point has been very good at seizing opportunities early in the season.
The Pointers, ranked sixth in the nation in the latest USCHO.com Division III Men's Poll and one of the contenders for the WIAC championship, are unbeaten through four games.
Pointers' coach Chris Brooks said part of that success has to do with how hard his team plays on the ice.
"Our guys are very hungry to be successful and they play with a lot of passion," Brooks said. "We also pay a lot of attention to detail and focus a lot on execution."
The fact that there is a lot of competition among the players certainly helps. A total of 29 players are on the roster for the Pointers, which makes the battles for playing time quite intense on a daily basis in practice. That intensity and competition translates into success in game situations.
"Our practices are very competitive," Brooks said. "It's a battle to get into the lineup and those guys work hard to get their playing time. It's good to have the competition because we are going to need all 29 of those players if we want to be successful."
Stevens Point has racked up 33 goals on the year and nine players have scored at least two goals. Leading the way is Garrett Ladd, who has come through with five goals to go along with six assists.
Lawrence Cornellier has punched in four goals, while Josh Daley and Evan Dixon have tallied three goals apiece. Kyle Brodie is second on the team in assists with five. Daley and Kevin Gibson have dished out four helpers apiece.
What is worth noting about the offensive strength of the Pointers through four games is that Kyle Heck and Scott Henegar have scored just one goal each. Heck and Henegar finished first and second on the team in goals scored last season with 12 and 10, respectively.
"Our scoring has been very balanced and it shows when your top goal-scorer from last year only has one goal," Brooks said. "It's been good seeing different players step up and that needs to continue all season."
The Pointers have been strong on defense as well, with goalie Brandon Jaeger tallying 45 saves in three starts. He has allowed just six goals on the season.
What has helped the Pointers' cause is that they have been able to dominate possession time. Stevens Point has taken a total of 189 shots. Opponents have been limited to just 60.
"Our defense has been very strong and they have done a good job of limiting scoring chances," Brooks said. "We've also had the puck a lot and have taken advantage of opportunities, which has been key for us."
If Stevens Point is to win a league title, though, and play its way into the NCAA tournament, it will need to continue to make strides rather than become complacent with its early success.
Brooks is confident his team will march forward as it looks to live up to its high expectations.
"The focus has to be on getting better each day," Brooks said. "We know what we need to work on to be a better team and we will continue to improve as we prepare for conference play. We can't look ahead to possibilities down the road. We have to stay focused on the present. If we do that, we'll be in good shape at the end of the year."
On A Roll: Wisconsin Eau-Claire has yet to miss a beat coming off its national championship in March. The Blugolds swept their two games on opening weekend and have won their last six games dating back to last season. It is the third longest streak in program history.
The latest win in the streak was against then No. 15 St. John's. Eau Claire earned a 3-1 win. It defeated the Johnnies in the opening round of the NCAA tourney last year, coming through with a 4-2 victory.
David Donnellan, Daniel Olszewski and Ross Andersen all scored goals for the Blugolds, who were outshot 35-28, but still came through with the win. Tyler Green was rock-solid in goal as he racked up 34 saves.
The Blugolds opened the season with a 5-2 win over St. Olaf and are currently ranked No. 1 in the nation.
Stellar Performance: Wisconsin-River Falls goalie Scott Lewan was on top of his game between the pipes in the season opener against Concordia (Minn.) on Friday night, racking up 24 saves to help the Falcons earn a 3-2 victory.
River Falls did enough offensively as well in the win despite a 42-save performance by Concorida's Chris Neamonitis. Ryan Doner, Jeff Burke and Zach Schrotenboer all scored goals for the Falcons, who led 2-1 after the first period and added their final goal the third.
River Falls' ability to stop the power play was key as well. The Falcons forced the Cobbers to go just 1-of-5 in power-play situations. However, River Falls struggled as well with the power play as it came up empty on all five opportunities.
River Falls is 11-0 lifetime against the Cobbers.
The Falcons tied Hamline 2-2 on Saturday and is 1-0-1 on the season. It was the first time in 21 games against the Pipers that the game ended in a tie. The Falcons have 17 wins in the all-time series.