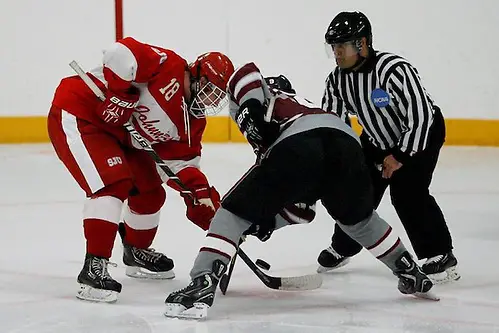 St. John's coach Doug Schueller has seen his hockey team face its share of challenges in the early going of the season, including a battle with defending national champion Wisconsin-Eau Claire this past Saturday.
The Johnnies, who played Eau Claire in the NCAA tournament a year ago and lost 4-2, lost by a 3-1 score this time around.
But they have earned wins over Wisconsin-Superior (3-1) and Hamline (4-2) and find themselves at 2-2 through four games.
Not bad, all things considered.
"We've had a challenging schedule, but for the most part, we have played pretty well," Schueller said. "We played hard and have made improvements. I'm excited about the potential of this team."
The Johnnies are the favorites in the MIAC a year after winning the conference tournament and earning a bid to the NCAA tourney. They are certainly in a position to follow up with that performance if they continue to get the balance they have in scoring up to this point.
Fifteen players have scored at least one point, including eight who have tallied at least one goal. John Carroll, Zach Knight and Neal Smith have each racked up a goal and two assists.
"We feel like we have a pretty deep team and we have been very good offensively," Schueller said. "We can always improve, though, especially on the power play, and we will continue to work at that as the season goes along."
Yet, it is the defense that is the strength of the Johnnies, especially with rising star Saxton Soley back in goal. The 2012-13 MIAC co-player of the year has picked up where he left off during his sensational freshman season, racking up 61 saves and allowing just six goals.
"He has been very good and is playing with a lot of confidence," Schueller said. "I'm expecting him to have another good season. Our defense is definitely going to be our strength. We have a strong group of defensemen who play hard and they will play a big part in our success this year."
The Johnnies, who received 15 points in the latest USCHO.com Division III Men's Poll, begin league play this weekend, playing a home-and-home with St. Olaf on Friday and Saturday and Schueller knows his team has to be ready to be at its best if it is to repeat as conference champions. St. John's earned a share of the regular-season title last year in a competitive league race.
"Our most important part of the regular season is conference play," Schueller said. "Our league is very good and we need to be focused for every game. There are no easy nights, but if we can play up to our potential, we will have an opportunity to win the title again."
Fielding Shines: St. Thomas goalie Drew Fielding stopped 25 shots and earned his seventh career shutout as the No. 13 Tommies knocked off St. Mary's 3-0 on Saturday night.
Fielding racked up a total of 47 saves in two games against the Cardinals as the Tommies improved to 4-0 overall and to 2-0 in the MIAC.
Fielding has started all four games and has made 92 saves. He has given up six goals.
In the 3-0 win on Saturday, Connor McBride, Tyler Richter and Alex Niestrom all scored goals for the Tommies, who have tallied 14 goals on the season, including three by McBride.
Making History: Augsburg and Bethel played the first regular-season shootout in NCAA Division III history on Friday night and the Auggies prevailed 2-1 in a five-round shootout.
The game does officially count as a tie since Augsburg and Bethel were knotted up at 3-3 at the end of regulation, but the new shootout rule provides the winner an extra point in the standings.
Carl Krieger and Ben McClellan both scored for Augsburg in the shootout. Krieger also scored a goal in regulation, as did Rory Vesel and Nicholas Widing, who also tallied an assist. Colin Mayer scored two of Bethel's goals and Mitch Hughes punched in the other goal for the Royals.
Augsburg is 2-0-1 overall and 0-0-1 in the MIAC, while Bethel is still winless at 0-2-1 overall and 0-0-1 in the conference.
Penalty Killers: Concordia turned in a stellar performance in penalty kill situations on Saturday night against Wisconsin-Superior, limiting the Yellowjackets to a 1-of-8 showing in man-advantage situations.
Goalie Chris Neamonitis did his part to help the defensive cause as he racked up 37 saves. He has stopped 96 percent of the shots he has faced this season for the Cobbers (3-1).
Jordan Christianson and Caleb Suderman continue their stellar start offensively as each player punched in their fourth goals of the season in the win over Superior. Jeremy Johnson also scored a goal for Concordia, which has tallied 13 goals in all while holding opponents to six goals.