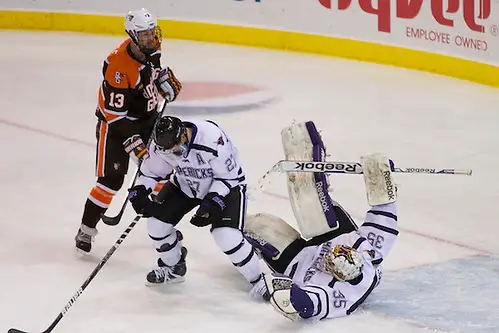 Controversy? That's probably too strong a word.
Surprising might be a better description of Minnesota State's goaltending situation at the moment.
Last season's WCHA rookie of the year and first-team goaltender Stephon Williams is struggling right now. And, fortunately for the Mavericks, freshman Cole Huggins has been rock-solid the last two Saturday nights, including an overtime shutout over Bowling Green last weekend in Mankato.
But it's hardly a controversy when you go with the hot guy, right?
"All players ask for is an opportunity," Mavericks coach Mike Hastings said. "Both have had that to this point. … Both have worked hard. Huggy's had a little better results up to this point."
Before the season began, Hastings talked about how Williams needed to be pushed by the other goalies on the roster. That included Huggins, a Centennial, Colo., native who spent the last two seasons in the British Columbia Hockey League.
Well, there's definitely some pushing going on.
Huggins has played in four games, starting two and relieving Williams twice, and has a .964 save percentage and a 1.11 GAA.
Hastings showed in his first season that sentiment has no place between the pipes. Once Williams won the job over senior Phil Cook — who got an ample chance, even beating Minnesota in Mankato early in the year — he didn't let it go. Hastings rode Williams for 37 games in a row from Thanksgiving weekend into the postseason and through Nov. 2 of this season when Huggins started and won at Bemidji State.
Williams, who was drafted by the New York Islanders over the summer, was back in the net Friday against Bowling Green. He allowed four goals on just 16 shots, including a pair of short-handed scores, before Huggins relieved him.
Williams has started six games and has a .867 save percentage and a 3.40 GAA.
"I still have confidence in Willy," Hastings said.
The now-unranked Mavericks are 4-4 and play a series at No. 1 Minnesota this weekend.
"I'm a big believer in not an opportunity but multiple opportunities," Hastings said. "I've tried to stay consistent with how I handle the business of who plays Friday. That opportunity is earned Monday through Thursday. Then they've got to get out there and play."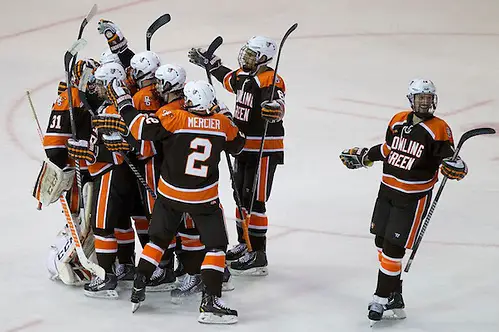 Bowling Green, Ferris State battle for first in Big Rapids
Bowling Green finds itself in the middle of what could be considered one of the toughest stretches for any team in the WCHA this season. The Falcons traveled to Minnesota State last weekend and head to Ferris State this week before hosting MSU again Nov. 22-23 to cap a six-game stretch against the league's two preseason favorites.
That's followed by a trip to Lake Superior State over Thanksgiving.
Meanwhile, Ferris State is in the midst of a six-game home stretch that began last week with a sweep of Bemidji State. Two wins and four points vaulted the Bulldogs past the Beavers and into first place in the league standings.
Ferris hosts Alaska next week before traveling to Northern Michigan over the holiday.
The Bulldogs, who host the Falcons on Friday and Saturday, sit two points ahead of Bowling Green in the standings. If not for Minnesota State's Johnny McInnis scoring an overtime goal on Saturday, the Falcons would be a point back — or maybe even tied had they got the OT goal — with Ferris heading into this weekend.
Ferris State has won five straight games, all with junior CJ Motte in goal. Despite posting a 2.56 GAA and .901 save percentage — both well below his collegiate averages from the previous two seasons — Motte is 7-0 this season in part because the Bulldogs offense has averaged 4.71 goals per game in Motte's seven starts.
The Falcons enter the series having not scored a power-play goal in three straight games. The Bowling Green power play went 0-for-8 in Mankato and last scored on the man advantage on Nov. 1 against Alaska-Anchorage. In WCHA games, the Falcons are 3-for-23 on the power play.
Timing not on the side of the Michigan Tech-Lake Superior State rivalry
Upper Peninsula teams Michigan Tech and Lake Superior State will meet as league rivals for the first time since 1984 on Friday and Saturday in Houghton. Both were members of the CCHA from 1982 to 1984.
The series should excite the fan bases for both teams, but there is something going on this weekend in the U.P. that is considered by many to be much more important than even hockey — deer hunting.
Michigan's firearm deer season begins every year on Nov. 15 — also known as Yooper Christmas — leaving schools deserted, businesses short staffed and seats empty at sporting events.
While on a favorable weekend in February this season, the Lakers' rivalry with Northern Michigan has been hindered by poor scheduling in previous years.
In 2012-13, the Lakers and Wildcats played in the Sault over the winter semester break and again in Marquette over spring break, resulting in half-empty rinks minus the students for all four games.
The Lakers and Huskies have been dealt a similar hand in their first season as WCHA rivals. The rematch between Tech and LSSU is scheduled during the winter break Jan. 3-4 at LSSU.
Around the WCHA
• The opening weekend of deer hunting isn't just big in the U.P., but in downstate Michigan as well. Even with the Falcons and Bulldogs battling for first place, Ferris State is offering a limited number of $6 Ladies Appreciation Night tickets to Friday's game and a buy-one-get-one-free offer for Saturday to lure in extra fans.
• Northern Michigan snapped a six-game losing streak to Western Michigan last weekend with a win and tie in Kalamazoo. All six losses had come at WMU's Lawson Ice Arena. The Wildcats now get the weekend off, with a number of players and coaches expected to trade in their green and gold for camouflage and blaze orange to harvest some venison before Alabama-Huntsville visits Marquette Nov. 22-23.
• With a pair of wins over Alabama-Huntsville last weekend, Alaska-Anchorage is 5-3 overall, already surpassing last season's win total of four. The Seawolves scored five power-play goals on Saturday night, including four in the third period. The school record for power-play goals in a game is six, which was set in a 15-4 win over Huntsville in 1991.
• Alaska made its first trip out of state last weekend and apparently had quite an experience getting home. After splitting a series at LSSU, the Nanooks had a bus break down and missed flights, according to some team tweets. They returned to Fairbanks on Monday evening.
41 hour travel day home is finally done #gonooks

— Colton Beck (@cbecks36) November 12, 2013
Fortunately for the Nanooks, they are idle this week. They will hit the road again, however, and play at Ferris State Nov. 22-23.
• Alabama-Huntsville remains winless and has been outscored 36-8 so far. A couple of bright spots have been the play of senior forward Alex Allan and sophomore forward Chad Brears. Each has three goals so far. Freshman goaltender Carmine Guerriero has a .914 save percentage and a 2.94 GAA in five games.
• Bemidji State sophomore Markus Gerbrandt is off to a good start with nine points, including eight on the road. His seven points in league play ranks first. In overall games, his seven goals rank second behind Northern Michigan's Stephan Vigier.
• This week's WCHA players of the week are Michigan Tech forward Alex Petan (offensive), Ferris State defenseman Jason Binkley (defensive) and Minnesota State goalie Cole Huggins (rookie).