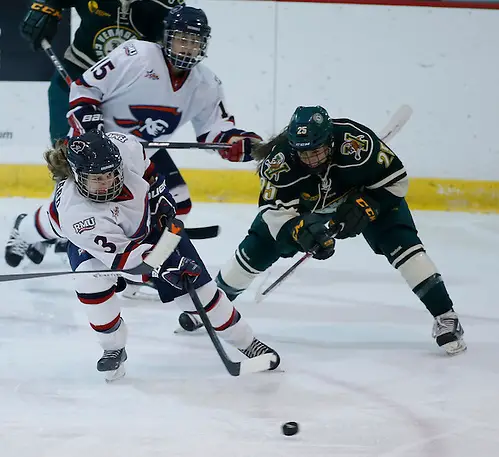 Any College Hockey America team with championship aspirations must first topple Mercyhurst from its pinnacle. Robert Morris did just that two years ago in the CHA Tournament, and there is a gap in the banner collection in Erie, Pa., to prove it.
Junior forward Rebecca Vint was a rookie on that Colonials squad, sharing the experience with nine current juniors and seniors.
"We know what it takes to get there," she said, adding that they are trying to help get their newer teammates on the same page.
One step of the process remains unchanged: defeat Mercyhurst. Had that been the only requirement, the Colonials would have been well on their way to adding a CHA regular-season championship last year, winning three of four conference meetings.
The problems surfaced against the other CHA holdover, Syracuse, and one of the three new additions to the league, RIT. Robert Morris won only once versus the Orange and could salvage just one tie against the Tigers.
"When we play Mercyhurst, the pace of the game is a lot quicker, so it's easier to play up to that, as opposed to some of the other teams like to slow it down," Vint said. "When we slow it down, I think that's more like when we're dropping to their level. We're not playing our game."
That game eluded Robert Morris in its first meeting of this season with the Lakers.
"On Friday, I kind of want to say, we were a little bit nervous," Vint said.
Coach Paul Colontino, now in his third season guiding the Colonials, with a mark of 43-27-7 over that time, didn't like what he saw in falling to Mercyhurst, 2-0.
"After reviewing the tape and watching the game again, we just felt like we knew we didn't play well on Friday," Colontino said. "Coming back, we obviously wanted to play better and do a better job of just playing our style. Friday, we knew when the game was over it just wasn't a great showing for us. So the next day, I think the players were pretty fired up to just play a better brand of hockey."
That was evident immediately in Saturday's rematch.
"We came out with a completely different mindset," Vint said. "It helped us out in the first period; we scored three goals. Two of them were power-play goals, so it was really nice to get those in there quick, but I think it was just a lot of hard work that really got us that win, especially right off the bat in that first period."
Mercyhurst regrouped over the final 40 minutes, owning a big shot advantage and scoring the only goals, but Robert Morris came out on top, 3-2.
"The Lakers obviously came back hard the next two periods looking to tie things up, and we were able to get done what we needed to get done to get the win," Colontino said. "We were definitely happy with the win. In terms of the CHA league races and stuff, you want to get one of those games if not both of them, because you know they are going to be huge."
The end of the game was marred by a final tussle that produced major penalties, game misconducts, and a disqualification each way. Vint is trying to be less involved in such activity as she matures.
"I hold back," she said. "I try not to get as many penalties or retaliate as much now. That part of my game, I've been really trying to work on, just because it's hurting my own team when I did something like that."
Saturday wasn't the first time that Robert Morris has rallied to earn a split after losing the first game of a series. It turned the tables on Boston University in mid-October after having done so opening weekend versus Rensselaer.
"You learn from the losses, probably more than you learn from the wins sometimes," Colontino said. "The one thing with this team is they're a very prideful bunch. They don't like settling for losing. I think sometimes it's just a reality check that it's going to take more effort than what was given the first day. Also, they don't feel like there's a bunch of pressure, it seems like, to win the second one. They just get out and play a better game of hockey."
Versus RPI, that better game was very nearly not enough. Robert Morris held a seemingly-safe 2-0 lead, only to see the Engineers score a pair of extra-attacker goals in the final 64 seconds to necessitate overtime.
With just over three minutes elapsed in the extra session, Colontino called his timeout. Drawing up an elaborate play designed to score the winning goal perhaps?
"I was talking about peanut butter and jelly sandwiches in that timeout; the players just went out and scored," Colontino joked. "Like they say, a broken watch, it's right twice a day. Sometimes you get a little bit lucky with it. The timeout was more in the sense that it was an opportune time in the overtime to get an extra breather there. We had an offensive-zone faceoff. It was a good chance to get a few players rested up and be able to come back with them, and then just refocus on how in overtime it is all about getting pucks to the net. That's what they did, and obviously, it became a huge goal for us and a huge win. Sometimes, games like that are just huge confidence boosters."
Senior defenseman Kylie St. Louis scored 30 seconds after play resumed to give Robert Morris the first of its nine wins to go with three losses.
In conference action, the Colonials have a record of 3-1 for six points. That leads the CHA, but the only other team to have played more than two league games is winless Penn State. The strong start has been possible in part due to the many contributions from this season's freshman class.
"With this class, we've had a couple more years to prepare in terms of getting ahead of the recruiting process, so that helped," Colontino said. "Luckily, we had those years, because it was a big class, eight players coming in. The truth is, we expect our freshmen to play like juniors and seniors. Once they're acclimated to the practice cycle, to the game situation in terms of pace, we want them contributing; we really don't want them looking to other people to get the job done. They're going to have a job to do, and they need to get it done. I think they know that. The quicker our freshmen become accountable for their actions on the ice, the better our team does."
A case in point is freshman goaltender Jessica Dodds out of London, Ont. She has won all seven of her starts with a .931 save percentage while splitting time with junior Courtney Vinet.
"As a coach, it's great," Colontino said. "We've got phenomenal goaltending from both goalies, Courtney and Jessica. It's given us some great options. It's given us some different looks against the same opponent over the course of a weekend, which sometimes can help in a game."
Another rookie making an immediate impact is forward Brittany Howard from St. Thomas, Ont. Her 17 points lead the team and place her among the national leaders.
"We say that there's no individual classes," Vint said. "When you're out there playing, it doesn't matter what class you are, you're out there contributing to the team. I think Howard, especially; she's really taking on that role. She understands the concept. She takes on that responsibility, and she really knows how to find the back of the net."
Vint knows a thing or two about where the back of the net is located. She currently leads the team in goals, something she did as both a freshman and sophomore.
"She's a phenomenal player; she's an impact player," Colontino said. "But off the ice now, she's really stepping up, helping our seniors, being a leader herself, and I think it's just made a huge difference. A lot of times, freshmen have a tough time just truly grasping what each play means in a game, what each shift means in a game, and just understanding that they all count. One shift can be the difference maker in a game. I think Rebecca having now been here for going on her third year, she's always brought a high level of skill and a high level of compete with her. Now I think she's combining it with the leadership aspect of it."
Having enjoyed a fair measure of personal success, Vint wants more results like the conference championship in 2012.
"I'm really just trying to help out the team in every single way," she said. "It's not just an individual sport. It's a whole team effort every single time we're out there. Knowing that, you're doing it for the team, not for yourself."