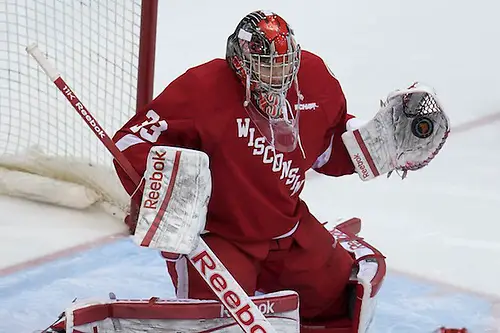 The No. 12 Wisconsin Badgers are off to a 3-2-1 start this season, and they have had a lot of time to think about that fact.
Wisconsin has had two off weekends sprinkled in between its six contests so far, something which coach Mike Eaves believes has led to a lack of flow in its games.
"It's tough to get going; the guys want to play," Eaves said. "It's kind of been interesting trying to find this year's team identity. That identity is formed by playing games and we just haven't played enough to really get that going yet."
Eaves said the biggest challenge was keeping the team's competitive level elevated, even though they were practicing eight straight days without a game.
"There's nothing like game speed and pace," Eaves said. "You try to simulate that, but you've really got to get in the ring itself and play."
Though the weekends off have prevented Wisconsin from forming an identity, they have allowed goaltender Joel Rumpel some time to heal his ankle injury.
"There's a silver lining, and there are several, that's one of them is that he hasn't missed as many games due to the fact that we haven't played," Eaves said.
Eaves said that Rumpel has made strides in practice this week, and that he hopes to give him one of the games at No. 8 Miami this weekend.
"He's given himself a chance to be an option this weekend," Eaves said. "That's a good thing for us."
Landon Peterson has made the last four starts in net for Wisconsin and has gone 1-2-1 in that stretch. Peterson was rocked in the Badgers' losses to Boston College and Boston University and gave up three quick goals in the series opener against Lake Superior State two weeks ago before finding his game and leading Wisconsin to a 3-3 tie. The Badgers defeated the Lakers 8-1 the next night.
"Goaltending is not like any other position in sports; it's kind of like an individual sport within a team sport," Eaves said, adding that he thought the goalie position was similar to a pitcher in baseball. "You're kind of in your own little world and when things struggle for yourself there's nobody to back you up."
Eaves said he was impressed with the way Peterson bounced back after going down 3-0 in Friday's game against Lake Superior State.
"The first goal hit about five different things and went in. The second goal hit two different things and went to a guy at the side of the net for an open-netter," Eaves said. "The third one was a screened shot that maybe he'd like to have back, but to his credit he didn't allow another goal and then on Saturday he only let one in.
"In terms of his mental toughness, it was a good lesson for him," Eaves added, saying that he thought that Peterson gained a lot of confidence in himself during the series. "Not only confidence for himself, but his teammates have confidence in him."
Wisconsin was supposed to be led by its arsenal of upperclassman talent, and through six games the usual suspects have been what we expected them to be.
One pleasant surprise for the Badgers has been the play of senior defenseman Joe Faust, who has six assists this season. In 99 games over his previous three seasons, Faust had eight points. Eaves said that even if Faust didn't have any points this season, he'd still consider him to be off to a fabulous start.
"He's playing well without the puck and he's shutting guys down," Eaves said. "His strengths are his skating ability, his strength and his ability to play without the puck. But he's been making really good outlet passes, and those outlet passes have led to some goals. So all of a sudden he's got six points in six games, it's like, 'Who is this guy?'"
Eaves said he has also seen progress out of freshmen like Grant Besse and Jedd Soleway, who are making their mark on an experienced team.
"They have both contributed," Eaves said. "They're both learning. If you talked to them they would tell you that they're still thinking a little too much. But in that thinking process they're trying to understand what we're asking of them."
Wisconsin has dropped both of its games away from the Kohl Center this season, both lopsided losses to BC and BU. It will get a chance to level its road record this weekend against Miami.
"It's going to be a high-tempo, high-paced game," Eaves said, adding that both games the two teams played last season were up-and-down and tightly contested. "I look for the same kind of weekend."
This will be the first time the Wisconsin hockey program has traveled to Miami. Eaves said that he felt going to an unfamiliar rink and facing a tough opponent had the same feel as going to a regional.
"Usually when you go to a regional, you haven't played in that building," Eaves said. "I think you just kind of get in that mind-set, 'Let's go in and play.' The environment is a little different, but I think it's more of an adventure than anything else. That's the mind-set that we look at when we go in there."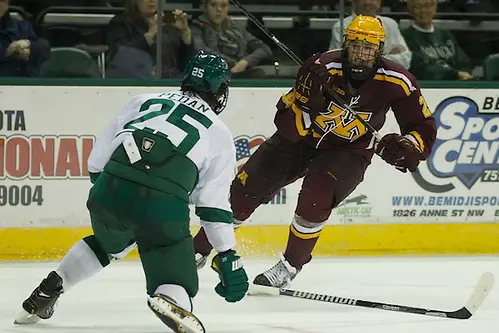 Freshmen huge for Minnesota in South Bend
Minnesota coach Don Lucia usually doesn't let freshmen talk to the media during the first month of the season. If last Saturday's game against Notre Dame would have taken place at Mariucci Arena, the press may have busted down the locker room door.
All five of Minnesota's goals in its 5-4 win over the Irish came from first-year players.
Through eight games, Minnesota has three freshmen in its top five for scoring. Hudson Fasching has 11 points, Justin Kloos has 10 points and Taylor Cammarata has nine.
Fasching tallied two goals Saturday against Notre Dame, while Kloos and Cammarata had one each. Jake Bischoff chipped in the game-winner with assists from Cammarata and redshirt freshman Connor Reilly.
Minnesota will host Minnesota State this weekend.
Three stars
First star — Ohio State junior forward Tanner Fritz: Fritz had a big weekend and racked up six points (one goal, five assists) in the Buckeyes' sweep of Niagara last weekend. This is his first weekly honor of the season.
Second star — Ohio State junior forward Max McCormick: McCormick had four goals and one assist last weekend for Ohio State. This is also his first weekly honor this season.
Third star — Minnesota freshman forward Hudson Fasching: Fasching lit the lamp twice for Minnesota on Saturday and picked up an assist on Minnesota's lone goal on Friday. The Burnsville, Minn., native leads Big Ten freshmen in points (11), goals (5) and plus/minus rating (plus-12). He has picked up at least one point in each of his first eight career games.
Big Ten in the poll
Here's where Big Ten teams stand in the USCHO.com Division I Men's Poll:
No. 1 Minnesota (last week — No. 1)
No. 2 Michigan (LW — 2)
No. 12 Wisconsin (LW — 13)
This week's matchups
Minnesota State at Minnesota (Friday and Saturday, Mariucci Arena)
Wisconsin at Miami (Friday and Saturday, Steve Cady Arena)
Michigan at Nebraska-Omaha (Friday and Saturday, CenturyLink Center)
Canisius at Ohio State (Friday and Saturday, Value City Arena)
Massachusetts-Lowell at Penn State (Friday and Saturday, Pegula Ice Arena)