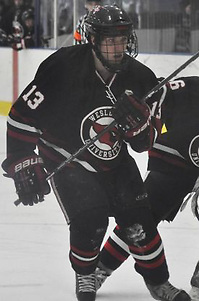 Last, but certainly not least every season, the NESCAC conference gets into the fray and starts playing regular-season hockey starting in the middle of November.
The conference is playing catch-up with many of their league brethren in New England, but no worries, these teams come up to speed quickly. They will have to do just that based on playing each other and some of the other top teams in New England with key Thanksgiving tournaments coming just two weeks into the season.
We finally get all of Division III conferences playing this weekend and in the case of the NESCAC, this may be a case of saving the best for last.
Predictions for this conference are always a challenge because of the level of competition top to bottom – here is what it could look like come the end of the regular season:
Bowdoin Polar Bears
2012-13 Conference Record: 13-3-2 (First)
2012-13 Overall Record: 23-4-2
USCHO Predicted Finish: First
Overview: Last season's conference champions return a solid nucleus of players that should provide the necessary leadership and performance to keep the Polar Bears' recent run of success continuing into 2014. Colin Downey, Harry Matheson, Kyle Lockwood and last year's breakout player, Ollie Koo, should continue to create headaches for opposing goaltenders and defenses with their strong offensive and power-play skills. In goal, Steve Messina and Max Fenkell provide a solid tandem that should keep both fresh for the duration of the season as well as support a D-corps that includes six freshmen on the roster. Coach Terry Meagher's squad has won the conference two of the past three seasons, so the pedigree is still strong and this year's edition in Brunswick will not be setting the bar any lower.
Trinity Bantams
2012-13 Conference Record: 11-4-3 (Third)
2012-13 Overall Record: 15-7-3
USCHO Predicted Finish: Second
Overview: The Menard brothers have graduated, but the cupboard certainly is not bare for Bantams' coach Matt Greason. Last year's leading scorer Jackson Brewer returns along with John Hawkrigg and Will Gray who all produced double-digit point seasons up front for Trinity. The offense will be good, but the key to the Bantams' success is found on the back end where all-star senior goaltender Benjamin Coulthard returns after posting some outrageous numbers last season including a .944 save percentage and 2.02 GAA in conference play. With strong goaltending and defensive support, the Bantams aren't likely to be out of any game they play against any opponent. With some added contributions from a good recruiting class, this year's team could once again compete for a championship.
Middlebury Panthers
2012-13 Conference Record: 11-5-2 (Fifth)
2012-13 Overall Record: 13-11-2
USCHO Predicted Finish: Third
Overview: The Panthers return virtually all of their leading scorers from last season, including their top two of senior Louis Belisle and sophomore Matt Silcoff. On paper, that is the good news, but the challenge for last year's team was not putting the puck in the net, it was keeping it out. Senior Nick BonDurant, junior Michael Peters and freshman Drew Michals will be expected to establish more consistent play between the pipes for Bill Beaney's squad this season. If the goaltending performs, this team has great speed and the ability to attack the puck in all three zones and create offense. Somehow, the Panthers always seem to be around at the end of the year when it counts. Early match-ups with Bowdoin and Norwich in November could provide a confidence jump-start that propels this team to great things come 2014.
Amherst Lord Jeffs
2012-13 Conference Record: 11-5-2 (Fourth)
2012-13 Overall Record: 15-7-3
USCHO Predicted Finish: Fourth
Overview: Balance and depth are likely two words that will be used to describe this year's edition of Jack Arena's Lord Jeffs team. Scoring leaders have departed due to graduation, but expect a multiple-line attack led by returning forwards such as Mike Rowbotham, Andrew Kurlandski and Mike Cashman. Aaron Deutsch leads a group of mobile defensemen and Dave Cunningham returns in goal having posted strong numbers in limited action last season as a freshman. Three other goaltenders provide both depth and competition for Cunningham, but the formula of strong defense goaltending defense and special teams has been successful for Amherst in recent years and should have them battling near the top of the standings this season as well.
Williams Ephs
2012-13 Conference Record: 12-4-2 (Second)
2012-13 Overall Record: 17-7-3
USCHO Predicted Finish: Fifth
Overview: The Ephs may have been the surprise team for some in the conference last season, but with their strong senior leadership and outstanding goaltending from Sean Dougherty, Williams finished second in the conference regular season last season. This year's edition for coach Bill Kangas includes nine freshmen with six forwards that will be expected to make contributions early and often as the total roster includes only a total of 24 players. Last season, the Ephs played very low-scoring games and were very opportunistic in their scoring. Junior Sean Dougherty will be expected to build on last year's success and keep opponents off the board, while the offense finds its footing with the many new players. Williams has been a recent fixture in the final four come tournament time, but is yet to take the prized championship title. If the new players gel quickly, this team may again find themselves knocking on the door to a title.
Wesleyan Cardinals
2012-13 Conference Record: 6-8-4 (Sixth)
2012-13 Overall Record: 10-11-4
USCHO Predicted Finish: Sixth
Overview: Last year's NESCAC player of the year is back in senior forward Keith Buehler, who posted a 20-20 season for the Cardinals. Forwards Tommy Hartnett and sophomore Jay Matthews are the other returning scoring leaders from last season and will be looked to provide more to account for production lost to the graduating seniors. Gone, too, are two goaltenders that saw a lot of minutes for Chris Potter's team. The position has been retooled behind sophomore Nolan Daley with three freshmen, including Dawson Sprigings, Daniel Weiss and Nick Miceli. The defense is experienced with seniors Brad Improta and Casey Fratkin who will be expected to help make the transition to the college level easier for the new netminders. The Cardinals always play things tight and if the goaltending matures quickly and the offense finds some new contributors, this team can make some noise in the conference.
Colby White Mules
2012-13 Conference Record: 5-11-2 (Seventh)
2012-13 Overall Record: 7-15-3
USCHO Predicted Finish: Seventh
Overview: Coach Blaise MacDonald did not have time to recruit when he assumed the head coaching role during the summer for Colby. Moreover, Colby endured the entire season without a full complement of defensemen and had shifted forwards back on the blue line to add depth and numbers to the position. This year finds a young Mules' squad with 13 freshmen added to the roster, including five defensemen expected to give some depth and improved play in the defensive end. Senior forwards and last year's leading point-getters Nick Lanza and Ben Chwick return to provide offense. A newcomer to look for up front may be freshman E.J. Rauseo, who brings some solid offensive numbers from his prep career. The Mules rallied late to make the playoffs last season and certainly a lot of new pieces have to come together to have more success in this campaign. If MacDonald can get this team playing well together sooner in the year, Colby could challenge for a home-ice berth in the conference tournament.
Hamilton Continentals
2012-13 Conference Record: 4-12-2 (Eighth)
2012-13 Overall Record: 6-16-3
USCHO Predicted Finish: Eighth
Overview: Coach Rob Haberbusch enters his third season with great leaders and performers in captain Evan Haney and fellow seniors, Michael DiMare and Joe Quattrocchi. Offensively, DiMare has proven to be among the best in the conference when healthy and this season will be looking to avoid injury that kept him out of more than 10 games last season. Quattrocchi has been a very durable and reliable goaltender for the Continentals, having played in 24 games last season and posting very respectable statistics. Hamilton has made the playoffs in the past couple of seasons, but would surely like to make a move towards the top of the standings and away from a lower seed and quarterfinal road match-up. The seniors have the talent and desire to carry this team upward, but the supporting cast and overall team health will dictate how far the Continentals will rise.
Connecticut College Camels
2012-13 Conference Record: 3-12-3 (Ninth)
2012-13 Overall Record: 7-14-3
USCHO Predicted Finish: Ninth
Overview: As coach Jim Ward enters his 11th season behind the Camels' bench, he will be looking for more consistent play from his team with the goal of returning to the NESCAC conference tournament come March. Second-year captains and prep and college teammates Keith Veronesi and Mike Sinsigalli will be expected to continue to create offense and provide the overall leadership needed to build confidence in a winning locker room. Sophomore Tom Conlin played very well in goal for Connecticut College last season and will look to improve on those impressive rookie stats as the likely No. 1 for Ward. All of the teams are so competitive that some first-half points from match-ups with Williams, Middlebury, Trinity, Wesleyan, Bowdoin and Colby could help to spark a second-half run towards the postseason.
Tufts Jumbos
2012-13 Conference Record: 2-14-2 (Tenth)
2012-13 Overall Record: 7-15-2
USCHO Predicted Finish: Tenth
Overview: At a combined 19-feet, one-inch, the Jumbos may have the tallest combined trio of goaltenders in college hockey. Seniors Greg Jenkins and Brian Phillips will be vying with freshman Ryan Kellenberger to improve on last season's 100 goals surrendered and also support improvement in the team's penalty kill efficiency. Up front, there is significant leadership in the likes of Kyle Gallegos, Cody Armstrong and Andrew White, who will all be looking to post big numbers this season to take pressure of the goaltending and defense. Look for contributions early from newcomer Conal Lynch. The Jumbos have been on the outside looking in at the playoffs and would surely like to be playing more hockey next spring. To make that a reality, the team will need to be more consistent in all aspects of their game and some first-semester success might help build the needed confidence to make a playoff run a reality.
Great match-ups start right out of the gate in week one – drop the puck!