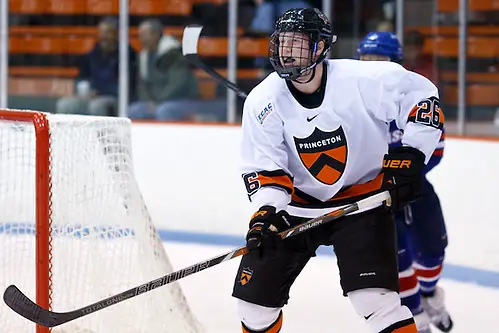 Princeton's season began well, with a 3-2 win over Dartmouth at the Prudential Center in Newark, N.J. But if the Tigers hope to end their season in another NHL venue, they've got some work to do.
The Tigers dropped the Liberty Invitational finale to Yale the following night by another 3-2 result, and followed that up with five more losses, four of which were lost by two goals or more, a wide margin in ECAC Hockey.
"We're just diverting a little bit from what we want to do, systematically, and [that will hurt you] in this competitive of a league," said Tigers coach Bob Prier, now in his third season behind Hobey Baker Rink's bench. "We're playing really well at times. We'll string together a real good period or two, but we just haven't been able to put it all together yet."
Princeton has been outshot by an average of seven shots on goal per game, which is a significant deficit, but its special teams are achieving moderate success both on and against the man advantage.
"We've played good teams, but without a doubt, it's falling away from our structure," Prier said.
Injuries to key players — especially 100-point senior Andrew Calof — have tested Princeton's depth, but the coach feels fortunate to have quality talent beyond the first line or two.
"A lot of guys have to step up. We need a lot from our whole team; we're a team that feels it's pretty deep. When I say deep, I mean talent-wise, and that should help us deal with the adversity here of missing some bodies."
When prompted for highlights, Prier gave a short list of players who have given their all, even if the stat sheets don't show it.
"[Rookie forward] Ryan Siiro's been playing very well. [Senior forward] Andrew Ammon's been wearing it on his sleeve and playing hard. [Senior] Jack Berger's been doing a good job. I think those are probably the [most] solid bright spots for us here now. We're looking for them to continue to step up."
Notice, goaltenders Sean Bonar (senior) and Colton Phinney (freshman) were not among those mentioned. Prier doesn't pin the Tigers' team 3.57 GAA squarely on their shoulder pads, but he's not shy in spreading the blame around, either.
"I would say it's an equal measure of both" the goaltenders' and the defense's fault, he said. "They've played some good games, and I think that if anyone — including the coaches — aren't doing strong self-evaluations at this point …" he trailed off, before summarizing, "I think everyone, all of us, have to get it together here."
Prier isn't about to let his staff or his team get down; not when we're still looking ahead to Thanksgiving.
"We're fortunate in the sense that it's early in the year, we're learning to deal with the adversity that we have, and it's a nice character check," Prier said. "There's still a ton of hockey left, and we have all the faith in the world that we can be better. We've just got to get it together."
Surprisingly — at least, for those outside coaching circles — the man in charge doesn't feel that the rocky start has taken any greater toll on his own psyche than any other record would have.
"I guess no more than if we were 6-1, to be honest with you," he said. "As a coach, you're consumed during the season and actually away from the season by thinking about what to do, what we can do, whether we're having success or not. Obviously, it would be better if we were having success, but at the same time, if you are, you're still putting the same amount of time and thought into your team.
"This is a challenge, to get on the right track, and we're excited about it. We're working hard toward it. If it were the other way, it would be a challenge to make sure that we improve as well, and keep working at it, so we're fortunate to have a good group and fortunate to be able to work through this."
Ultimately, Prier and his players know that the team is tremendously fortunate to not only be playing a game at such an elite level, but to be doing so while earning an Ivy League degree. Therefore, Prier has no problems reminding his boys where there priorities should lie.
"You gotta continue to be positive, and show them why — when they are successful in games — what it is that they're doing," Prier said. "At the end of the day, they're playing hockey at Princeton University. To take a quote from Joe Marsh, they're not solving world hunger. You've got to be loose, you've got to continue to have fun, but you've also got to compete and be able to win stick battles and have proper posture on the ice and play systematically all the time. You've got to do all that, in a way that you can have fun, and you can play loose."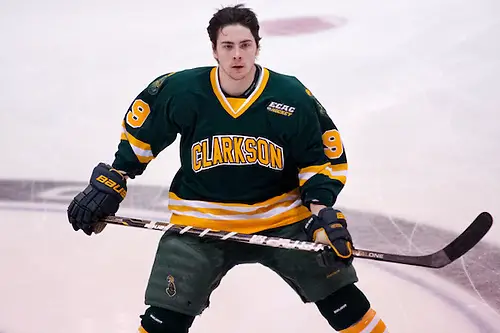 Around the league
• From 9-2-1 Clarkson's 32 goals, 18 goal-scorers: The team has only eight multi-goal scorers, led by senior forward Allan McPherson's five. Only four skaters from the entire active roster are goalless. This is what we call "depth of scoring."
• Did anybody — seriously, anybody — think Quinnipiac had any chance at all of opening a "transition" season like this? The Bobcats are 9-1-1, on a 10-game unbeaten streak since a season-opening loss in Alaska. They are consistently beating opponents by multiple goals (eight of their nine wins have been by two goals or more), and they are just as fun to watch as last year's title contenders. They hit, they score, they make plays. It's no wonder a ticket at High Point Solutions Arena is harder to come by than a QU Braves jersey.
• Meanwhile down the street, Yale is playing well but still seems to be struggling to create its new identity in the shadow of last year's championship squad. There is no shame at all in a 3-1-2 record, but so far the offense hasn't quite found the consistency and lethality necessary to regularly top the three-goal mark, which seems to be where the defense and goaltending have landed so far. On the other hand, the freshman goaltending tandem of Alex Lyon and Patrick Spano is doing the job well, each holding personal GAAs under 3.00 and save percentages above .900. This is welcome news for a program that has had a few, shall we say, shaky goaltending performances in recent memory.
• Union has bounced back nicely from a 1-2-2 start, winning three of four ECAC games. A big part of the turnaround has been the Dutchmen's ability to turn lots of shots into lots of goals: In its three most recent wins, Union outshot its opponents 109-50. The Dutchmen have been putting a lot of rubber on net; it was only a matter of time before that resulted in goals … and W's.