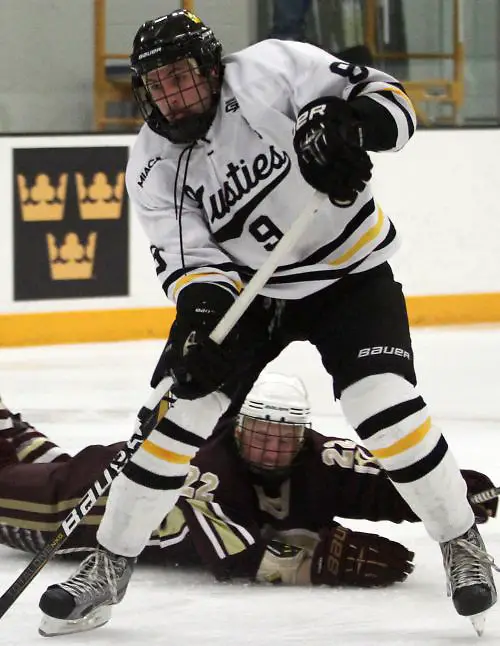 Gustavus Adolphus played for the MIAC championship a season ago, thanks in large part to a late-season surge that propelled them to a strong tournament run.
Whether the Gusties can repeat that success remains to be seen, but if it's going to happen, they will need to overcome some injury issues.
"We've been battling through a lot of injuries right now and have had to play guys out of position," Gustavus coach Brett Petersen said. "It's made it hard to find consistency, but we are doing the best we can to deal with it."
Injuries were a problem early in the season last year as well, although Gustavus was able to overcome those problems just fine as it reached the conference tourney final, falling 4-2 to St. John's in the title game.
What hasn't been a problem up to this point as been getting opportunities to punch the puck in the net. Gustavus is averaging 33.8 shots per game and has tallied 26 goals.
"Getting opportunities to score has not been an issue," Petersen said. "We are doing a pretty good job of getting shots. We just haven't always capitalized, but again, that goes back to our consistency. We need to continue to improve in that area."
Corey Leivermann leads the Gusties (5-3, 3-1 MIAC) in goals scored with five. He has also dished out six assists and is the team leader in points.
Darren Lapic has come through with three goals and two assists and Tyler Lapic has struck for two goals and three assists. Adam Smyth is second on the team in goals with four.
Defensively, the Gusties are giving up an average of 24.4 shots per game and they have allowed 22 goals.
John McLean has started seven of the eight games in goal and has given up 17 goals. He has racked up 157 saves and owns a save percentage of .902.
"We've gotten pretty good goaltending from John," Petersen said. "I also think our blue line has been strong because it hasn't been affected as much by injuries. We've been stable on defense and it's played a big part in the success we've had so far."
But Petersen knows his team will have to get to full strength to contend for a playoff berth in the MIAC again.
Like last season, he is hoping the Gusties can overcome those injuries and make another run.
Only time will tell.
The Gusties head into the Thanksgiving break on a three-game win streak and in third place in the league standings.
"We're not going to do anything if we don't get healthy," Petersen said. "It's a lot like last year, but we are hoping we can get healthy again and make a run in the second half of the season. We have the potential to do it if we can overcome our injuries."
STEPPING UP: Alex Altenbernd played a key role for St. Thomas in its weekend sweep of St. Olaf in conference play.
Altenbernd scored a goal in the second period of Friday's shootout win over the Oles. His goal tied the score at 1-1 and the Tommies and Oles would be tied at 2-2 at the end of regulation. The Tommies won the shootout 2-1. It was just the second shootout in MIAC history.
In the finale of the series, Altenbernd scored twice in a 3-0 win over St. Olaf. He is currently third in overall in the leauge in goals scored (four) and eighth in assists (four).
OPPORTUNITY KNOCKS: St. Mary's couldn't buy a break on the power play against St. John's, at least early on.
The Cardinals came up empty on nine chances, but in a span of 23 seconds in the second period Saturday, St. Mary's scored two power-play goals to rally for a 3-2 win.
St. Mary's, which lost 4-3 to the defending league tournament champs on Friday, got power-play goals from Mike Mezzano and Nick Nagel to propel St. Mary's to its first league win of the year. Christian Gaffy tallied 29 saves in the win.
ON A ROLL: Caleb Suderman has been tough to contain in the early going of the season and he came through in crunch time for Concordia (Minn.) on Saturday.
Suderman scored his second game-winning goal of the year as the Cobbers topped Bethel 3-2 to cap a series sweep.
Suderman has scored seven goals overall on the season, scoring in seven of the first eight games, and he leads the country in goals by a defenseman. He has also racked up two assists and is fourth in the MIAC in total points. Suderman's play has helped the Cobbers get off to their best start since the 2000-01 season. Concordia is 6-2 overall and 3-1 in the league and has won four of its last five.