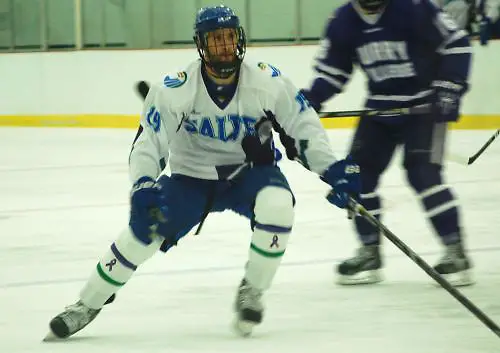 The Salve Regina Seahawks are off to their best start in school history and they have high hopes the rest of the season.
"It's the most talented team that has gone through Salve," coach Andy Boschetto said. "We have a good makeup of character, leadership and work ethic on and off the ice. There are a lot positives right now.
"It has been a three-year process to get to this point."
The Seahawks are off to a 6-1-0 (4-1-0 ECAC Northeast) start and getting solid contributions from all four lines.
Marc Biggs has three goals and seven assists, which leads the team. Fellow sophomore Peter Gintolli has five goals and four assists.
Michael Naso, Johnathan Felteau and John Scorcia each have seven points.
"Our depth is probably our biggest strength," said Boschetto. "The freshmen have come in and stepped up right away. Our sophomores have played well and our junior class, which was our first class [as a coaching staff], those guys have been consistent from the beginning."
Defense also has been stellar for the Seahawks.
"Our defense has been in the system for at least two years now," stated Boschetto. "Obviously, we have a goalie that came in from Mercyhurst [Jake Williams] and he calms things down back there. It has been a team effort so far."
Williams has a 5-1 record with a 2.17 GAA and a .916 save percentage so far this season.
With Salve Regina off and running in ECAC Northeast, the Seahawks wanted to beef up their nonconference schedule this season and decided to go on the road and face some of the national powers in Division III on the east coast.
"I want to play the best and my guys do as well," said Boschetto. "At the end of the day, we want to see where we mark up against the best in the country. We are going to go through adversity [and] we would rather do it now so you can be battle-tested. I think it will help us down the stretch when it comes to the end of the year to the playoffs."
After Thanksgiving, Salve Regina goes on the road to Trinity and Wesleyan. They will also head to Neumann and Utica Dec. 6-7 and will come back from the Christmas break to face Castleton and Skidmore on Jan. 3-4.
Salve Regina ends the nonconference schedule against Hobart at home on Jan. 11 before heading to Oswego on Jan. 14 and a home game on Jan. 18 against Southern New Hampshire.
"Over the next month, we will go into a hostile environments like Utica in front of 5,000 (fans), Oswego and Castleton," Boschetto added. "It's what every college kid wants to do. They want to go to play in front of a packed crowed."
The team has been looking forward to this stretch of games and want to make an impression at the national level.
In the most recent USCHO.com Division III Men's Poll, the Seahawks have started to raise the eyebrows of the voters by receiving four votes. Boschetto knows his team will have to take it one game at a time to reach their goal of cracking the top 15.