Following their 4-3 overtime victory over Bowling Green last Saturday night, Alabama-Huntsville's players wanted to give the game puck to Mike Corbett for his first win as a college head coach.
"But it's not about me," Corbett said, recalling the moment on Tuesday morning, "so I gave it to our goalie [Carmine Guerriero]."
The win snapped a 15-game losing streak to start the season. Corbett, the first-year coach, said he's "a positive guy, even in the most negative situations," and that he's seen "small successes" throughout the year. But getting that first, real victory was important.
"More for our kids," he said. "As a coach, you can tell them they're sticking with it, you can tell them they're improving. But there are no end results. … We've been in a lot of games, but they needed that — more than I did."
During their streak, the Chargers lost five one-goal games. Twice, they were shut out 1-0. They led now-No. 4 Ferris State 2-1 late in the third period on Nov. 2 before losing 3-2. And they were tied with current No. 1 St. Cloud State late in the third period on Nov. 16 before losing 4-3.
"I told them Saturday, 'We've been here before,'" Corbett said.
On Saturday, the Chargers trailed 3-2 going into the final period. Jack Prince tied the game at 12:30 of the period, and, with just 3.4 seconds remaining in overtime, sophomore defenseman Frank Misuraca fired in the game-winner.
"You have to earn your bounces," Corbett said. "We're the Alabama Chargers. We're not going to get anything we don't earn. That's life in Chargerville right now."
Guerriero, a freshman, finished with 41 saves, including six in overtime.
"The biggest thing is that [the players] are coming to the rink with a good attitude and a good effort every day under tough circumstances," Corbett said. "They've stayed focused on what they want to do."
The win was just the second against a Division I team in two seasons and the fourth over a turbulent three-season stretch. Over that time, the program has had three head coaches, was cut, then given a late reprieve and languished as an independent until finally getting accepted into the revamped WCHA for this season.
"We're always going to be the underdog," Corbett said.
But now the streak is behind them; they've won "one in a row."
The Chargers will host Minnesota State, a winner of five games in a row, this weekend and will travel to Wisconsin after Christmas.
"It ain't going to get any easier," Corbett said.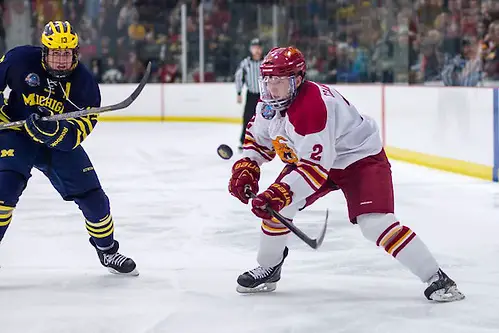 Around the WCHA
• After sweeping Lake Superior State in Sault Ste. Marie, Mich., No. 4 Ferris State takes its 13-game unbeaten streak into Ann Arbor's Yost Ice Arena to play No. 3 Michigan at 7 p.m. Wednesday. As CCHA rivals a year ago, the Bulldogs and Wolverines split their season series 1-1-2. Both teams won and tied on their home ice. The Bulldogs play another former CCHA rival on Saturday in Michigan State at Munn Ice Arena in East Lansing. FSU won three of four against the Spartans in 2012-13, with the one loss coming at Munn.
• Bowling Green's sophomores accounted for half of the team's scoring over the weekend in a win and loss at home to Alabama-Huntsville. Brent Tate and Mark Cooper had two of the three BGSU goals in Saturday's loss, while Ben Murphy scored in Friday's win. Ralfs Freibergs and Dajon Mingo had assists both nights, while Tate and Cooper had assists on Friday. Senior Bryce Williamson and junior Dan DeSalvo lead the Falcons in scoring this season, but the next four after them — Tate, Cooper, Freibergs and Murphy — are all sophomores.
• Michigan Tech came into the season with a highly touted offense but has been carried by its defense as of late. The Huskies' defense is giving up 2.28 goals per game to rank first in the WCHA and 10th nationally. Tech has given up more than two goals in a game on just five occasions this year. Sophomore goaltender Pheonix Copley has been a big reason for the rankings with a GAA of 1.96 and .928 save percentage.
• Bemidji State has gone to overtime in four of its last five games, including a pair of 2-2 ties last weekend at Michigan Tech. The Beavers and Bowling Green each have played in seven overtime games already. Bemidji State is 1-1-5 in OT; Bowling Green is 1-3-3. Michigan Tech has played in six OTs, going 1-1-4.
• Lake Superior State has made plenty of trips to Fairbanks, Alaska, but never to Anchorage to play the Seawolves. That changes this weekend when UAA and LSSU meet for the first time since a 1992 NCAA regional series in Sault Ste. Marie. The Lakers are 4-0 all-time against the Seawolves, with three of the four games being NCAA playoff games.
• Northern Michigan closes out its nonconference schedule in Grand Forks against an old WCHA foe in North Dakota. UND and NMU last met in February 1997 in Marquette when both schools were members of the WCHA. UND leads the all-time series 26-24-3 and is 18-9-1 in Grand Forks.
• Despite losing at Sullivan Arena for the first time this season on Saturday, Alaska-Anchorage is off to its best start at home since becoming a Division I program (6-1-1). The Seawolves' previous best start was 6-2 in 1987-88. The Seawolves will host Lake Superior State this weekend.
• Minnesota State's power play was 4-for-46 (8.6 percent) in the team's first 10 games. In the last six games, it's gone 12-for-30 (40 percent). The Mavericks are 5-1 in those games.
• Alaska snapped a five-game losing streak last Saturday with its 5-4 victory over rival Alaska-Anchorage. It was the Nanooks' second win in their last nine games after starting the season 4-1-2.
• WCHA players of the week: Ferris State sophomore forward Matt Robertson (offensive); Alabama-Huntsville sophomore defenseman Frank Misuraca (defensive) and Bemidji State freshman goaltender Jesse Wilkins (rookie).