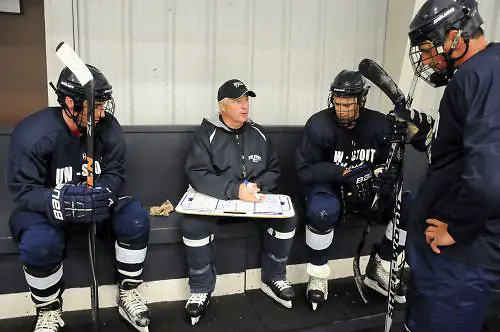 If you look at the record of Wisconsin-Stout, it's not impressive.
Three wins. Seven losses. No one is writing home about that record.
But if you take a closer look and go beyond the surface of the win-loss column, you discover it's a very deceiving record.
Stout has played a rugged schedule, which features five teams currently ranked in the top 15 in the nation, and has been more than competitive in those 10 games.
The Blue Devils have lost five games by a goal.
"We're one of the better 3-7 teams in the nation," Stout coach Terry Watkins said. "If you look at our record, we've lost a lot of close games. We've played hard and we've learned from the experiences. I'm very happy with where we are at as a team."
Watkins has good reason to be happy, especially after the Blue Devils closed out the first half of the season on Saturday with a 3-2 upset of Wisconsin-Stevens Point, the No. 4 team in the country. The Pointers had been unbeaten until that loss.
Stout was outshot 61-17 in the WIAC showdown, but remarkable goaltending by freshman Corey Koop (59 saves) and third-period goals by Hunter Scott and Zach Vierling sealed the deal.
"It's a big deal to beat Stevens Point," Watkins said. "We did a lot of things well and we took them off their game a bit. The big thing was that we were able to execute our game plan. It gives us a lot of confidence and gives us something to go into the break feeling good."
The thing to keep in mind about Stout is that it is a young team as there are 13 freshmen on the roster. Despite being a young team, though, Watkins said the Blue Devils have made strides and have been fun to coach.
"This is one of my favorite teams in my time as a head coach," Watkins said. "The guys work hard, they are great students and they really do learn from each game."
Consistency has been one issue Stout has had to deal with, but it comes with the territory of being a younger team.
"We are still looking to play 60 minutes of good hockey," Watkins said. "The inconsistency is something that happens with a young team, but we've been working at getting better. Overall, we've done a pretty good job and as they gain more experience, we will be more consistent."
Kevin O'Donnell has paced the Blue Devils with seven goals and five assists. Koop has been solid in goal as he has racked up 320 saves. He has given up just 28 goals and owns a save percentage of .920.
Stout won't play again until Jan. 3 when it heads to New York for a tournament at Oswego. The Blue Devils will open with Utica and then play Curry or Oswego. Utica and Oswego are currently 11th and 12th in the nation, respectively.
"Our schedule doesn't get any easier when we come back, but the break will be good for us to get rejuvenated and look at what we need to do as a team to improve," said Watkins. "We'll review the good things we have done and focus on the improvements we need to make. I think the break will be very beneficial for us and we will come back ready to go."
ROUND ONE: Wisconsin-Stevens Point and Wisconsin-Eau Claire squared off in a battle of nationally-ranked opponents and the Pointers came away with the win, knocking off the defending national champions 4-1 on Friday in the conference opener for both teams.
Garrett Ladd scored twice in the third period to help the Pointers pull away for the win. Ladd now has 10 goals on the season and is tied for second in the nation in goals scored. Brandon Jaeger tallied 28 saves to earn the win for the the Pointers, who improved to 9-0 overall.
Joe Krause scored the only goal for the Blugolds. It was his fourth of the season. Eau Claire, which was out-shot 4029, fell to 5-3 on the year.
FALCONS FLY HIGH: Wisconsin-River Falls capped its first week of WIAC play with a 5-1 win over Wisconsin-Superior on Friday night.
The Falcons remained unbeaten at home with the win and stretched their win streak to four games as Willie Hess and Bake Huppert scored two goals apiece in the victory. Hess now has eight goals on the season and Huppert has tallied four goals. Taylor Burden tallied an assist and leads the team with six while Tanner Milliron made 28 saves en route to the win.