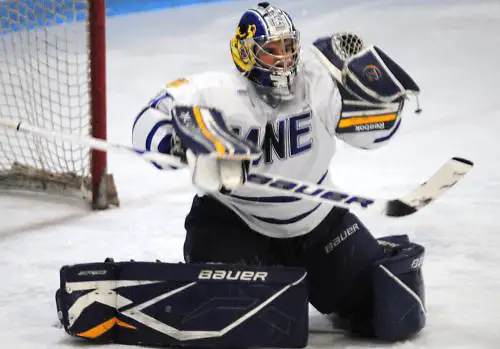 The Western New England Golden Bears' biggest key to success to start the season with a 7-3 record is their depth.
Already, 19 players have recorded a point and only two players have averaged a point per game in Brian Prost and John Kelly.
Prout has seven goals and five assists in 10 games, while Kelly has 10 assists in nine games.
As a team, WNE is averaging 3.80 goals per game, which is tied for 15th in the nation. The power play is also ranked 15th in the country.
Head coach Greg Heffernan attributes their start to the fact that the Golden Bears have an older squad.
"With the deeper roster we have, most guys are happy with our team success and there's really a lot of self-sacrifice," said Heffernan. "It's fantastic to see and another thing is most of these guys are 24 or 25 years old. A lot of them when they were freshmen were 21 when we first got them."
Heffernan said they are four lines deep and look to create depth like one of last year's Frozen Four teams at the Division I level.
"I think when you look at Quinnipiac from last year, they went to the national championship game and I don't think they had a single guy with a point per game," Heffernan added. "They just had depth and really good hockey players that bought in to defense and penalty killing.
"We have tried to mold our program through depth. We take that approach and that model. We are really having the guys understand there's no one person bigger than the team, including myself. We are going to be accountable and be held to the same set of standards. We are also going to try for achievement that's team-related and not individual-related."
When asked to single out any surprising players, Heffernan said there hasn't been just one.
"I am impressed with everybody doing their job," he said. "I got to tell you I am impressed overall of everybody doing their job. If you ask me for one guy, it's very difficult to say."
He also added he's happy to see no one is trying to step on another player's role on the team and part of that has to do with the team motto Heffernan has instilled in the team.
"We have a saying in the locker room that has been very effective for us," Heffernan said. "It's more of a team mission, [but] our team motto is 'More doesn't equal better. Better equals better.' We talk to our guys so much about 'I don't need you to do more, I need you to do what you do better.'"
With everyone having their own specific roles on the team, it helps keep the pressure off to look at the stat sheet, according to Heffernan.
With the success the team is having on the ice, Heffernan is also proud of the success in the classroom that his players are having. Two of his seniors already have jobs lined up after graduation in the spring.