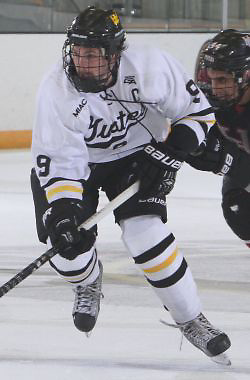 We have reached the halfway point of the MIAC season and if last year is any indication of how the conference race plays out, it should be an entertaining second half to say the least.
St. Thomas heads into the break with the edge at the moment. The Tommies are 4-0-2 in the MIAC and 8-1-2 overall. But six points separates the top three teams as Gustavus Adolphus and Concordia (Minn.) are still very much in the mix for the championship.
Gustavus is 4-1-1 in the league and 7-3-2 overall, while Concordia sits in third at 3-2-1 in the MIAC and 8-3-1 overall. The Gusties have 14 points, while the Cobbers have 10.
Saint John's and Augsburg have some work to do to remain in contention, but it's too early to count either team out. At the very least, both teams are on course to be playoff teams. The Johnnies, the defending MIAC tournament champions, are 3-3 in the conference and 6-6 overall. The Auggies are 2-1-1 in MIAC play and 8-1-1 overall.
The remaining four teams don't have winning records in conference play, but they could certainly play the role of spoiler for someone else at some point in the second half.
So with the first-half history, it's time to take a look back at each team and look a little bit ahead as well.
Enjoy reading and have a great Christmas and New Year!
St. Thomas: Much of the Tommies' success is a credit to goalie Drew Fielding. He has allowed only 15 goals and has a goals-against average of 1.34. He has tallied 289 saves on the year and has registered four shutouts, including one in a 3-0 win over St. Scholastica on Saturday.
If Fielding continues to play at a high level, the Tommies are going to remain the frontrunner for the MIAC championship.
Alex Altenbernd has been playing well on offense, scoring six goals and dishing out five assists. Connor McBride has also stepped up and has four goals and an assist.
The first 18 days of January will provide the Tommies with two chances to make statements outside the league as they play at St. Norbert and at Eau Claire. The final four games of the season, though, could define their title hopes as they play Gustavus and Saint John's.
Gustavus Adolphus: The Gusties closed out the first half with a 2-2 tie against St. Olaf, but overall, they have been ona roll. Their last loss was Nov. 15, a 3-1 defeat to Concordia, and they have won five of their last seven.
In six of their seven games, they scored at least three goals, and that offensive success will be key going forward. Corey Leivermann has fueled the offense with eight goals and six assists, while Adam Smyth has come through with five goals and four assists.
John McLean has been solid in goal, racking up 229 saves. The Gusties are more than capable of winning a championship if they remain as productive as they have been on offense.
A mid-February date with St. Thomas in a home-and-home could go a long way in determining the fate of the Gusties in terms of winning a conference title.
Concordia (Minn.): The Cobbers enter the break on a two-game win streak and have won four of their last six overall.
Caleb Suderman is having a stellar season. He has tallied nine goals and six assists while Jordie Bancroft has come through with five goals and seven assists. The Cobbers are balanced, and that balance will be vital to their championship quest, as will the play of goalie Chris Neamonitis. He has made 343 saves and has a 1.90 goals-against average.
Concordia has already played St. Thomas and Gustavus, but it still has a two-game series with Saint John's in mid-January. That could be a huge series for the Cobbers as the Johnnies will also be hungry for a pair of wins that could bolster their title hopes.
The Cobbers will need to be ready to be sharp on the road as they play six of their final 13 away from home, including the two games with Saint John's.
Saint John's: The Johnnies have some work to do if they are going to win another title, but they do go into the break with some momentum after knocking off St. Scholastica 3-2 last Friday night.
Josh Gross leads Saint John's with four goals and six assists, while Tyson Fulton has struck for four goals as well. But if the Johnnies are going to stay in the title hunt, goalie Saxton Soley needs to be at his best and have a strong second half. He owns a goals-against average of 2.13 and has made 200 saves.
The Johnnies will have opportunities to gain ground in the title chase as they still have two-game series' on tap against Concordia, Gustavus and St. Thomas. The series with St. Thomas is on the final weekend of the regular season
Augsburg: The Auggies ended their first half with a 5-0 loss to Saint John's, but losing has been rare for them in general as they closed the opening half of the season with six wins in seven games. The loss to the Johnnies is their only one of the year and don't expect Augsburg to fade anytime soon.
Ben McClellan has been effective as he has scored eight goals to go along with three assists. Nicholas Widing has scored five goals and dished out seven assists.
Augsburg has scored a total of 38 goals.
John Bretzman has seen most of the time in goal and has made 169 saves on the season.
The Auggies open the second half at Wisconsin-Eau Claire, providing an opportunity to make a statement. Their hopes for a conference title will be determined over a three-week stretch in late January and early February as they play Gustavus, Concordia and St. Thomas in consecutive weekends.
Bethel: Pride will be what the Royals will be playing for in the second half. They are just 1-9-2 on the season and have scored more than two goals just once in their last six games.
Brock Raffaele and Travis Payne have been bright spots for Bethel, scoring five goals apiece. Raffaele has also tallied seven assists, while Payne has dished out six assists. The Royals have scored 24 goals in all but have given up 38 on the season.
Still, the Royals have been competitive. Five of their losses have been by a goal, including one-goal losses to St. Thomas and Eau Claire.
But they will need to make those plays in crunch time to win the close games in the second half because their schedule is brutal. The game against Stevens Point on Feb. 1 opens a stretch where the Royals will play St. Thomas, Saint John's and Gustavus.
St. Olaf: The Oles opened the year with four consecutive losses, but closed the first half with a 2-1-1 record.
St. Olaf has scored only 26 goals, but Dan Cecke has been strong offensively with seven goals and three assists. Peter Linblad has also been a bright spot, scoring five goals and tallying an assist. Steven Sherman has played well, too, tallying four goals and four assists. David Rath has added four goals and four assists as well.
If the Oles can shore things up defensively, they could turn things around a bit in the second half. St. Olaf has allowed 40 goals. The good news for St. Olaf, which is 0-4-1 away from home, is that it will only play four true road games in the second half.
Hamline: The Pipers have just one win on the year and have lost six of their last seven.
The problem for Hamline is that it has managed only 16 goals and has given up 49. Kevin Novakovich has played well during the tough season, scoring four goals and dishing out four assists. Brandon Zurn has also shown promise, having tallied three goals and two assists.
It's not going to get much easier for Hamline in the second half as the Pipers open with St. Scholastica and have a stretch where they play St. Thomas, Concordia, Saint John's and Augsburg in consecutive weekends. Hamline just needs to be as competitive as possible and hope it can take some positives from the season to use to build on for next season.
Saint Mary's: The Cardinals have a bit of momentum heading into the break, having won three of their last four, and that could serve as a sign of better things to come in the second half of the season.
Bobby Thompson has had a good season so far. He has scored four goals and dished out five assists. Bob Marx has also played well, tallying five goals and three assists.
No one else has more than two goals, but if the Cardinals can become a little more productive on offense, they could turn things around.
Christian Gaffy has seen most of the time in goal, playing in games and making 232 saves.
If St. Mary's can get on a roll early in the second half, and get a little help from others, it has a shot at perhaps making a second-half push for a playoff berth. But the Cardinals will need to be at their best every night to make it happen.