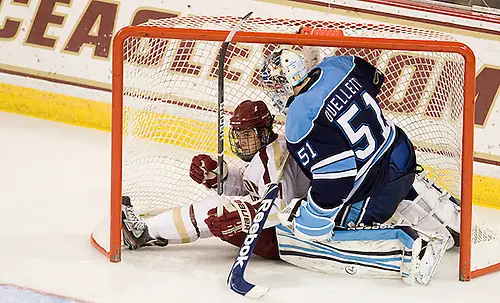 Save for a single game between Providence and Army on Friday night, the first half has wrapped up for all Hockey East teams.
There have already been a number of interesting story lines: Northeastern's surprising first half, Merrimack's offensive struggles, Massachusetts-Lowell attempting to defend its regular and postseason titles from a year ago.
Among all that, there have been highs and lows and plenty of great hockey that I'll try to summarize a bit here.
Breakout team of the first half
There are a number of teams that could be classified as the breakthrough team. There is Northeastern, which has an impressive nonconference record but still hasn't proven itself in Hockey East play.
There is also Vermont, which many believed would be among the bottom two or three teams but is 8-6-1 overall and 4-5 in conference play.
The team that has surprised me the most, however, has been Maine. The Black Bears returned enough key players from a season ago but seemed to lack the chemistry to be a winner night in and night out. But after winning three straight games and five of its last seven before break, Maine stands at 9-6-1 overall and 4-2-1 in league play.
What has impressed me most about this Maine team is its defense and goaltending. Maine has allowed just 10 goals in nine league games and its 30 goals allowed overall is the lowest among Hockey East teams. Much of that can be credited to a breakthrough season-to-date for goaltender Martin Ouellette.
Given the reins most of last season, Ouellette was impressive but came away with just nine wins. At the break, he already has eight to go along with a 2.06 GAA and .929 save percentage. Those numbers aren't quite as good as some Hockey East goaltenders but his contributions have meant a lot to this Maine team.
Where the Black Bears will need to improve is play away from Alfond Arena. Maine is still without a road win, something that will need to improve if the Black Bears are to be the surprise team that they seem poised to become.
Top performance by a returning player
Johnny Gaudreau of Boston College has been everything people expected and more this season. He has registered 28 points in just 16 games, putting him on pace to reach the 60-point plateau at the end of the regular season (a solid postseason run could mean 70 or 80 points).
At this point, Gaudreau looks like a man among boys. His speed, his shot, his hockey sense — all make him one of the most talented offensive players this league has seen in some time.
Is there a caveat? Of course. Gaudreau needs to stay healthy in the second half, something that can be difficult for a marked man standing a generous 5-foot-7. But if his point production can hold up, you have to believe he once again will be a member of the Hobey Hat Trick.
Top performance by a rookie
I mentioned in the opening that Northeastern has been one of the most surprising teams in Hockey East. Coming off a last-place finish a year ago, few expected the Huskies to match their overall win totals from a year ago (nine) before Christmas.
A major reason for Northeastern's success has been the addition of rookie Mike Szmatula. The 5-foot-9 forward from Commerce, Mich., started the season red hot. He's cooled a little of late, scoring just three points in his last eight games, but he has plenty of talent that will be valuable to a Northeastern team that scored just 81 goals in 34 games a year ago. (The Huskies already have scored 54 goals in 16 games at the break.)
One note: Notre Dame's Vince Hinostroza needs a mention here as he easily could have been the top rookie to date had he not missed six games with an injury. His 1.17 points per game is third-best among rookies but his body of work, due to the injury, is a bit limited. Don't be surprised come season's end, though, if he walks away with rookie of the year honors.
Team most in need of the break
The consistently inconsistent Boston University Terriers are probably the happiest to see the first half come to an end. Brilliant at times, BU hasn't proven it can show up to play night in and night out.
First-year head coach David Quinn, taking over for Jack Parker, has been tearing his hair out with this club. Some nights it plays well and isn't rewarded. Some night it struggles but gets the win. But the majority of the low points for this team have come as a result of simply not showing up (including a 4-1 loss to Bentley to close the first half).
The team remains without Cason Hohmann and has seen its offense sputter since his injury in late November. The break may serve Hohmann and the Terriers well if it allows him to further rehab his injury before the Terriers again have to take the ice.
But there is no question that many areas of BU's game will need to improve if the Terriers are to be competitive in the second half.
Team poised for a second-half move
This one is simple: Notre Dame. The Irish suffered a number of injuries in the first half and at one point were barely able to dress the full complement of players.
But most of those injuries have been resolved and this team should be at full strength when it returns from the holiday break. Hopefully for Notre Dame, it hasn't dug its Hockey East grave. The Irish are 10-7-1 overall but just 3-4-1 in league play. Notre Dame is six points behind first-place Boston College with just 12 league games remaining.
That's a point that may be lost on many. With the reduction in league games, most teams have played 40 percent of their league games before the break where in years past most teams had more than two-thirds of their league games remaining for the second half. Teams that are near the top of the league this season like BC, Providence, Lowell and Maine have a decided advantage compared to years past.
First-half grades
Rather than hand out letter grades at this point in the season, I'll simply divide this up into three categories: Exceeds expectations, meets expectations and needs improvement.
Exceeds expectations
Northeastern
Vermont
Maine
Meets expectations
Boston College
Massachusetts-Lowell
Providence
Notre Dame
Needs improvement
Boston University
Massachusetts
Merrimack
New Hampshire
And finally …
As this is the last column prior to the holidays, on behalf of Dave and me, I'd like to wish all of our readers the best of holidays and the happiest and healthiest of new years. We'll see you at Fenway in January!